South China Sea: United States Warship Engages in "Serious Provocation" With China
A U.S. warship has engaged in "serious political and military provocation" China said Monday, criticizing the U.S. Navy for sailing into a disputed area of the South China Sea.
The USS Stenham, a guided-missile destroyer, sailed within 12 nautical miles of Triton island, claimed by China, Vietnam, and Taiwan, Saturday. The U.S. Defense Department said the operation was tactical and meant to challenge the "competing claims of all three nations." The U.S. has undertaken one other such "freedom-of-navigation operation" (FONOP) in the region under Donald Trump's presidency.
However, China reacted to the move as an act of aggression, sending jets and warships to the island, and said the U.S. had entered unauthorized into China's territory. Triton Island is part of the Paracel Islands in the South China Sea, one of the disputed island chains along with the Scarborough Shoal, Spratly Islands, and Macclesfield Bank.
U.S. President Trump and Chinese leader Xi Jinping spoke on the phone Sunday to discuss "negative elements" that were affecting U.S.-Chinese relations according to Chinese state TV, the BBC reported. In a statement after the call, the U.S. did not confirm whether the leaders had discussed the South China Sea incident and said the pair talked about the Korean Peninsula.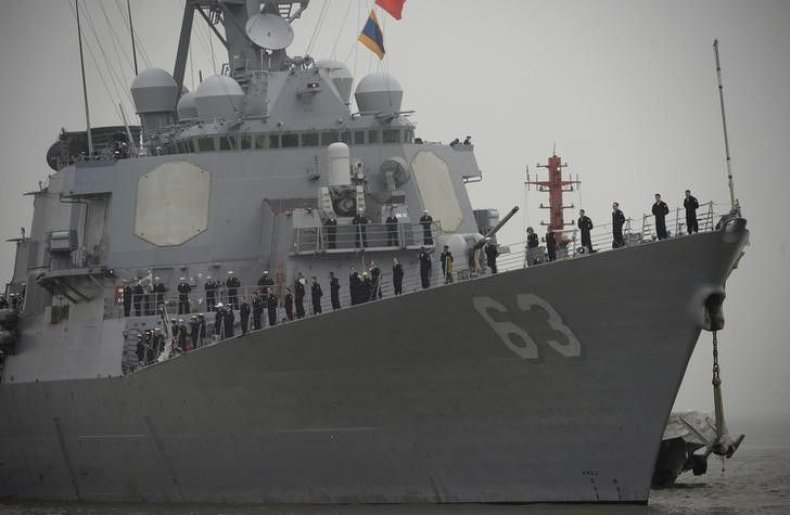 It marked the second FONOP conducted by Trump since a drill in late May in which another U.S. warship sailed within 12 nautical miles of another island built and claimed by China.
China's state news agency Xinhua said: "The Chinese side strongly urges the U.S. side to immediately stop such kind of provocative operations that violate China's sovereignty and threaten China's security."
Relations have not been strong between Xi and Trump in recent weeks. On June 27 the State Department placed China on a list of one of the worst places for human trafficking in the world, while the U.S. raised concerns about Chinese freedoms in Hong Kong on Thursday ahead of the anniversary of the territory returning to China from British colonial rule.
Since Trump became president he has toned down his anti-China rhetoric he used on the campaign trail. At his first meeting with Xi Jinping in April Trump described his relationship with China as a "friendship." Trump had also praised Xi for China's attempts to exercise its influence over North Korea, which seeks to build a nuclear weapon capable of firing on a missile.
However, on June 20, Trump posted on Twitter that China's work on influencing North Korea had "not worked out," suggesting China had not done enough to control Pyongyang, which has carried out a series of ballistic missiles tests in recent months.
Trump's tweet apparently caught officials "off guard" according to the Financial Times,
China has been building islands in the disputed South China Sea for years, and this year satellite photographs showed some of the artificial islands may have military capabilities. Fiery Cross Reef, one developed island built on a reef, appears to have an airstrip, although China says everything is for navigational purposes only. On Thursday, a Washington think tank reported that China had continued to expand its bases, which could pose a direct challenge to U.S. policy in the region.