U.S. Warships Prepare for Kim Jong Un's Missiles Without Firing a Rocket in Joint Drills With Japan and South Korea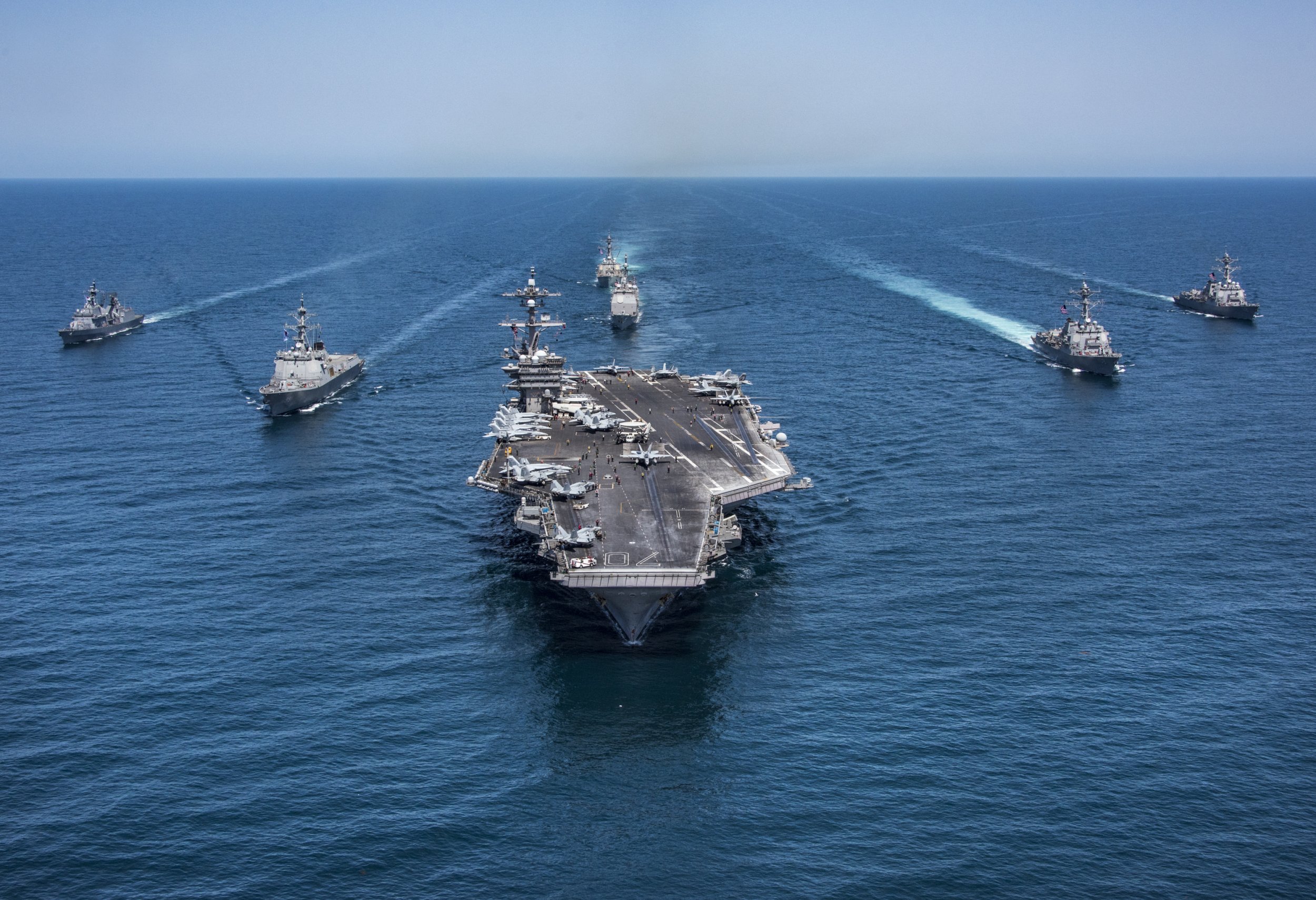 The U.S., Japan and South Korea have carried out a two-day joint maritime exercise aimed at improving ballistic missile defenses.
The trilateral exercise was conducted in the seas east of the Korean peninsula and waters near Japan, just over a month since North Korea flew an intermediate-range ballistic missile (IRBM), Hwasong-12, over northern Japan and into the Pacific Ocean.
The maritime exercise aimed to promote communications, interoperability and partnership among the participants, which included the U.S. Navy 7th Fleet's USS Stethem and the 3rd Fleet's USS Milius—both Aegis destroyer warships—along with vessels from the South Korean Navy and Japan's Maritime Self-Defense Forces.
"The exercise will employ tactical data link systems to exchange track data among all the participating ships. It will allow participants to enhance tactical capabilities, increase self-defense, and strengthen partnerships and situational awareness," a statement from the U.S. 7th Fleet read.
It is the fifth time the trilateral drills have taken place since they were initiated in June 2016, in a sign of greater collaboration among the American, South Korean and Japanese militaries.
In a meeting this week in the Philippines, Secretary of Defense James Mattis, Japanese Defense Minister Itsunori Onodera and South Korea Minister of National Defense Song Young-moo discussed the need for improved security cooperation in the interest of security in the region.
"The three Ministers lauded collective efforts to expand information sharing on North Korea's nuclear and missile threats and enhance response capabilities, including the execution of multiple combined flight training missions with U.S. bomber aircraft. They also committed to continue missile warning and anti-submarine warfare exercises," a joint official statement issued Monday read.
The 7th Fleet has experienced a turbulent couple of months. It lost two of its main destroyers in separate fatal incidents earlier this year, the USS John S. McCain collision near Singapore in August—which resulted in the death of 10 servicemen—and the USS Fitzgerald accident near the coast of Japan in June, in which seven sailors died. A sailor from the USS Stethem was also declared lost at sea in early August.
The fleet commander Vice Admiral Joseph Aucoin was subsequently dismissed from his role a few weeks before his planned retirement. His successor, Vice Admiral Philip Sawyer, removed four other officials from the chain of command: Task Force 70 commander Rear Admiral Charles Williams and Destroyer Squadron 15 commander Captain Jeffrey Bennett in September, and the commanding officer and executive officer of USS John S. McCain in October.
The 7th Fleet includes the biggest U.S. warship in the Pacific, the aircraft carrier USS Ronald Reagan. This week, two more aircraft carriers were added to the fleet, the USS Theodore Roosevelt and the USS Nimitz.
"USS Theodore Roosevelt is prepared to carry out the full spectrum of possible missions, from humanitarian relief to combat operations," said Theodore Roosevelt's commanding officer, Captain Carlos Sardiello, in a statement. "When a carrier leaves on deployment, we have to be ready for anything."