Utah Commissioner Posts Meme Threatening Violence Against Antifa and BLM if Police Defunded
Iron County, Utah commissioner Paul Cozzens has removed a picture he posted to Facebook which suggested that violence could be brought to those who support the movement to defund the police.
The meme shows a soldier with a gun on his lap and the words: "Warning to BLM & Antifa—Once you've managed to defund & eliminate the police, there's nobody protecting you from us. Remember that."
According to the Salt Lake Tribune, Cozzens' post, now deleted, was made in a Facebook discussion thread started by Salt Lake County Council member Aimee Winder Newton. The original post theorized that calls to defund the police have caused an uptick in sales of ammunition and firearms.
"If people don't believe that law enforcement will be able to protect them, they will find a way to protect their families and properties," wrote Cozzens.
"Did you know that AR-15′s have been selling out the day they ship in for the past few months? I believe having a police department is the best way to ensure public safety ... Let's be careful what we wish for."
Cozzens, who previously served as a council member in Cedar City, told Newsweek that his post was not meant to threaten Black Lives Matter protester or antifa.
"Obviously I would never support violence against protesters," he said. "The original post I commented on stated that if we defund the police, fathers and mothers will be forced to protect their families and properties which would descend us into anarchy. Bombastic news reports like this further stoke the fire and prevents us from being able to have real conversations."
Cedar City resident Jesse Harris posted this tweet including the commissioner's now-deleted post:
What is the defund the police movement?
The movement to defund the police aims to divest money away from police departments and instead place those funds in other non-policing public safety and community services, such as mental health institutions, housing and education.
Advocates for the movement have long suggested that attempts to reform police departments have not worked, pointing to the killings of black men and women as evidence, and propose diverting funds from them into other systems instead.
A YouGov/Yahoo! News poll of 1,060 adults done in June showed that only 16 per cent supported cutting funds for police departments in an effort to reduce deadly force encounters.
In Wisconsin, the state where Jacob Blake was shot, a CNBC/Change Research poll from September found that the majority of respondents said they agreed with the notion that "we should invest more in education, mental health and social services and spend less on policing".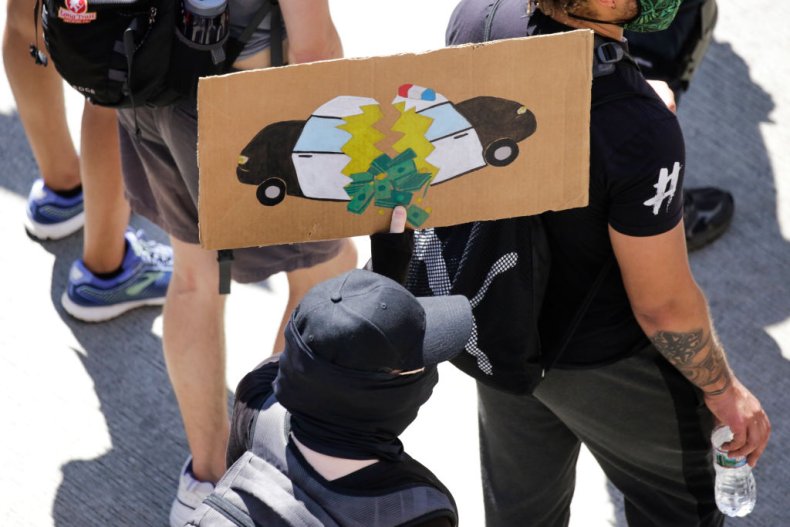 Update, 9/17/20: This article was updated to include a tweet that captured the now-deleted meme posted by Paul Cozzens.
Correction, 9/17/20: This article was updated to correctly state that Paul Cozzens is currently a commissioner of Iron County, Utah and previously served as a council member in Cedar City.