The Texas Department of Public Safety confirmed that Salvador Ramos, the shooter who killed 19 children and two teachers at Robb Elementary School in Uvalde, Texas, on Tuesday was not arrested in 2018 for shooting threats.
Texas Representative Tony Gonzales said on Fox News on Friday morning that Ramos has been arrested four years ago for planning to shoot up a school the moment he turned 18 years old, a claim that the Texas Department of Public Safety refuted.
Gonzales said that Ramos was arrested when he was 14 "for saying, you know, when I'm a senior in 2022, I am going to shoot up a school."
But the department's officers said that Ramos was not connected to the two teens in Uvalde who were arrested and charged with conspiracy to commit murder in plotting a mass shooting, Michael Board of the San Antonia news station WOAI tweeted on Friday.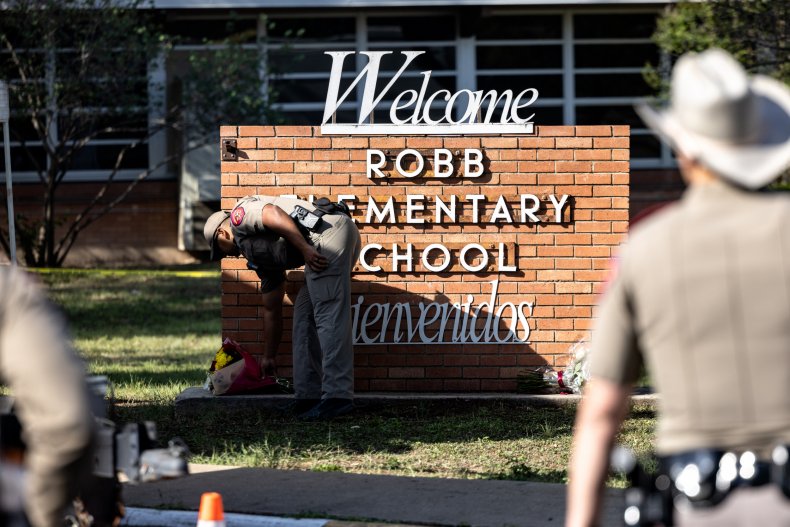 Gonzales said that the information was not "hearsay" but that it was given to him "late last night." He didn't mention the source of the information.
"Something fell between the cracks between then and now to allow this to happen. We need to shake out all the facts," he said. "We need to figure out what happened. Where [were] the holes, and we need to make sure it doesn't happen again.
"But if law enforcement, you know, identified him four years ago as a threat, we need to figure out why he wasn't—you know, how he got removed from that."
The teens arrested in 2018 were a 14-year-old student and a 13-year-old student at Morales Junior High School in Uvalde who allegedly built a scheme that would specifically target students in what the teens described as a "mass casualty event against the school," KENS 5 reported that year.
The threats, which prompted an investigation by the Uvalde Police Department and the Texas Rangers, revealed that the students were motivated by the Columbine High School shootings and "even referred to themselves using the Columbine shooter's names," the Uvalde-Leader News reported in 2018.
"One of the students had numerous writings and drawings which depicted weapons capable of causing mass destruction. He wrote about being 'God-like' and killing police and other persons. He had an academic analysis of one of the Columbine shooter's journals," police said in a statement at the time.
The Uvalde Consolidated Independent School District said in a statement at the time that one of the students "was experiencing a crisis," according to KENS 5.
"Upon rendering aid and support, the student revealed a future plan to conduct a school shooting in the year of 2022. With the type of detailed information that was revealed by the student to law enforcement and confirmed in their investigation, the student has been arrested and will not be returning to our school," the school district said.
Ramos, who was fatally shot by law enforcement on Tuesday, used two AR-15-style rifles that he legally bought on his birthday a few days before the shooting.
Authorities said that Ramos had no criminal record or reported mental health issues, but Texas Governor Greg Abbott floated the idea that the teen might have had a juvenile criminal record.
"He may have had a juvenile record, but that is yet to be determined," Abbott said during a press conference this week.
Update 5/27/22, 1:56 p.m. ET: This story has been updated with additional information.