Uvalde Police Enlist Bikers to Block Reporters Covering Funerals: Report
The Uvalde Police Department reportedly asked biker groups to keep journalists in line during funeral for a victim of last week's mass shooting at Robb Elementary School.
At least three biker groups were among roughly 100 mourners gathered outside Rushing-Estes-Knowles Mortuary on Thursday for the funeral of 10-year-old Eliahana Torres, one of 19 children killed in the shooting, according to the Houston Chronicle. Uvalde police officers and members of the biker groups reportedly threatened to arrest journalists if they left a designated area across the street from the mortuary. It was not clear whether any attempts were made to leave the area.
Some of the bikers also "physically obstructed cameras within those designated areas and followed reporters," while demanding that journalists "stay on the sidewalk," according to the Chronicle. A member of the biker club Guardians of the Children reportedly said that they had been asked to attend the funeral by Uvalde police. Other biker groups in attendance were said to include the Thin Blue Line LEMC and the Marines MC.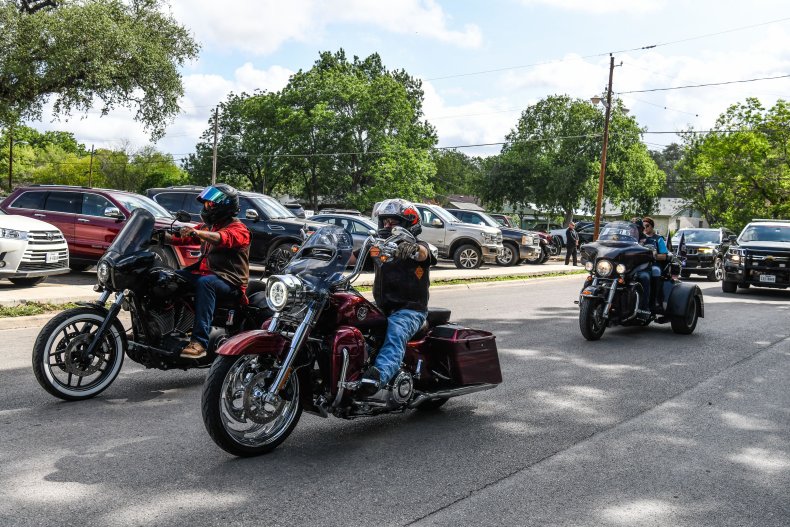 David Weed, spokesman for the Thin Blue Line LEMC, confirmed to Newsweek that members his club had been at the funeral, after they were asked by the Guardians of the Children to attend the funeral and "watch out of the families." He did not know what role, if any, the Uvalde police played.
Weed said that his club was also planning to attend the Friday funeral of Eva Mireles, one of the two teachers who were killed during the shooting. He said they were invited to attend by Mireles' husband Ruben Ruiz, who is a Uvalde school district police officer.
In a statement to Newsweek, Mike Strachan of the Guardians of the Children International Board said that "none of our members 'physically obstructed' anyone nor are we there at the request of local police."
A further statement from the board stressed that it was not a "club" but rather an "organization" and a "a non-profit, all volunteer group of motorcycle enthusiasts" with a mission to "recognize and react to child abuse and educate the public to do the same."
The organization said that it was prompted to attend the funeral by the Texas Critical Incident Stress Management Network, who asked if they "could assist in providing assistance with privacy for the families and other children who are going through terrible times having to bury the 19 children and 2 teachers."
"Our only goal in Uvalde is doing just that, allowing these families to have privacy in their time of grieving," the board's statement read. "We are not there to intimidate the press or anyone else, but we will do our best to help provide the privacy these families need."
Newsweek reached out to the Uvalde Police Department and the Marines MC for comment.
Eliahana's funeral was one of at least three held for Robb Elementary students on Thursday. In her obituary, she was described as a "loving and compassionate person who loved to be silly," play softball and "spend hours watching TikTok videos."
The funeral took place after attempts to secure the temporary release of Eliahana's father, Eli Torres, who remains jailed in Kentucky for a nonviolent drug offense, were unsuccessful.
Last-minute attempts to allow Torres to attend the funeral were supported by Texas U.S. Representative Joaquin Castro, who tweeted that he "strongly" disagreed with the Federal Bureau of Prisons' denial on Thursday morning, while adding that "every parent should be able to say goodbye."
Kim Kardashian also pleaded with federal prison officials on Thursday, tweeting that they should allow the father "temporary release so that he can say his last goodbye to his baby girl" because "every parent deserves that right."
Update 06/02/22, 11:41 p.m. ET: This article was updated with additional information and background.