Uvalde Shooting: Cornyn Slammed for Decrying 'Finger Pointing' at Police
Twitter has slammed Texas GOP Sen. John Cornyn after he condemned the "finger pointing" at authorities following the deadly massacre at an elementary school in his state.
Police in Uvalde have faced heavy criticism for waiting over an hour to confront the gunman—identified as 18-year-old Salvador Ramos—who opened fire inside Robb Elementary School on Tuesday, killing 19 students and two teachers.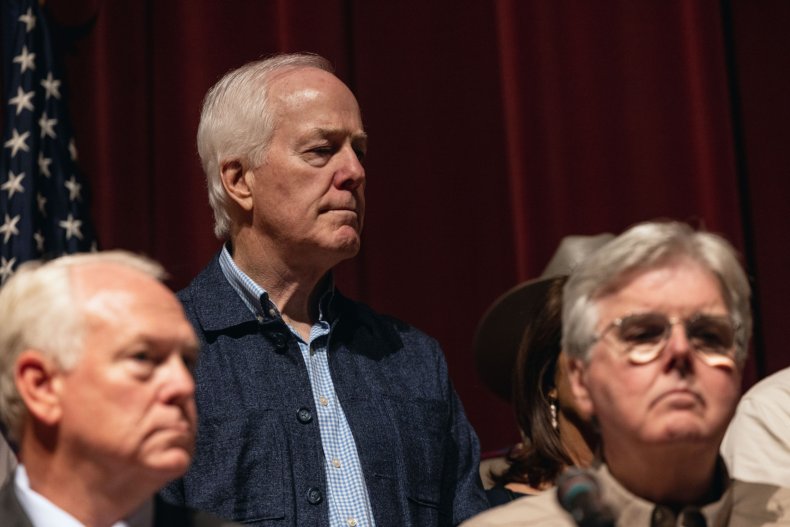 According to a timeline laid out by Texas Department of Public Safety Director Steven McCraw on Friday, about 80 minutes elapsed between the first 911 call and when police entered a classroom and killed Ramos.
The school district's police chief, Pete Arredondo, made the "wrong decision" to wait so long before sending officers into the locked classrooms, McCraw said.
But in a tweet on Saturday, Cornyn argued that the "second guessing and finger pointing" at law enforcement was "destructive, distracting, and unfair."
He made the remark alongside a post from Rep. Tony Gonzales, which said the Uvalde Police Department had identified "credible threats" to a local school in 2018, "did their job" and made arrests.
Cornyn added that "complex scenarios require split second decisions" and that it is "easy to criticize with 20-20 hindsight."
In a follow-up tweet, he said the focus now "should be on through investigation and lessons learned to prevent future tragedies, not finger pointing." He added: "There will be plenty of time to sort this out later."
Cornyn's comments were excoriated by fellow lawmakers, activists and other Twitter users.
"You are tragically wrong @JohnCornyn," tweeted Fred Guttenberg, adding that his daughter Jaime had been the second to last killed in the 2018 Parkland school shooting, in which 17 people were killed.
"She needed 3 additional seconds to make it to safety. If not for the failed law enforcement response in Parkland she and others would be alive today. The facts will show that if not for the failed response in Uvalde, fewer would have been killed."
Guttenberg added: "I and all survivors of gun violence are done being told by you and other people who put us in this place that we should all just be silent. People died because you put the police in a position of being out gunned and they then failed to engage when needed."
"I saw 18 year old boys in war do split second decisions," tweeted Arizona Rep. Ruben Gallego, a Democrat and U.S. Marine combat veteran. "There is no excuse these officers need to be held accountable."
Rep. John Yarmuth of Kentucky added: "Wait until he finds out that there are politicians who think every American should be able to make those catastrophically deadly split second* decisions with no training and with military grade firearms."
Others noted that parents were criticizing the police response in real time and that officers had much more than a "split second" to make decisions.
"Up to 19 police officers waited for 78 minutes in that hallway outside the classroom, while the shooter was inside murdering little children. That's a hell of a lot of "split seconds"—4,680 to be exact," added Jon Cooper, the former national finance chair of Draft Biden 2016.
"Every second that passed was a second that another child could be killed."
Olivia Julianna, a teenage Texas-based activist working with Gen-Z for Change to oust pro-gun lawmakers, added: "Standing outside a school for 90 minutes while children are murdered and others call 911 begging for help ISNT a split f**king decision John."
Cornyn's office has been contacted for comment.