Val Demings Slams Marco Rubio's Stance on Denying Abortion in All Cases
Democratic Representative Val Demings of Florida has lashed out at Republican Senator Marco Rubio, her Senate election opponent, for opposing abortion rights without exceptions.
Rubio said on Thursday that he personally opposes abortion, including for victims of rape or incest, during an interview with Miami CBS station WFOR. Although the senator also said that he would be willing to "support" laws that include exceptions, Demings tweeted a short time later that Rubio was "obsessed" with the issue and urged voters to force him to "retire" and protect abortion rights.
"Marco Rubio is obsessed with taking away our freedoms," Demings tweeted. "Losing the right to choose means women's lives are at risk, doctors could be thrown in jail, and victims of rape and incest forced to carry the seed of their rapist. We will #RetireRubio and protect the right to choose."
Demings earlier this week won the Democratic nomination for the Senate seat in Florida and hopes to unseat Rubio on November 8. Some polls have suggested that the race could be closer than expected, possibly due to political fallout from the Supreme Court's conservative majority striking down Roe v. Wade and related Republican efforts to ban abortion.
Rubio defended the decision to overturn the landmark 1973 abortion rights case during his WFOR interview, saying that the Court had only decided that the "debate is not going to happen in Washington" and that decisions on abortion rights would instead "be made at the state level." His stance on what laws he would prefer to see enacted in Florida was less clear.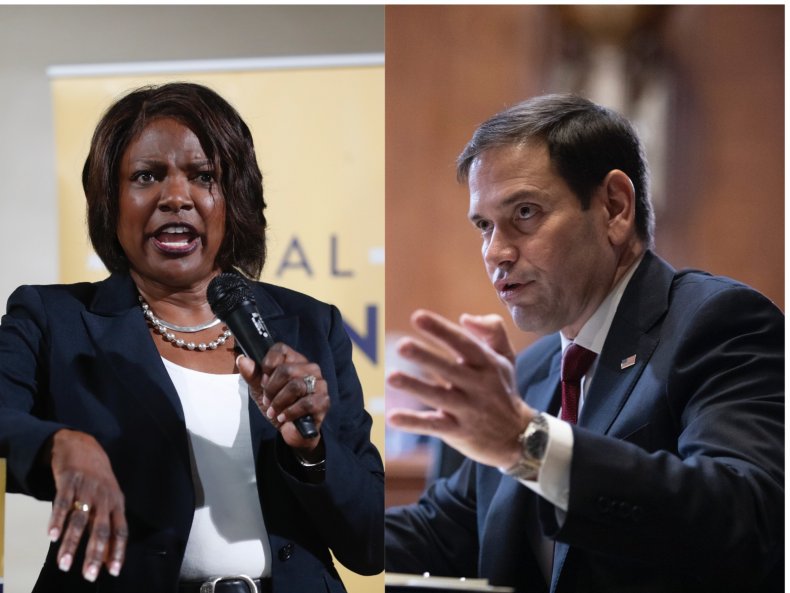 "I believe that abortion is the killing of an unborn human being and that all human beings are entitled to the dignity and the protection of life," Rubio said. "That said, I've also said that I will support bills that have exceptions. I have in the past and I will in the future. I will support any bill that saves lives."
"I'm in favor of laws that protect human life," he continued. "I do not believe that the dignity and the worth of human life is tied to the circumstances of their conception. But I recognize that that's not a majority position... I understand that this is not an easy issue."
When pressed on whether he would support a full, exception-free ban on abortion in Florida "if it could pass" instead of a bill with exceptions, Rubio refused to answer the question and instead repeated that he believes "human life is worthy of protection."
The senator also refused to answer a question about his potential support for a federal ban on abortion, saying that the "issue is better decided at the state level at this point" after pointing out that "we don't have the votes now, or any time in the near future" for a federal ban.
Newsweek reached out to the Rubio campaign for comment.