Veil Flies off Bride's Head in Viral Clip, Stirring Debate: 'Oh Hell No'
A bride's wedding day was memorable for an unfortunate reason when her veil took off into the wind and flew away, garnering a lot of shock and emotion from viewers.
The clip, shared by TikToker @cbyelick, or Chelsea Abril, has been viewed 197,900 times since it was shared on March 16. The 10-second TikTok showcasing the situation is captioned, "When you weren't sure if you wanted the veil, so the universe decides for you. #2022bride #failarmy #weddingtiktok #unfortunateevents #aeriereal #viral."
The video shows Abril on her wedding day as she's walking outside near a parking lot. She carries a bouquet and has a white wedding dress on, complete with a veil, as she walks toward her new husband.
Accompanied by music, the bride continues to walk, but suddenly her veil lifts up into the air with a gust of wind, coming detached from her hair and flying away. The bride and her husband stare at the garment as it floats away before the video cuts off.
The cost of a wedding veil in 2022 has been between $102 and $153, averaging out to a price of $128, according to WeddingStats.org.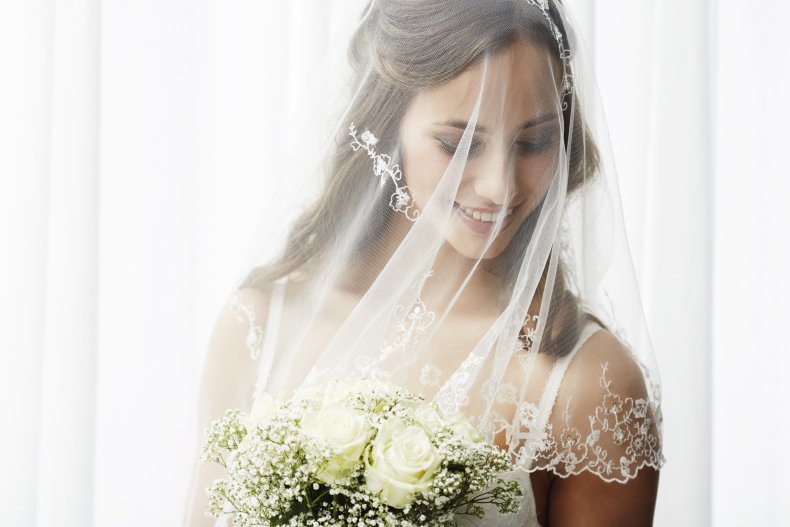 In a comment to another person, Abril said her DJ "ran out of the building and chased it down," so not all was lost despite the mishap.
Over 10,600 likes have come in over the bridal malfunction, which sparked a debate about the situation in the comments.
A lot of users mentioned the cost of veils, as they aren't cheap. "Considering how much those things can cost, I'd be hollering for someone to chase it down," a viewer said.
Another mentioned if the veil cost as much as theirs did, they "would have been sprinting, dress and all." The creator replied that it wasn't an expensive veil though.
Other people seemed shocked at the situation. "$300 into the wind," a viewer simply stated.
Apparently, the scenario has happened to other brides before as well. "This happened to me right as I was walking down the aisle Lmao," a TikToker revealed.
Many were glad the moment was at least captured on camera. "At least you got the video!" a user pointed out. "It was kind of beautiful."
A few viewers were concerned about their own weddings after watching the mishap. "I'm scared now... I'm getting married on the 7th floor on a balcony," a TikToker added.
Still other comments included things like, "Omg new fear unlocked," and "Oh hell no. Mine is $600."
The situation was enough to produce emotion. "I just literally gasped," a TikTok user expressed.
Newsweek reached out to @cbyelick for comment.