Venezuela: For the Women Leading the Anti-Maduro Protests, the Political Is Personal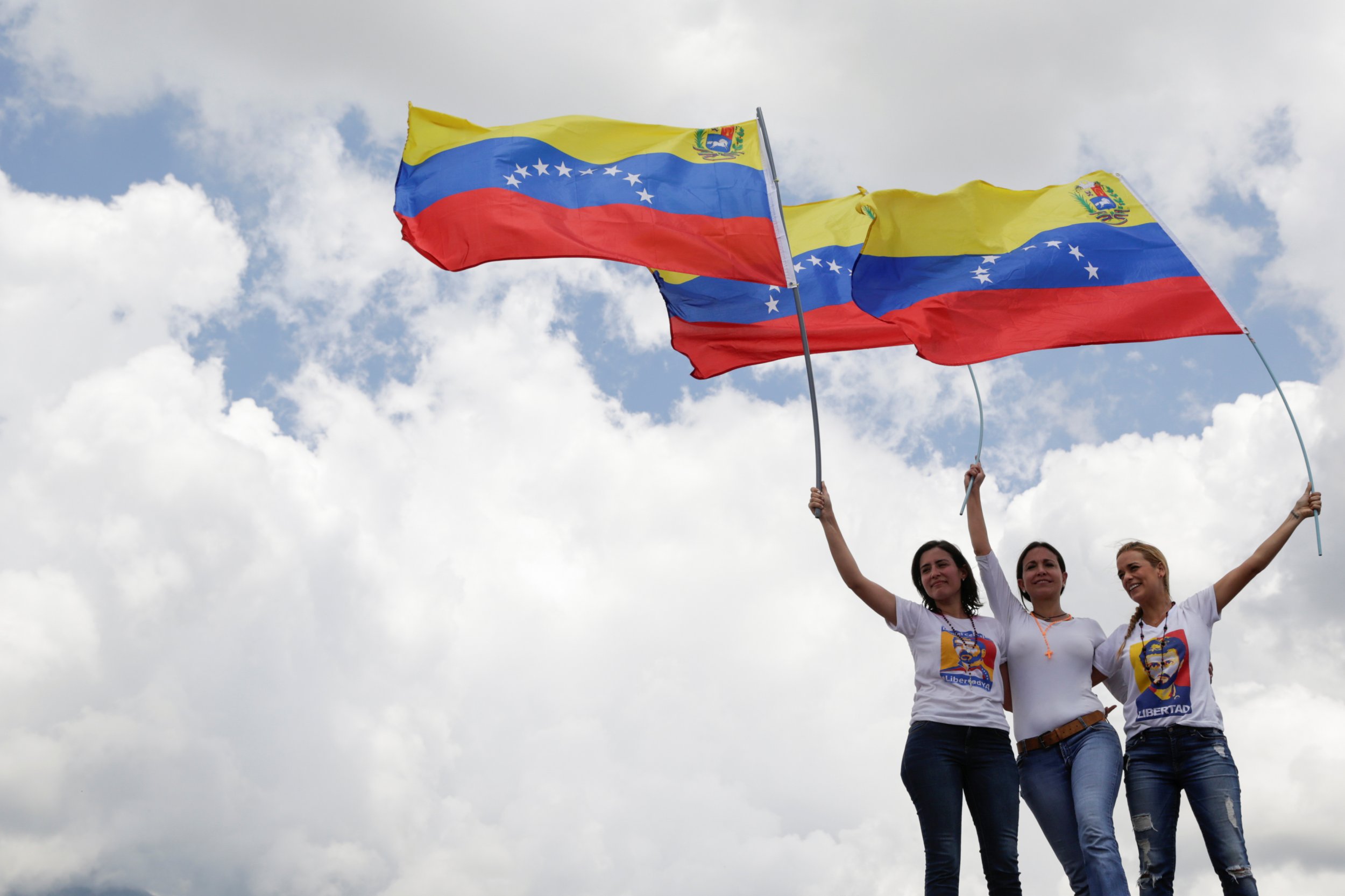 If someone had told Maria Corina Machado when she was a finance student at one of Latin America's most prestigious business school in Caracas that one day she'd be counted among the most prominent women in Venezuela's opposition movement, she would not have believed them.
Machado has now been at the forefront of the opposition in Venezuela for the past 16 years, first against President Hugo Chavez and later his successor, Nicolas Maduro. She even ran as an independent candidate in the opposition primaries against Chavez in 2012, but lost to Henriques Capriles.
But when she was a student at the Instituto de Estudios Superiores de Administración (IESA), she considered herself as part of a generation who believed getting involved in political life would mean compromising on your ideals.
"The last thing I was going to ever do in my life was politics," she tells Newsweek.
Machado changed her mind when she began to see democratic rights threatened under Chavez's rule: "If you marginalize yourself from politics, politics will control your life," Machado said.
Popular anger at Maduro in Venezuela is growing, and thousands have mobilized in almost daily marches for the past six weeks. Over the past three years, a deepening economic crisis has led a lack of food, basic goods and medicines which has eaten away at Maduro's popularity, even among his traditional supporters.
Machado's political involvement has forced her to make both public and private sacrifices. "I have been threatened with death, my kids have been threatened with murder. To maintain my job and my struggle here I had to send them away," she said.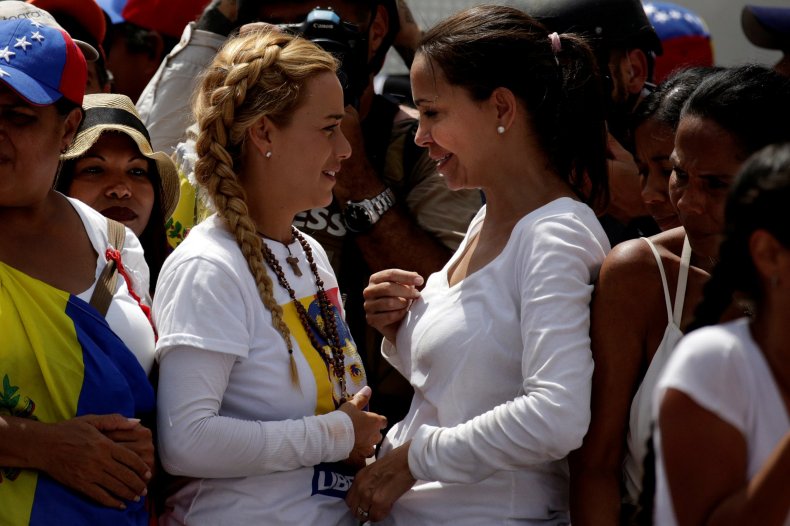 In 2014, she was charged with plotting Maduro's assassination and consequently barred from holding public office and from leaving the country. "There is not one day in which I don't think about how much I've brought of fear and pain to my kids who have grown away from their mum," she added.
This Mother's Day the 49-year-old led hundreds of women to the National Guard headquarters in Caracas, dressed in black as a sign of mourning for those who died in the protests in the past six weeks. When they arrived, they called for the soldiers stationed there to stop supporting Maduro.
"Today the mothers of Venezuela have come to talk to the soldiers" Machado, a mother of three, told the press at the time. "Do not follow the orders of the dictatorship, of the dictator that stole your food, that brought blood to this country. Listen to your mothers!".
On Twitter, Machado and her party Vente Venezuela, which was denied registration as an official party in 2015, promoted the hashtag #SueltaTuArma, meaning "drop your weapon" in Spanish.
A few days earlier, Machado and other leading opposition figures mobilized Venezuela's grandfathers and grandmothers in to mark Grandparents' Day. Some 2,000 elderly protesters, some of them in wheelchairs or using walking canes, demonstrated in Caracas. They had intended to march to the office of the country's human rights ombudsman, but ended up clashing with riot police instead, as Deutsche Welle reported.
Maduro has attempted to match every opposition demonstration with a competing march of support—a tactic first deployed by his predecessor Chavez in January 2002. But a new wave of protests in Venezuela are increasingly characterized by almost daily reports of clashes and deaths.
Since the protests started 47 days ago, at least 42 people have died in the demonstrations. Among these is the nephew of Venezuelan-born fashion designer Carolina Herrera, who shared a message on the Instagram page of her brand House of Herrera to thank those who sent messages of support.
"Our only hope is that the tragic assassination of our young nephew, Reinaldo and his colleague, Fabrizio will serve to mitigate the terrible carnage and murders that are committed against our youth in Venezuela. The Electoral Results must be respected. The Communist Dictatorship must go," she wrote.
Police and National Guard soldiers in riot gear continue to confront protesters who, while largely unarmed, have fought back with stones, molotov cocktails and so-called "poop bombs," bottles filled with feces.
During another march, however, thousands of women marched in Caracas holding white roses, which they offered to the soldiers.
"This is a country that is united against what is clearly a dictatorship that has brought pain and misery consciously, and that has brought women united in the front line to produce the absolutely urgent changes," Machado said.
Diego Moya-Ocampos, senior analyst at IHS Markit, tells Newsweek: "A march of only women demonstrating shows that they stand for the families and it's a powerful movement that goes beyond the issues of the opposition, although it is framed under the anti-government protest."
In a country where, according to the government's own estimates, women are the heads of around half of all households—and are often single mothers—they are most affected by the economic and security crisis affecting the country. "The message was clear: we don't want fights, we don't want repressions. We want a solution for our problems," Lilian Tintori, one of the march's organizers and a human rights activist, tells Newsweek.
Tintori is perhaps one of the most recognizable figures on the opposition front in Venezuela. A former kite surfing champion-turned radio and TV host, she married opposition politician Leopoldo Lopez in 2007 and eventually became a political figure herself.
"I decided to get married with Leopoldo and with my country, because Leopoldo is a politician and Leopoldo decided to change Venezuela," she said.
Her husband has been in jail since February 2014 after turning himself in after accusations that he attempted to oust Maduro from power after leading street protests that turned violent. It was after his imprisonment that Tintori organized the first march of women in white, carrying roses.
The activist—who said she is fighting both for her husband, who was sentenced to 14 years in prison, and more than 150 other political prisoners languishing in Venezuelan jails—visited the White House on February 15, where she met with President Donald Trump, First Lady Melania Trump, Vice-President Mike Pence and Senator Marco Rubio.
She described the meeting as positive: "They listened to me, I spoke about all the problems in the country and they are really worried and they are going to help us," she said.
During the same week. the U.S. blacklisted Venezuela's Vice-President Tareck El Aissami and an associate for drug trafficking and in 2015 two of Maduro's relatives were indicted in the U.S. for cocaine smuggling. Both cases reinforce suspicions of that the Maduro government is involved in the drugs trade.
"What the U.S. did was good because we know our country is involved in things that are very very dangerous," she said.
As for her husband, Trump called for Lopez's immediate release in a tweet posted after the meeting.
The U.S. has also repeatedly called on Venezuela to respect the rights of its citizens in accordance to the country's constitution and international instruments including the Inter-American Democratic Charter. Several other countries in the region, including Mexico, Brazil, Chile and Peru, have condemned Maduro's actions while the European Union has called for the protesters' demands for new elections to be met, Reuters reported Monday.
The increasing international condemnation of Maduro is one of the reasons both Tintori and Machado, who have frequently marched side by side, hope that the protests will end with him stepping down. "Every year of fighting and resistance was needed to achieve this point," Machado said.
She added that all the sacrifices will be worthwhile if future generations, including her children, will inherit inherit "a nation that is fair, justice and free."
For Tintori too, the movement is both personal and political. "We work all together with families of political prisoners and we ask for help. I have a ring on my finger and it is a moral fight, it is a family fight, it's a spiritual fight," she said.
"It's for love. I can't do other things. I need to free my husband, all the political prisoners, and my country. It's a mission."