Very Nice! 'Borat' Sequel Garnered 1.6 Million Views During Opening Weekend
Very nice! Borat Subsequent Moviefilm, which premiered on Amazon Prime Video this past Friday, drew 1.6 million viewers in the United States during its opening weekend, TV analytics provider Samba TV revealed.
According to Variety, Amazon said that "tens of millions of customers" worldwide watched the movie over the opening weekend (Thursday through Sunday) on Amazon Prime. The mockumentary drew in more viewers during its at-home premiere than Disney Plus' Mulan over Labor Day Weekend.
Samba TV reported that the film garnered only 1.12 million household streams during its premiere weekend, while requiring viewers to pay $30 for early viewing access, regardless of whether or not you had a Disney Plus account. All folks needed to stream Borat Subsequent Moviefilm was an Amazon Prime account.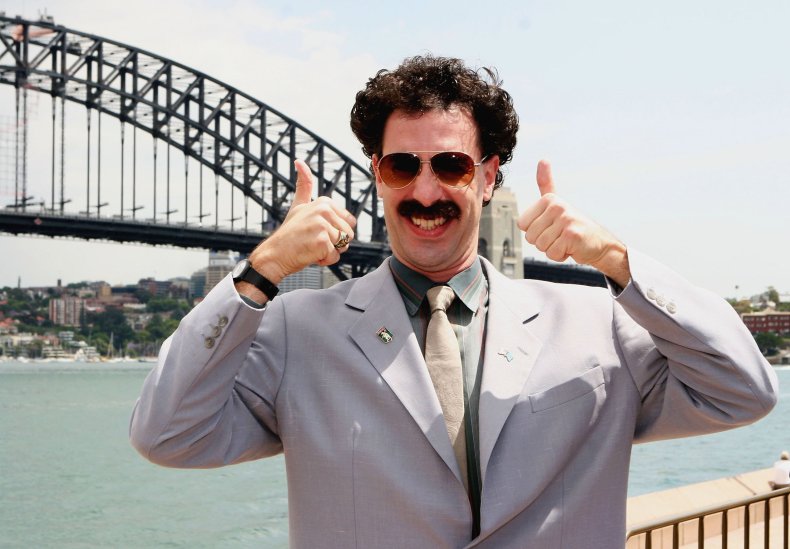 Nearly half the households who streamed Borat Subsequent Moviefilm watched it on Friday evening (48 percent).
The Borat sequel follows Sacha Baron Cohen, the titular Kazakh journalist, and his daughter Tutar (Maria Balakova), as they travel to America to gift Tutar to Vice President Mike Pence. The satire pokes fun at celebrities and the coronavirus pandemic, and the film's climax is the much-talked-about scene featuring Rudy Giuliani.
Towards the end of the film, the former New York City mayor is seen in a hotel room with Tutar, who is disguised as a journalist. Giuliani is lying on the bed with his hands in his pants. Although Giuliani claimed to be tucking in his shirt after removing the microphone from his person, the moment puts him in a compromising position.
He has denied that anything inappropriate had happened during the hotel suite scene, and said the Borat star is a "stone-cold liar."
Baron Cohen, however, has said otherwise on a Monday night appearance for The Late Show With Stephen Colbert. "Well, he said that he did nothing inappropriate, and you know, my feeling is if he sees that as appropriate, then heaven knows what he's intended to do with other women in hotel rooms with a glass of whiskey in his hand."
"I don't want to ruin the movie for anyone, so I would say see it and make your own mind up," the comedian added.
Borat Subsequent Moviefilm: Delivery of Prodigious Bribe to American Regime for Make Benefit Once Glorious Nation of Kazakhstan (along with its 2006 predecessor Borat) is now available to stream on Amazon Prime Video.
Updated 10/27/2020 1:32 p.m. EST: This article has been updated to include additional context.