Kamala Harris Vows to Back Taiwan Against China's Aggression
Kamala Harris took aim at China's disruptive actions in Asia and vowed to deepen U.S.-Taiwan ties in a speech in front of American sailors on Wednesday.
"China is undermining key elements of the international rules-based order," the vice president said from the deck of USS Howard, a destroyer with the U.S. Navy's Seventh Fleet, based in Yokosuka, in eastern Japan.
"China has flexed its military and economic might to coerce and intimidate its neighbors. And we have witnessed disturbing behavior in the East China Sea and in the South China Sea, and most recently, provocations across the Taiwan Strait," said Harris, who was in Tokyo for the state funeral of Shinzo Abe, the former pro-alliance prime minister who was gunned down on the campaign trail in July.
Harris' brief remarks came in the days after President Joe Biden riled Beijing with his most explicit commitment to defend Taiwan from a hypothetical Chinese invasion in the future. China claims the democratically governed island as its own and refuses to rule out the use of force to achieve its long-term goal of political union.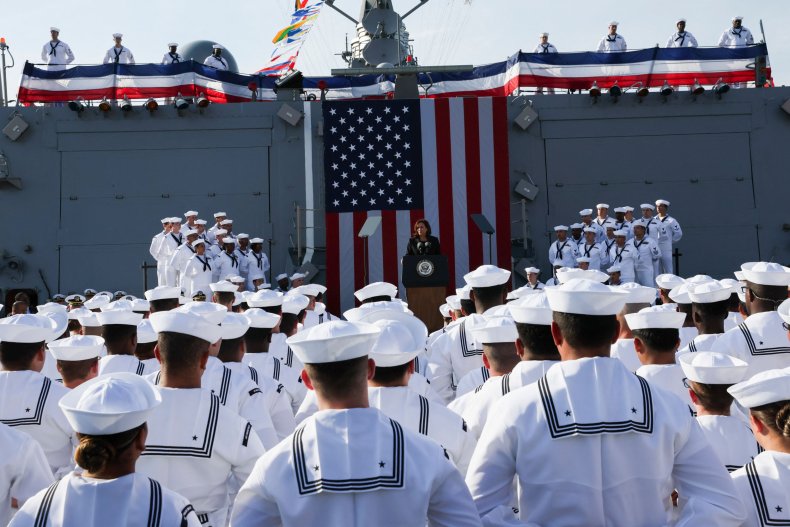 Washington doesn't have formal diplomatic relations with Taipei. The United States considers Taiwan's postwar status unsettled. It doesn't take a position on sovereignty over the island, and it officially doesn't support Taiwan independence.
However, as part of the U.S.'s "one China" policy, it expects differences across the Taiwan Strait to be settled peacefully and has vowed to assist Taipei with its self-defense to deter Beijing from using force.
"We will continue to oppose any unilateral change to the status quo. And we will continue to support Taiwan's self-defense, consistent with our long-standing policy," Harris said. "Taiwan is a vibrant democracy that contributes to the global good—from technology to health, and beyond, and the United States will continue to deepen our unofficial ties."
Harris' decision to criticize China from Japan was unlikely to have been a coincidence. Like Taipei, Tokyo has found itself caught up in the intense geopolitical rivalry between Washington and Beijing. It has sided with the West over Russia's war in Ukraine, and lingering frictions with Moscow have opened up a potential second front of tensions over the disputed Kuril Islands.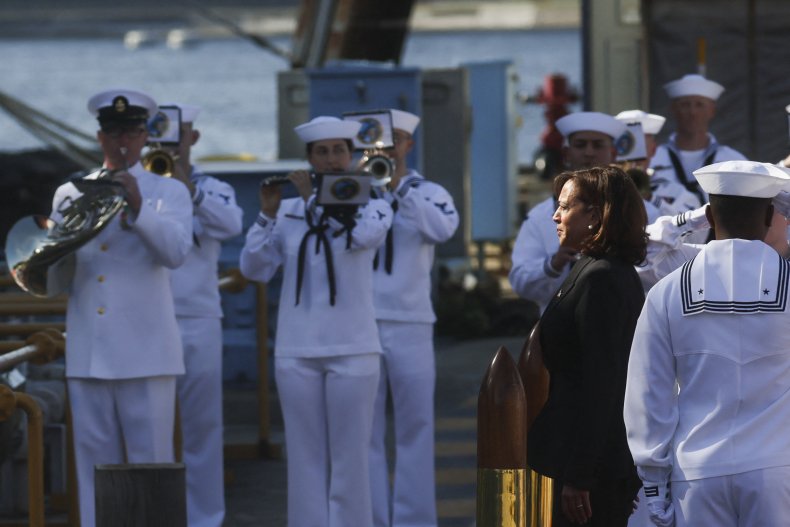 Japan has also sought more assurances from the U.S. in light of Beijing's show of force in the region in August, when the Chinese military conducted large-scale war games in response to House Speaker Nancy Pelosi's visit to Taipei.
China's rocket forces fired ballistic missiles around Taiwan and directed several of the projectiles into the Japanese maritime zones, further raising the specter of a potential future U.S.-China conflict having a major impact on Japan's own security.
Biden also pledged to defend Taiwan with U.S. forces during a visit to Japan in May.
"We anticipate continued aggressive behavior from Beijing, as it attempts to unilaterally undermine the status quo," Harris said in her address. The U.S. military would continue to operate in the region "undaunted and unafraid," she said.
Harris' schedule included bilateral meetings with leaders from Australia, South Korea and Japan. Earlier this week, she and Japanese Prime Minister Fumio Kishida reaffirmed the "importance of preserving peace and stability across the Taiwan Strait."
Wang Wenbin, China's foreign ministry spokesperson, that provocations from the U.S. and Taiwan were the cause of cross-strait tensions. The Chinese response was "legitimate, lawful, proportionate and necessary," he told reporters in Beijing on Wednesday
Wang urged the U.S. to "state its opposition to all Taiwan independence separatist activities with absolute clarity."