Vicky White Autopsy Result Confirms Suicide by Gunshot
Vicky White's cause of death has officially been declared a suicide after a coroner carried out an autopsy.
The jail official accused of helping dangerous convict Casey White (no relation) escape from Lauderdale County Jail in Alabama died from a single, self-inflicted gunshot wound to the head, according to Coroner Steve Lockyear. "The manner of death has been ruled a suicide," the coroner's office said in a brief statement on Tuesday night.
The Vanderburgh County Sheriff's Office had previously stated Vicky White shot herself after a police chase and car wreck on Monday afternoon in Evansville, Indiana. Now the finding has been officially confirmed by the local Vanderburgh County Coroner following an autopsy conducted from 5 p.m. on Tuesday evening.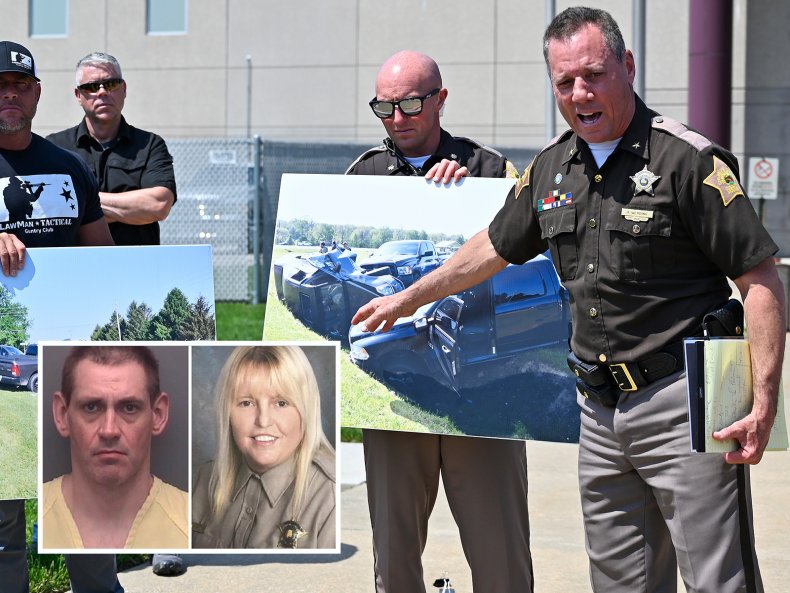 Vicky White died on Monday, after 10 days on the run with her former charge, who is now in police custody. The 56-year-old divorcee's actions sparked a media frenzy, with her motives for allegedly helping the convict remaining a mystery. Some suspected a romantic relationship between the pair, while others feared she may have been threatened or coerced into helping him.
Now that Casey White has been captured alive, investigators are working to piece together exactly what happened.
U.S. Marshal Martin Keely told CNN's Anderson Cooper 360 that Casey White referred to Vicky White as his "wife" after he had been apprehended. But Keely said it didn't appear as though the pair had married whilst on the run.
Vicky White was married previously, but the couple divorced in 1991, according to The Associated Press, and her ex-husband died earlier this year.
She was close with her mother, Pat Davis, who lived next door to her and said she saw her daughter every day. The last time she spoke to her daughter was April 29, the day she fled with Casey White; the day Vicky White was due to retire.
Lauderdale County Sheriff Rick Singleton said until the jail break, Vicky White had been an "exemplary employee...[with] an unblemished record."
She had won "corrections employee of the year" four times, the New York Times reported. Vicky White had won the gong again this year, and had been due to collect the award at a ceremony next week, according to News Nation.
Newsweek has reached out to the Lauderdale County Sheriff's Office seeking further information about the claims.
Casey White was serving 75 years in jail for a string of crimes he committed in 2015, including a home invasion and a carjacking. He also faces capital murder charges dating back to the same year after being accused of stabbing 58-year-old Connie Ridgeway.
If you have thoughts of suicide, confidential help is available for free at the National Suicide Prevention Lifeline. Call 1-800-273-8255. The line is available 24 hours every day.