Vicky White Likely Mastermind Behind Casey White Prison Escape: Lawyer
The former attorney for Casey Cole White, the capital murder suspect who disappeared with jail official Vicky White on April 29, believes the woman is the likely mastermind in the pair's widely publicized escape from the Lauderdale County Jail in Alabama.
"None of his crimes were planned," Dale Bryant told Newsweek in an email on Sunday. "They are all short-sighted, in-the-moment crimes."
Limestone County, Alabama, attorney Bryant represented Casey White during the appeals process for convictions made in 2019 when he was prosecuted for a spate of prior crimes in Alabama and Tennessee.
Bryant believes Casey White reacts to situations, not plans.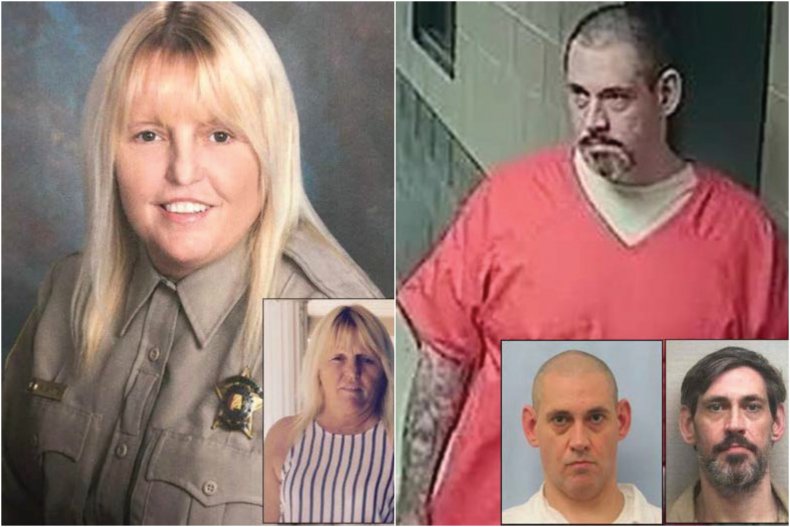 "Even his prior escape attempt from the same county jail was spontaneous," Bryant told Newsweek. "Also, if you notice in the video of the two leaving the jail, Casey's body language does not look like someone that is hiding something. Her body language looks more hurried and anxious."
For those reasons, he thinks Vicky White orchestrated the successful escape.
The pair, who are not related, left the jail that morning under the guise of a transport to a mental health evaluation, and their absence went unnoticed for hours, officials said.
As the investigation unfolded that night, Lauderdale County Sheriff Rick Singleton said Vicky White broke protocol transporting a prisoner alone and that investigators would be looking into their interactions.
In the nine days since their disappearance, they've uncovered evidence that the escape was a well-planned event, with Vicky White selling her home for about $95,000 and using multiple banks to withdraw the funds, according to media reports. And fellow inmates of Casey White said he and Vicky White allegedly had a "special relationship," a report verified by WAFF News.
In recent developments, investigators announced a 2007 Ford Edge purchased by Vicky White prior to the escape was found last week and identified Thursday in Bethesda, Tennessee, about two hours away from the Lauderdale County Jail. It had several areas of spray-paint on its exterior. Surveillance footage released Saturday shows Vicky White in a Florence, Alabama, Quality Inn near the jail, where she spent the night prior to the escape, according to Alabama Live.
"The planning of this escape was far too thorough and too far-thinking, and that is not Casey's MO," Bryant told Alabama Live in comments confirmed by Newsweek.
What Casey White Might Do
Though he declined to provide a diagnosis, Bryant said Casey White suffers from a mental illness, which can be better controlled during confinement.
"When Casey is on his medication and in jail in a structured environment, Casey's an alright guy,'' Bryant said. "You'd never know he was a danger because he's medicated and in a structured environment."
He expressed concern over what Casey White could potentially do without that medicine and structure.
"When he's off his medication, he usually self-medicates through drugs, usually methamphetamine, and that's when things become a problem,'' Bryant said. "Because even if you don't have a mental illness and you're on methamphetamine, you become paranoid, irrational, impulsive and if you take someone with mental illness, it just exacerbates that."
Casey White, 39, was charged with two counts of capital murder in 2020 in the slaying of Connie Jane Ridgeway, according to Alabama Live. Described as a "murder-for-hire," Ridgeway, 59, was killed October 23, 2015, in Rogersville, Alabama, at her home near the football field of Lauderdale County High School.
Casey White wasn't charged with Ridgeway's killing until five years later in 2020, though it was reported he was arrested in December 2015 after a crime spree in north Alabama and south Tennessee.
For those crimes, he was found guilty in 2019 of nine charges stemming from one night that involved multiple shootings, two carjackings and a home invasion, as well as the death of a dog.
In 2020, while in custody for the crime spree, he was charged with two counts of capital murder in Ridgeway's death, as well as accused of plotting the other escape attempt reference by Bryant.
"You can even look at all of his prior criminal acts–none of those were planned,'' Bryant said. "They were all spur of the moment. He's just reacting to things."
The U.S. Marshals Service said in a release that anyone with information on the pair's whereabout should call 1-800-336-0102.