Video: CNN Host Don Lemon Slams Donald Trump for Attending George H.W. Bush Funeral: 'Hell to the No'
CNN host Don Lemon launched a fresh attack on President Donald Trump yesterday, slamming him for his behavior at the funeral of former president George H.W. Bush.
While handing over to Chris Cuomo at the end of his show, Lemon suggested Trump should not have even attended the service for the 41st president given his past disparaging comments about members of the Bush family.
Read More: George H.W. Bush Funeral Photos: America Bids Final Farewell to 41st President—In Pictures
"If I didn't like someone that much and I talked as much smack, I would not show up at their funeral, okay?" Lemon said. "That's reality. Do people you hate—you don't like in real life, who are not in political office—do you show up at your enemy's funeral?"
Cuomo disputed Lemon's take, arguing Trump's attendance was about respecting the office of the presidency, and said he was at the funeral as the representative of the American people.
But Lemon was not convinced. "I think you respect the person, living or dead," he continued. "An office is not a human being. I don't think it's respect for the human being if you talk smack about them, if you say the nastiest things about them, if you treat them as subhuman, and then you want to show up at their funeral. Really? Hell to the no."
Wednesday's service at the Washington National Cathedral saw the "presidents club"—former presidents who are still alive—come together for the first time since Trump's January 2017 inauguration.
The president and the first lady took their seats in the front row of the congregation alongside Barack and Michelle Obama. The couples greeted each other and shook hands, something Lemon also took issue with.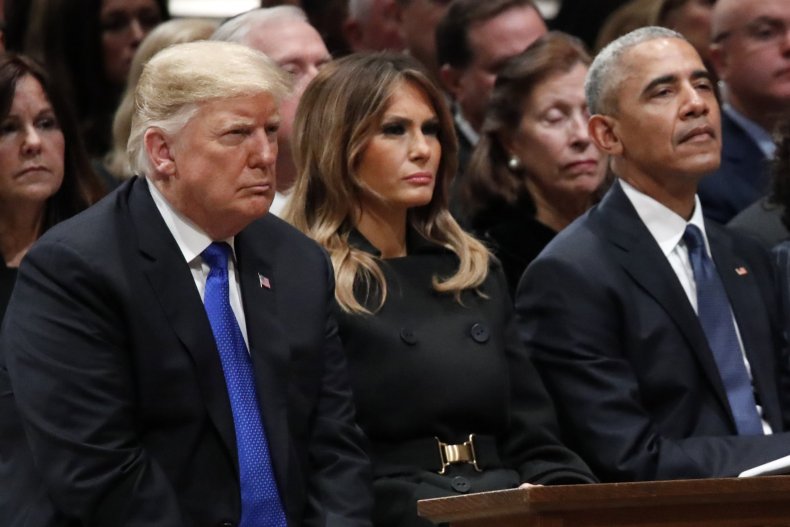 "The Obamas are really classy folks," he said. "I don't think I would have shaken hands with him, I would just—nope, couldn't do it. I'm not that big a person."
Again, Cuomo presented the other side of the argument, telling Lemon, "It's about showing respect for something bigger than them."
But Lemon would not budge. "They do not have to respect someone who does not respect them," he said. "Someone who tweets out pictures of them behind bars… You don't have to show respect for that kind of person."
The CNN host then demonstrated what he would have done, asking one of his show's crew to come into shot to hold out his hand for a handshake. Lemon nodded to the man, but did not shake his hand—just as he claimed the Obamas should have done to Trump.
"You're petty and small," Cuomo responded.
The next couple down from the Obamas were Bill and Hillary Clinton. The Trumps did not greet or even acknowledge the Clintons, as Hillary—who has regularly criticized the president since being defeated by him in the 2016 presidential election—maintained a steely gaze straight ahead.
The battle between Trump and Hillary was one of the most divisive and toxic in American history. But the antagonism did not end with Trump's inauguration. The president still regularly criticizes Hillary at rallies and public appearances, and last month even tweeted a photo of her behind bars, among other adversaries.
Cuomo suggested the president should have also shaken hands with the Clintons rather than ignore them, even if they were doing the same. "Somebody's got to be bigger," he argued.