Video of Democratic Senator Blasting Josh Hawley Garners 3.2 Million Views
A video of Senator Brian Schatz, a Hawaii Democrat, blasting GOP Senator Josh Hawley over his efforts to block President Joe Biden's Defense Department nominations has been viewed more than 3 million times on Twitter.
On Thursday, Schatz took to the Senate floor to strongly criticize and condemn Hawley. The remarks came after the Missouri Republican said he would continue to block the nominees due to a "Joe Biden problem." Hawley also said his position would remain the same "until there is accountability, until we have a change in policy."
In a video shared to Twitter by Schatz's communications aide, Sam Jeske, the Democratic senator said Hawley "is damaging the Department of Defense." The Hawaii lawmaker then referenced a now-infamous image of Hawley from January 6, 2021, saying, "And this comes from a guy who raised his fist in solidarity with the insurrectionists." The clip had been viewed over 3.2 million times as of the time of this writing.
Schatz argued that Hawley's request for "accountability" was not reasonable—pointing out that he's demanded that Secretary of Defense Lloyd Austin resign. Last September, Hawley told CNN that he'd continue to hold up nominees unless Austin stepped down from his post.
"That's not a serious request," Schatz said in his attack on Hawley's position. "People used to come to me during the Trump administration all the time. 'Do you think Trump should resign? Do you think [former Secretary of State Rex] Tillerson should resign?' Of course I think all the people I disagree with should quit their jobs and be replaced with people I love."
Schatz continued, "Of course I think they should all resign. That's not how this world works. That is not a reasonable request from a United States senator that, until the secretary of defense quits his job, I'm going to block all of his nominees. That's preposterous."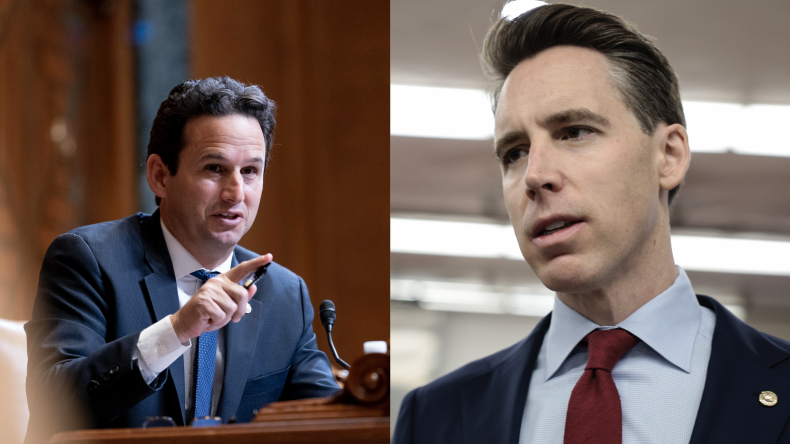 In a statement from a press release emailed to Newsweek, Hawley's office said "not a single Administration official has been fired or held accountable for their role in the Afghanistan withdrawal disaster, which resulted in the loss of 13 American service members and hundreds or more Americans left behind Taliban lines."
The press release added, "Sen. Hawley also called the Administration to account for its failures in Ukraine, demanding that the White House and Democratic colleagues provide Ukraine with more of the assistance President Volodymyr Zelensky has been urgently requesting, including MiG fighter jets and more intelligence support."
Abigail Marone, Hawley's press secretary, tweeted a response to Schatz on Thursday: "13 American service members died. Hundreds of Americans left behind enemy lines. No accountability from the Biden Admin. How could you NOT be mad? Even Senator Schatz could not defend Biden's terrible foreign policy. Like every other Democrat he just wants to move on."
While Hawley's actions cannot permanently block the nominees from moving forward, they force Senate Majority Leader Chuck Schumer, a New York Democrat, to take additional steps to get them confirmed. Other Democrats have criticized Hawley for stalling the process.
"What my colleague from Missouri is doing is making us less secure because he's holding nominees," Senator Jeanne Shaheen, a New Hampshire Democrat, said in February, Politico reported. "He's complaining about the problems we have in Russia and Ukraine and he's making it worse because he's not willing to allow those nominees who can help with that problem to go forward."
Hawley is rumored to be considering a 2024 presidential run and has received substantial criticism in the wake of the January 6, 2021, attack on the U.S. Capitol by Donald Trump supporters. As Schatz mentioned, a photo of Hawley raising his fist in support of the demonstrators went viral after the events of that day. The GOP senator also led the effort in the Senate to object to President Joe Biden's victory in several key swing states.