Video of Jan. 6 Rioter Screaming 'I'm an Animal' Goes Viral
Video of a former police officer repeatedly shouting "I'm a f****** animal," whilst taking part in the January 6, 2021 storming of Congress, has gone viral on social media.
Sara Carpenter, 53, was convicted of seven felony and misdemeanor charges on March 9, including civil disorder and obstruction of an official proceeding.
She is due to be scheduled in Washington, DC on July 14.
On January 6, hundreds of Trump supporters broke into Congress, in a bid to stop Joe Biden's 2020 presidential election victory from being certified.
One protestor was shot dead, whilst dozens of police officers were injured after being attacked with poles, rocks and chemical irritants.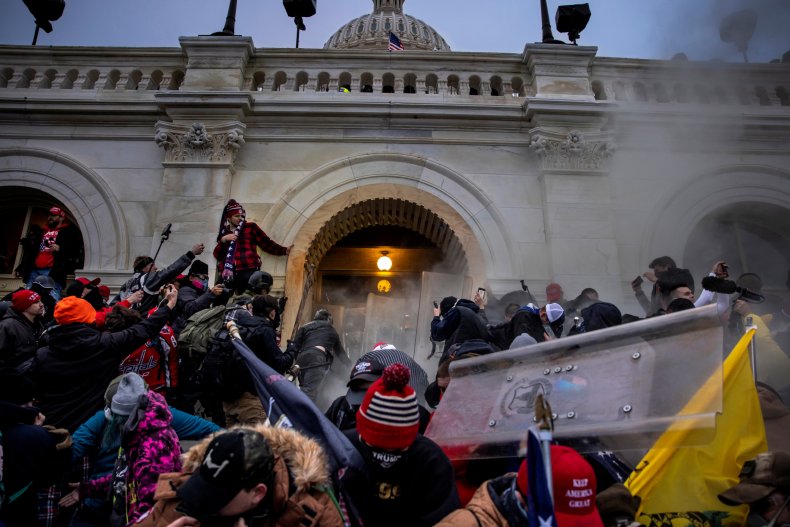 As part of her trial, police bodycam footage was released showing Carpenter, and other demonstrators, confronting officers in a passageway leading to the Senate chamber.
Wearing a 'Keep America Great' hat, and waving a tambourine, Carpenter can be heard shouting: "I was in 9/11, I searched for bodies. I'm a f****** animal. I am a f****** animal. I am a f****** animal, do you hear me? You hear me at the back?"
At this point her shouting becomes largely inaudible, as Trump supporters chant: "Who's House? Our House!"
A clip of the exchange was posted on Twitter by CBS News congressional correspondent Scott MacFarlane, where it received more than 325,000 views, and was retweeted 2,500 times.
The 'Trending Liberal' Twitter account posted a 23-second section of the same exchange, which received more than 166,000 views on the social media platform.
They added: "Clips like this make MAGA lose their 'tourist' narrative. Bigly."
This appears to be a reference to comments made by House Republican Andrew Clyde in May 2021, who compared the storming of Congress to "a normal tourist visit."
In a press release, the Department of Justice said Carpenter, an ex-New York City police officer, spent 34 minutes inside Congress on January 6 2021, despite "being told to leave" by officers.
As she left the building Carpenter reportedly said: "The breach was made. It needs to calm down now. Congress needs to come out. They need to certify Trump as president. This is our house."
The Department of Justice statement ended: "In the 26 months since Jan. 6, 2021, more than 999 individuals have been arrested in nearly all 50 states for crimes related to the breach of the U.S. Capitol, including more than 320 individuals charged with assaulting or impeding law enforcement. The investigation remains ongoing."
Earlier this month Tucker Carlson began broadcasting previously unseen footage from January 6 on his Fox News show, after it was handed over by new House Speaker Kevin McCarthy.
Carlson claimed the majority of those who stormed Congress were "not insurrectionists, they were sightseers."
This view was condemned by a number of prominent Republicans, including Senate Minority Leader Mitch McConnell.
Speaking to reporters McConnell said: "It was a mistake, in my view, for Fox News to depict this in a way that's completely at variance with what our chief law enforcement official here at the Capitol thinks."