Video of Joe Manchin Telling Bernie Sanders 'Never Give Up' Viewed Over 123,000 Times
A video of Democratic West Virginia Senator Joe Manchin telling Independent Vermont Senator Bernie Sanders "never give up" has gotten over 123,000 views on Twitter. Manchin's comment is likely a reference to ongoing negotiations between progressives and moderate Democrats on their $3.5 trillion "human infrastructure" proposal.
Video captured Manchin and Sanders walking together from the Capitol building on Monday evening. After asking reporters to take photos of the two men, Manchin then put his arm around Sanders.
When a reporter asked Sanders whether he thought Democrats would have a reconciliation resolution by the end of the week, Sanders answered, "We're talking. We're talking." Then, before the two senators left in their respective vehicles, Manchin said, "Never give up, Bernie."
Manchin has been one of two Democratic senators who have withheld their support on President Joe Biden's $3.5 trillion reconciliation proposal. He and Arizona Senator Kyrsten Sinema have demanded a reduction to the proposal's overall cost.
Manchin's demands for a reduced cost have put him in conflict with progressives like Sanders. Specifically, Manchin has opposed the $150 billion clean energy program that is a centerpiece of both Biden's climate agenda and the overall proposal, known as the Build Back Better plan.
The proposals' clean energy initiative seeks to replace America's coal and gas-fired power plants with wind, solar and nuclear energy. Those replacements will likely be scaled back following Manchin's opposition.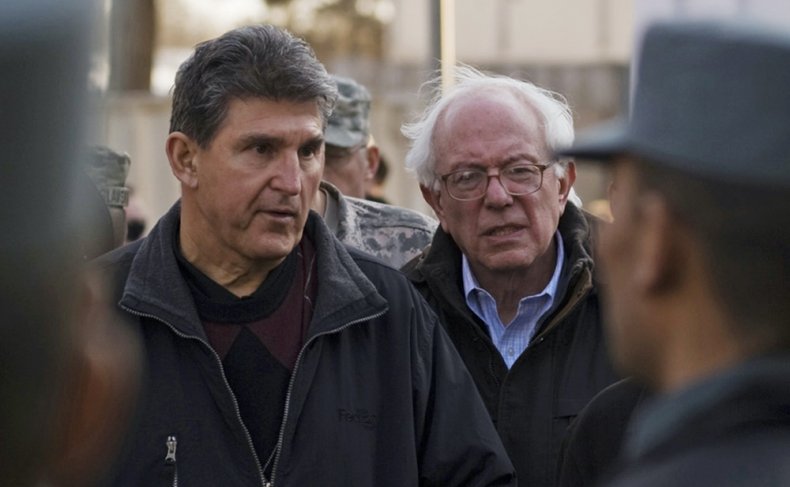 Manchin said he wanted to ensure that coal miners and fossil fuel workers in his home state would have their livelihoods protected as the nation pursues other renewable energy resources. Manchin made $492,000 in 2020 through private shares in a coal company, his latest financial disclosures showed.
Manchin has also reportedly objected to the proposal's expansion of a child tax credit. Manchin has insisted on adding a work requirement and cap for households earning over $60,000 a year, Axios reported on Sunday.
The president's Build Back Better agenda initially sought funding to expand public housing, childcare, healthcare and eldercare as well as for initiatives to fight climate change. The $3.5 trillion proposal package has since been negotiated down to the $2 trillion range.
In comments published last Saturday, Sanders said the bill hadn't created a divide between congressional progressives like him and moderate Democrats like Manchin. Instead, he said that ongoing negotiations were just a part of the normal legislative process.
"If you have a caucus which is divided—you've got 25 people who want to do one thing, 25 people who want to do the other thing—you know what you do? You compromise," Sanders told The New York Times for an article published Saturday.
However, Democratic progressives have said they may oppose the bill if its climate change initiatives are too weakened.
"We cannot advance legislation that makes the climate crisis worse," progressive New York Democratic Representative Alexandria Ocasio-Cortez tweeted last Friday.
Democrats are seeking to pass the legislation via budget reconciliation. Reconciliation would allow Democrats to bypass the Senate's 60-vote filibuster for passing legislation.
However, all 50 members of the Senate Democratic caucus would need to vote in favor of the legislation in order for it to pass. In other words, the Build Back Better plan cannot succeed without both Manchin's and Sanders' support.
Newsweek contacted Manchin's office for comment.