Video of Mom Insisting She Isn't Racist for Opposing Racial Justice Lessons Viewed Over 500K Times
A video of a white mother in Missouri insisting that she is not racist for opposing her children learning about racial justice has been watched over 500,000 times on Twitter.
The video was captured in Eureka during a Friday meeting of parents from the Rockwood School District about their concerns regarding the teaching of critical race theory, which is not even currently part of the school district's curriculum. But many white parents raised alarms that their children were being confronted with ideas they find uncomfortable, while some pushed for disregarding the discussion racial inequalities altogether, NBC News affiliate KSDK 5 reported.
In one particularly viral video from the contentious meeting, a white mother can be seen emotionally arguing that she is not a racist due to her opposition to critical race theory. The mother cried while explaining that her daughter regrets being white.
"She is one of the most innocent little girls in the whole world, and she has friends, Black and white kids in her classroom, and she doesn't see any difference," the mother says. "I have actually raised my kids to love people and accept people no matter what, and just because I don't want critical race theory taught to my children at school doesn't make me a racist, dammit."
But many on social media disagreed. A Twitter user going by the name "Gramps" shared the video, writing: "A racist." His clip of the video has now been viewed over 515,000 times as of the time of writing, with many commentators criticizing the woman and saying that she is racist.
Many conservatives have condemned critical race theory, with Idaho officially banning it from being taught in schools and universities. Kendall Thomas, a law professor at Columbia University and co-editor of Critical Race Theory: The Key Writings That Formed the Movement, recently explained some basic facts about critical race theory to Newsweek.
"CRT tracks the ways in which the 'color-blind racism' of today's post-civil rights era entrenches racial disparities, discrimination and disadvantage among Black, Brown and Native American communities without ever explicitly using the language of 'race,'" Thomas said.
The concerns from white parents come as the nation continues to grapple with racism and systemic inequalities. The massive nationwide Black Lives Matter and anti-racism demonstrations of 2020 led to what many view as a watershed moment—bringing more Americans to recognize the deep-seated problems of racism embedded throughout society. At the same time, many have pushed back against this belief, claiming that there is no systemic racism despite significant data showing the opposite.
A recent report from The Washington Post, which looked at data from 2015 to 2020, found that Black Americans were killed by police at a rate that is more than twice as high as white Americans. The NAACP found that from 2017 to 2020, Black men were five times more likely than white people to be stopped by law enforcement without a valid reason.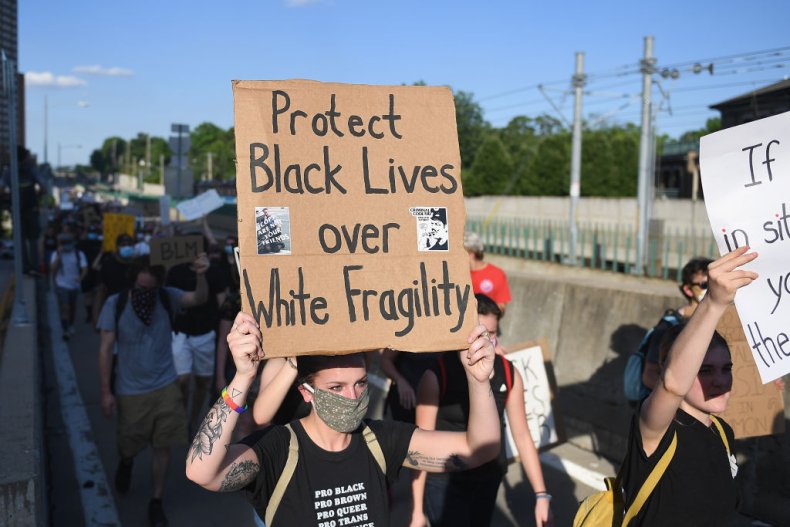 Data from the Bureau of Justice Statistics shows that at the end of 2018, Black people were incarcerated at a rate that was nearly five times as high as white Americans. While there were just 268 white prisoners per every 100,000 white Americans, there were 1,501 Black prisoners for every 100,000 Black Americans.
Polling conducted by The Wall Street Journal and NBC News last summer found that 56 percent of Americans believed that U.S. society is racist. Meanwhile, just 40 percent of voters said that American society is not racist.
Newsweek reached out to media representatives from the Rockwood School District for comment.