Tim Scott Wants Police Reform Because He's Been Stopped 18 Times for 'Driving While Black'
Senator Tim Scott, a South Carolina Republican, said during a Sunday interview that he asked to take the lead on GOP efforts to reform policing in the U.S. because he's personally been stopped 18 times for "driving while Black."
Scott, the only current Black Republican senator, has been meeting and negotiating with Democratic colleagues to hammer out significant police reform legislation. The effort to pass police reform began last year in the wake of the killing of George Floyd, an unarmed Black man, by former Minneapolis police officer Derek Chauvin—who was convicted of the murder in a grand jury trial last month.
"One of the reasons why I asked to lead this police reform conversation on my side of the aisle is because I have—I personally understand the pain of being stopped 18 times driving while Black," Scott told CBS News' Face the Nation. The GOP senator went on to say that he's also seen the "beauty" of police officers' actions, pointing to how they "go door-to-door" with him on Christmas morning to deliver presents "to kids in the most underserved communities."
"I think I bring an equilibrium to the conversation," Scott added.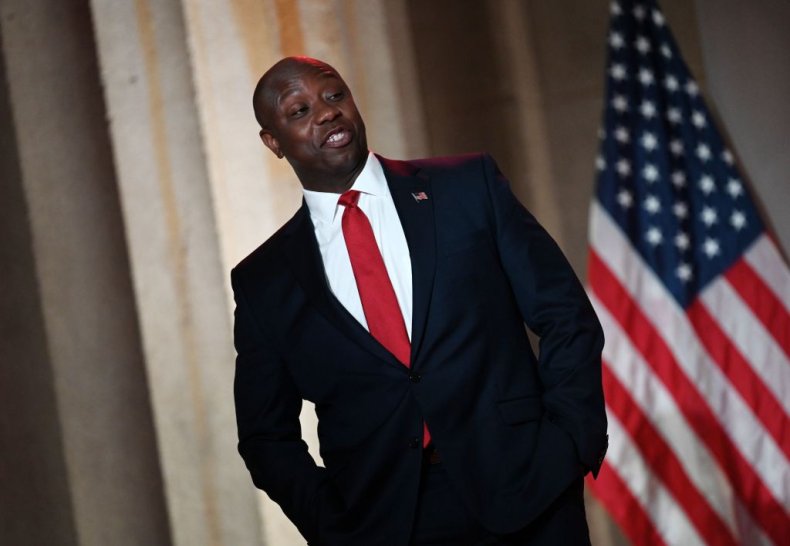 Later in the interview, Scott again pointed to his own experience being stopped by police for no apparent reason, despite him serving in the Senate.
"I've been stopped several times in the last three years in the Capitol and on the streets throughout the country. So I'm not having a conversation about some theory or philosophy," the lawmaker explained.
Scott previously highlighted his experience of being stopped for driving while Black in a Senate floor speech back in 2016. At that time, he said he'd been stopped by police seven times in the past year. "Imagine the frustration, the irritation, the sense of a loss of dignity that accompanies each of those stops," the Republican said.
"I was doing nothing more than driving a new car, in the wrong neighborhood, or some other reason just as trivial," Scott pointed out at the time.
In a Wednesday evening address to a joint session of Congress, President Joe Biden urged Democrats and Republicans in Congress to come together to pass serious police reform legislation by the one-year anniversary of Floyd's murder on May 25.
"I know the Republicans have their own ideas and are engaged in productive discussions with Democrats. We need to work together to find a consensus. Let's get it done next month, by the first anniversary of George Floyd's death," Biden said.
Scott expressed optimism about the way discussions are currently moving forward, suggesting that his Republican colleagues plan to follow his lead when it comes to supporting police reform. "I think my party, significant numbers in my party have already said to me, we will go where you go on this issue as long as I can explain my position. And we're going to do that," he told Face the Nation on Sunday.
Data from 2017 through 2020 analyzed by the NAACP found that Black men are "five times more likely to be stopped without just cause than a white person." Furthermore, a recent Washington Post analysis of data from 2015 through 2020 showed that Black Americans are killed by police at a rate that is more than twice as high as white Americans.
Newsweek reached out to Scott's press secretary for further comment.