Video: Rosie O'Donnell and Broadway Stars Join Anti-trump Protesters as White House Rallies Hit 3-week Mark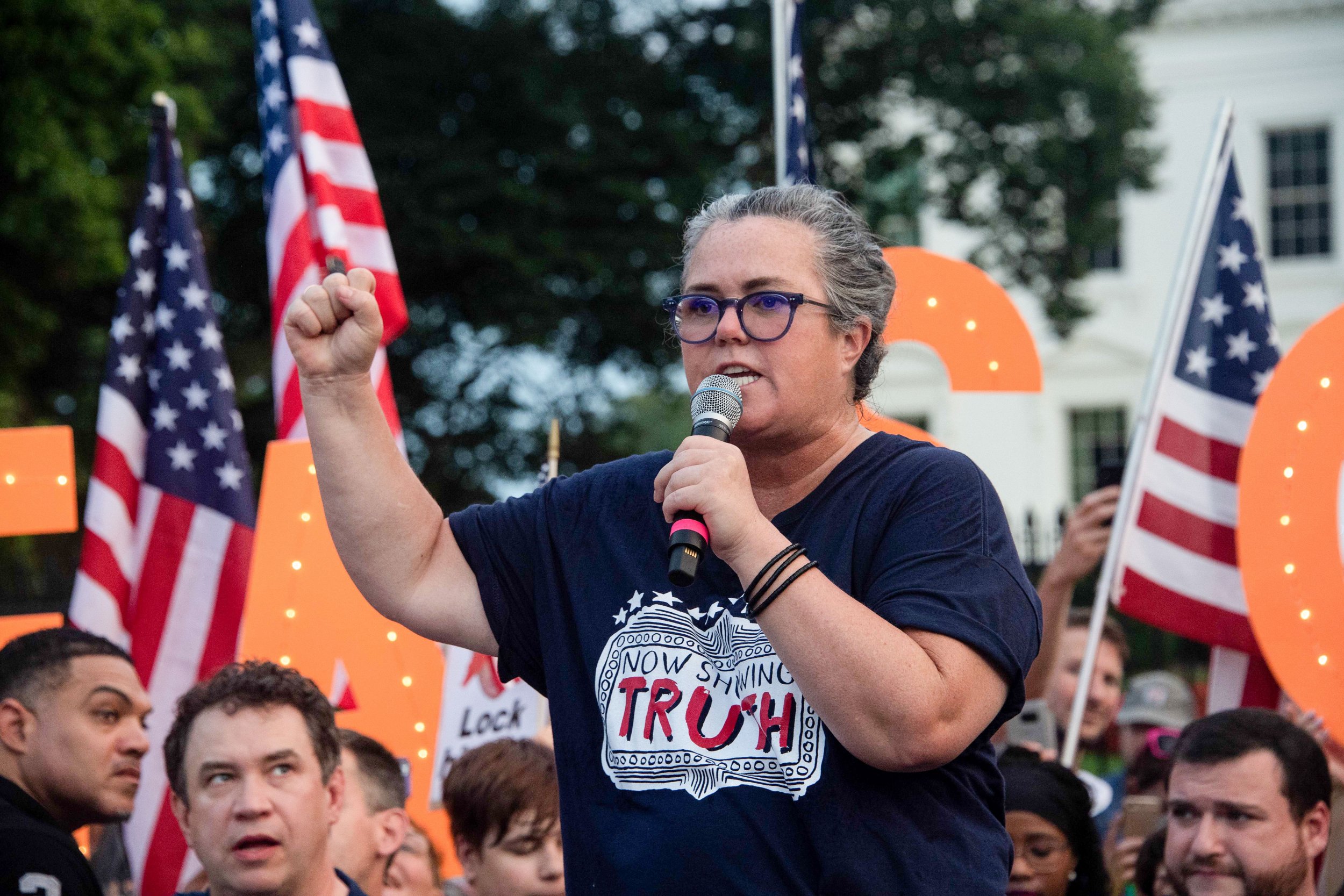 Anti-Trump protesters rallying outside the White House for 22 consecutive days received some star power on Monday, with comedian and longtime Donald foe Rosie O'Donnell joining the protest, along with dozens of Broadway stars from Hamilton, Wicked and Les Miserables.
Before leading protesters in a rendition of "America, the Beautiful" outside the White House on Monday evening, O'Donnell delivered a fiery speech to the crowd, telling rally-goers to "let your voice be heard.
"Let the president know in no uncertain terms that we are alive, awake and we are woke. We are not going away," the comedian said, according to People magazine.
Protesters have been rallying outside the White House, which they have dubbed the "Kremlin Annex," for the past three weeks. Demonstrations started on July 16 in response to Trump's Helsinki summit with Russian President Vladimir Putin.
Former Hillary Clinton campaign adviser Adam Parkhomenko, who has helped organize the protests, said he was determined to keep them going for as long as possible.
That goal has been helped by the fact that protest organizers have managed to raise more than $100,000 to cover the costs of shelter, food and security to keep the White House protests going all summer.
Ahead of Monday's protest, O'Donnell tweeted a video of the comedian and Broadway stars on a bus headed to the White House as they practiced a performance of "Climb Ev'ry Mountain."
The comedian's participation in the protests comes as no big surprise, with O'Donnell and Trump having long been embroiled in an ongoing feud. O'Donnell has branded the president a "sadistic man" while the U.S. leader called the actor a "loser" and has repeatedly insulted her appearance.
O'Donnell and the cast of Broadway stars who joined protesters on Monday were not the only high-profile people to make appearances at the ongoing rallies, however.
Actor and activist Alyssa Milano, Stormy Daniels's lawyer Michael Avenatti and Representative Joaquin Castro, who represents Texas's 20th Congressional District, have also shown up at rallies over the past three weeks.
Kristin Mink, a teacher who made headlines last month after she confronted former Environmental Protection Agency administrator Scott Pruitt in a restaurant in Washington, D.C., was also present at Monday's protest.
In a tweet, Parkhomenko appeared to suggest that Monday's special performance led by O'Donnell and Broadway stars was at least in part a celebration of special counsel Robert Mueller's birthday.
"Happy Birthday Robert Mueller!" Parkhomenko wrote, after tweeting out a photo of O'Donnell speaking to protesters, with the caption: "Rosie CRUSHED it. I can't imagine what the party is going to be like with her when Trump gets locked up."
Read more: White House Protests Enter Third Straight Week, Dub Trump a Treasonous Traitor
Mueller's investigation into alleged Russian meddling in the 2016 U.S. election and potential collusion between Trump's campaign team and Russia is still underway.
The U.S. leader has faced major backlash over his Helsinki meeting with Putin, during which he appeared to reject the U.S. intelligence community's conclusion of Russian interference in the 2016 presidential campaign.
Days after claiming that he didn't see any reason why Russia "would" be responsible for election meddling, the president tried to rescind the comment, claiming he had meant to say: "I don't see any reason why it wouldn't be Russia."
Video: Rosie O'Donnell and Broadway Stars Join Anti-trump Protesters as White House Rallies Hit 3-week Mark | U.S.