Video Shows Joe Biden Tripping on Stairs of Air Force One 
President Joe Biden was seen on video tripping while walking up the stairs of Air Force One in Poland.
"President Joe Biden tripped and caught himself as he boarded Air Force One in Poland. The President is now on his way back to the White House," Edward Lawrence of Fox Business wrote on Twitter with the video.
The video on Wednesday came just one day after many social media users speculated that Biden fell down the steps when arriving in Poland. However, a video posted by ABC News showed that Biden walked down the stairs without falling, and a White House spokesperson told Newsweek that the person who fell was not Biden.
Following Biden's stumble on Wednesday, the video was shared by a number of other Twitter accounts, with many criticizing Biden and calling his health into question.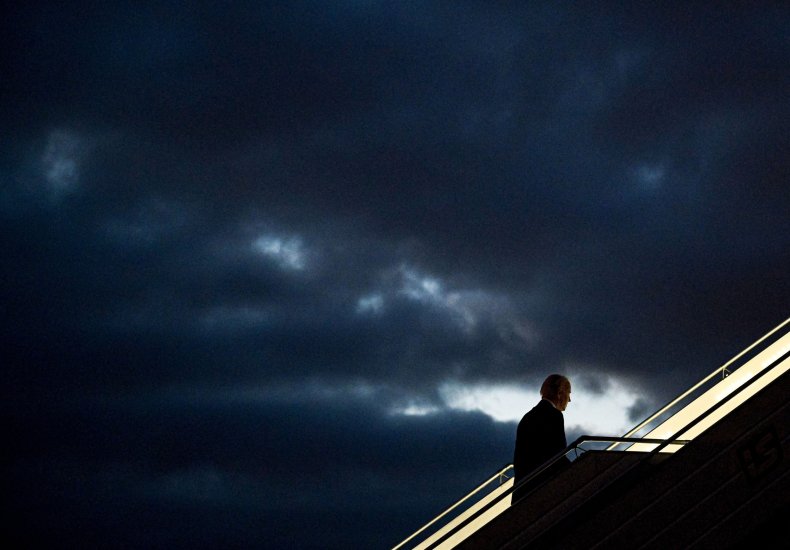 "On the left: President Trump boards his plane heading to East Palestine, OH. On the right: President Biden trips up the stairs trying to leave Poland. America, the choice is yours! #MAGA," the Trump War Room Twitter account wrote.
Former President Donald Trump's son, Donald Trump Jr., also shared the video and wrote, "Oops he did it again. Our president seems incapable of getting up a flight of stairs. This is the guy leading us into WWIII... what could go wrong?"
Steve Guest, an special communications adviser to Texas Senator Ted Cruz, shared previous videos of Biden falling on stairs when boarding an airplane.
"Stairs can be challenging for Joe Biden. In March 2021, Biden fell 3 times while trying to walk up the stairs to get on Air Force One," Guest wrote.
Conservative commentator Charlie Kirk wrote "IT HAPPENED AGAIN: Joe Biden trips as he boards Air Force One in Poland. The symbolic final image of a trip marked by posturing, brinksmanship, more $$ for Ukraine, and the further escalation of a proxy war with Russia."
Jason Miller, an ally of Trump, also responded to the video, saying, "He did it again!!! Biden face plant in Poland."
Brad Howard, a producer at CNBC, responded to the video saying, "As someone who inexplicably trips on stairs on the regular, I feel this clip."
Newsweek reached out to the White House for comment.
In June, Biden was seen on video falling off his bike in Delaware. After stopping the bike, Biden fell over on his side. He told bystanders that he was "good" shortly after the fall.
"My foot got caught," he said.