Joe Biden Falls Off Bike During Delaware Ride
President Joe Biden said he was "OK" on Saturday after falling off his bike near his home in Rehoboth Beach, Delaware, where he and first lady, Jill Biden, are spending the weekend.
Videos posted to social media showed the 79-year-old Biden riding his bike and stopping to meet a small group of people.
The president briefly fell off the bike toward the end of his bike tour on Saturday morning at around 9.30 a.m. E.T., but he did not appear to be hurt.
"I'm OK," Biden told onlookers following the fall, and he also reportedly told reporters who had witnessed the incident that he was "good" and that his foot had become caught.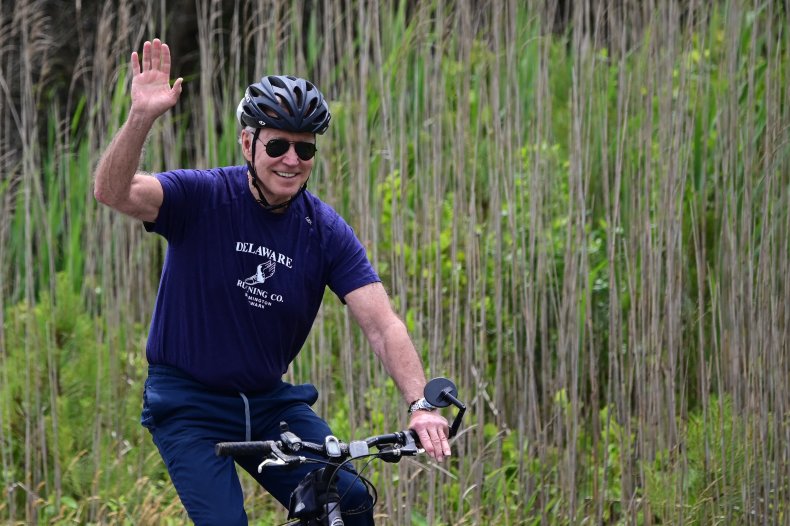 Biden had been riding his bike and reportedly said "Good morning" before bringing the bike to a stop. Once he had stopped, he briefly fell before righting himself and telling reporters he had had trouble removing his shoes from the pedals, resulting in the fall.
The president was escorted by Secret Service agents, and in the video, those agents can be heard saying "back up, back up."
The White House said in a statement to Bloomberg on Saturday that Biden was fine and did not need medical attention. The White House official said that the president was looking forward to spending the rest of the day with his family.
The Bidens are spending the Juneteenth holiday weekend in Delaware, which Biden represented in the U.S. Senate for decades before becoming vice president in 2009.
Juneteenth is a holiday that commemorates June 19, 1865, when Major General Gordon Granger of the Union Army announced to the enslaved people of Galveston, Texas, that they were free.
Texas was the last former Confederate state that still had institutional slavery.
Biden signed legislation last year that made Juneteenth a federal holiday. It had previously been recognized as an official holiday in 47 states and the District of Columbia.
The Bidens also celebrated their 45th wedding anniversary on Friday.
President Biden is an enthusiastic cyclist who has frequently been photographed out on his bike. During a visit to the U.K. in 2021, he presented British Prime Minister Boris Johnson with an American-made bike, which the White House called "a gesture of friendship and in recognition of their shared interest in cycling."
Johnson, like Biden, has long been known as a cycling enthusiast and has been frequently photographed on his bike.
Biden didn't let COVID-19 prevent his interest in cycling, either. Part of his lockdown exercise regimen was reportedly working out on a Peloton indoors.
There were even concerns that bringing Biden's Peloton to the White House could pose national security problems due to its built-in camera and microphone.
Update 06/18/22 11.30a.m E.T.: This article was updated to include more information.