Video Shows Trump Rally-Goers in Texas Booing 'RINO' Governor Greg Abbott
Video posted to social media showed rally-goers booing Texas Governor Greg Abbott as he took the stage at Donald Trump's rally Saturday night.
Abbott has aligned himself closely with the former president, enacting various Trump-backed policies and receiving his endorsement for his reelection later this year.
But that didn't stop some Trump supporters from booing the governor as he was announced as a speaker during the Texas rally. Several attendees could be heard lobbing insults at the governor, including "Abbott sucks" and "You're a RINO," referring to the phrase "Republican in name only."
During his remarks, Abbott repeatedly name-dropped Trump as some in the crowd continued booing, prompting Democrats and Republicans to troll him on social media.
"Greg Abbott realizes that the only way to keep the MAGA crowd from booing him is to just keep saying, 'Donald J. Trump' over and over again. So he does," wrote attorney Rob Filipkowski.
"It was very awkward," wrote Katrina Pierson, a spokesperson for Trump's 2016 campaign.
Trump endorsed Abbott last June, praising him as a "fighter and a great governor for the incredible people of Texas."
Despite Trump's support, Abbott's opponents in the Republican primary have accused him of not being sufficiently conservative. He faces challengers from the state GOP's former chair Allen West and former state senator Don Huffines.
While speaking at the Conservative Political Action Conference in July 2021, Huffines accused Abbott of being a "RINO" who failed to adequately respond to border crossings.
"We don't have a Donald Trump as governor. We don't have a Ron DeSantis as governor. We don't have a William B. Travis as governor. Unfortunately we've got a career politician that's a political windsock, a RINO," he said.
Meanwhile, West has condemned Abbott's response to the COVID-19 pandemic, accusing him of being too "heavy-handed."
"We're not a constitutional monarchy. We are not to be ruled. We're supposed to be governed," West told WFAA in September 2020. "And so I am very concerned when we continue to see a litany of executive orders, mandates, decrees, and edicts that are handed down and they're not brought through the legislative process."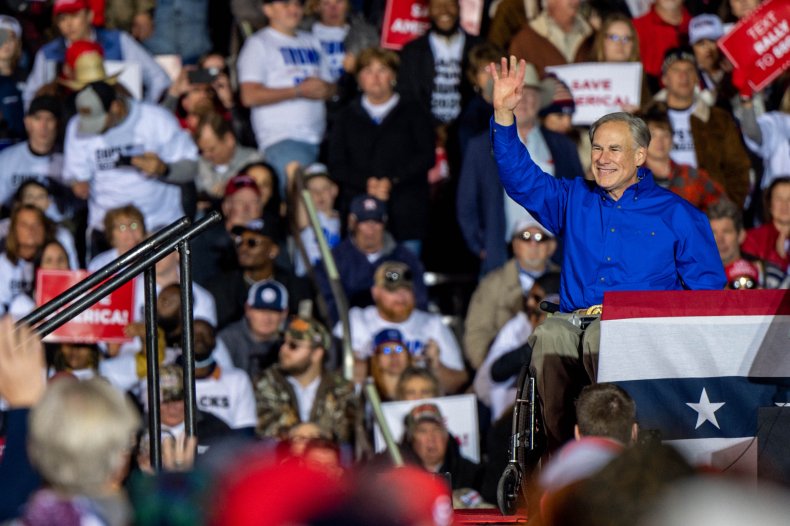 Despite the criticism from some on the right, Abbott remains the favorite in the election, according to a poll released Sunday. The Dallas Morning News-University of Texas Tyler poll found Abbott leading with 59 percent of the vote. West only received six percent, while Huffines received four percent.
Meanwhile, Abbott also remains the favorite in the general election, where he is expected to face off against Democrat Beto O'Rourke, according to the poll. O'Rourke, a former congressman representing El Paso, trailed him by 11 points.
Newsweek reached out to Abbott's office for comment Sunday afternoon. This story will be updated with any response.