Video of Suspected Baby Formula Scalper Clearing Store Shelf Sparks Rage
A video showing an argument between two people over how much baby formula one intended to purchase went viral and sparked outrage among commenters.
TikTok user @chopnedits posted the video to their account on May 10 where it amassed more than 500,000 views. The clip showed one shopper's cart filled with what the woman recording the video said was baby formula.
"My younger sister, first time mother...and this is the crap young mothers deal with," read the caption of the video.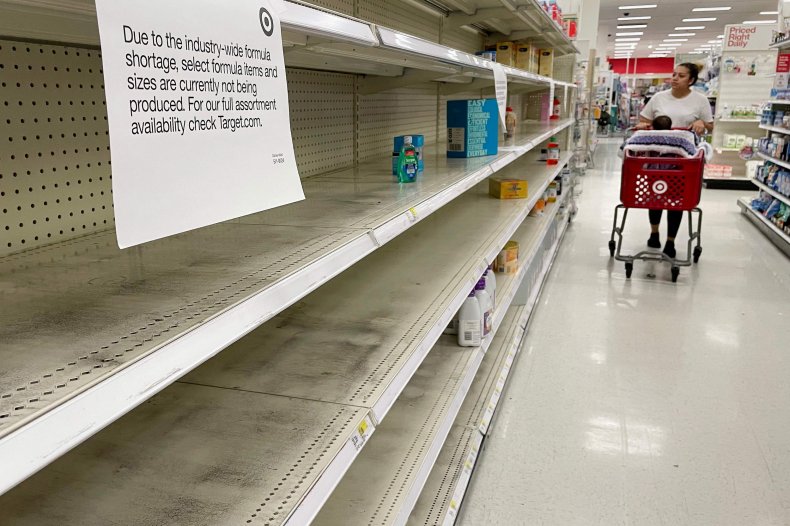 The White House said on Wednesday that President Joe Biden invoked the Defense Production Act to address the ongoing national shortage of baby formula.
If a parent cannot find any baby formula, HealthyChildren.org recommends checking smaller stores that may still have formula in supply.
For many babies, the organization stated it is safe to switch to any available formula unless the child is on a specific formula. In that case, parents are encouraged to speak with their pediatrician about available alternatives.
"You have a whole cart, look at this," the woman recording the video said, showing the full shopping cart before gesturing to bare shelves.
The other shopper tried to defend herself by saying she needed it for her baby.
"You think I know you'd come and you'd get this one?" the other shopper asked, to which the woman recording said the shopper cleared the shelves of the formula.
They continued back and forth before the woman recording the video said the reason behind the formula shortage was people clearing the shelves.
"You come and you buy all the formula at once," she said. "There are kids who need formula today who won't be able to get it because you just bought it to stock up. That's not your problem, right?"
The video concluded as the other shopper walked away without saying another word.
TikTok Comments
Viewers rushed to share their discontent with what they viewed, some going as far as to suggest that the other shopper may be reselling the formula.
"If there is a shortage there should only be a limit of 4 per customer," a TikTok user wrote. "I get times are hard but have respect or others."
"The store should not allow that," commented another.
"She's reselling for sure," one theorized, an idea several other commenters shared.
However, a few seemed to defend the other shopper's actions.
"She was there first and if it's for my child ima make sure my child is good before anyone else's sorry," one viewer wrote.
Another commenter agreed with the sentiment, commenting, "At end of day ain't no one gon look out for your kid but you! What if she had triplets? [People] defending recorder not knowing buyer's situation."
When a viewer asked why there were purchasing limits on toilet paper but not baby formula, @chopnedits replied, "Ask target in mass."
A Target spokesperson told Newsweek in an email that the company has put some online and in-store limitations in place of four products per customer.
A commenter brought up the limitations and said the shopper will likely have been told she cannot buy all the formula in her cart.
Newsweek reached out to @chopnedits for further comment.
The ongoing shortage has had an impact on families across the country, including one in Florida who only managed to find four cans after searching for six hours. A doctor in Tennessee said the shortage is what led to two children needing treatment in the hospital.