Video of Val Demings, Jim Jordan Clash Watched 2 Million Times
A heated exchange between Rep. Val Demings (D-FL) and Rep. Jim Jordan (R-OH) during a House Judiciary hearing on Tuesday has gone viral.
Tensions rose when Jordan tried to interrupt Demings as she spoke about law enforcement during a debate over the COVID-19 Hate Crimes Act, which aims to combat the surge in offenses against Asian Americans since the pandemic broke out.
A video of the clash, shared by The Daily Beast's Justin Baragona on Twitter, has been watched more than 2 million times and has racked up more than 19,000 likes.
During Tuesday's hearing, Demings was speaking out against an amendment Republicans had introduced to stop any defunding of the police despite the fact that the legislation does not seek to do so.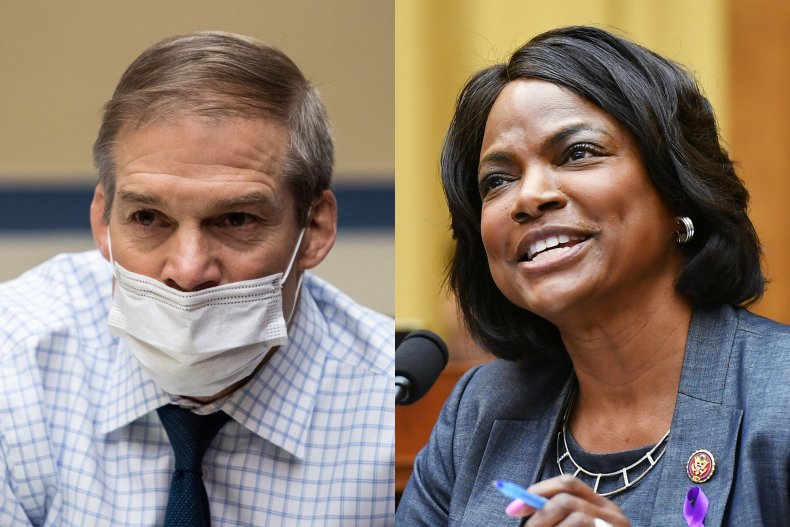 The Florida democrat, who served as chief of the Orlando Police Department for three years, said: "Mr. Chairman I want to make it clear that this amendment is completely irrelevant. I served as a law enforcement officer for 27 years. It is a tough job and good police officers deserve your support.
"You know it is interesting to see my colleagues on the other side of the aisle support the police when it is politically convenient to do so. Law enforcement officers risk their lives every day."
Demings had just started saying that both the police and the American people "deserve better" when Jordan tried to cut in.
She launched a fierce rebuttal, banging her fist on the desk and raising her voice at him as she said: "I have the floor Mr. Jordan. What? Did I strike a nerve?
"Law enforcement officers deserve better than to be utilized as pawns and you and your colleagues should be ashamed of yourselves," she said as Jordan continued to try and interject.
House Judiciary Chairman Jerry Nadler then started to bang his gavel and tried to remind members that they must not interrupt when someone else "has the time."
Jordan continued to try and interrupt while Demings said: "Mr. Jordan, you don't know what the heck you're talking about. You know nothing about what law enforcement officers do."
Jordan shouted over Demings: "I know about my motive," while she went on to say: "You're using them as pawns because it serves your ridiculous political party."
At this point, Nadler, speaking to Jordan, said: "No one may shout out when someone else has the time."
Jordan then tried to say that other members had interrupted while a representative had the floor.
He added: "When you give a speech Mr. Chairman about motives and questioning motives and then our motives are questioned, how do we address that?"
Jordan, a close ally of former President Donald Trump, was involved in another incident last week when he was pressing Dr. Anthony Fauci during a House subcommittee hearing, which prompted Rep. Maxine Waters to tell the Ohio lawmaker to "shut your mouth."
The exchange between Demings and Jordan comes amid ongoing conversations around police funding and alleged systemic racism in the justice system.
On Tuesday, former police officer Derek Chauvin was convicted of murdering George Floyd after he knelt on his neck for several minutes in Minneapolis in May of last year.
Demings told CNN on Tuesday that the verdict was "another opportunity to step up and do better, and do the right thing."
"America, and quite frankly I think around the world, people have been grieving now for over a year," she said. "It's been a tough year. We're all exhausted. But the verdict today sent a strong message."
"You know, it sent a message that we may not be the America that we need to be, but the verdict today signals that we can be that America that we're supposed to be."