Derek Chauvin Conviction Isn't Enough, Say Minneapolis Activists
As jurors deliberate over the fate of Derek Chauvin, activists in Minneapolis say a conviction would still be far from "real" justice.
Closing arguments in Chauvin's trial on Monday began with a prosecutor telling jurors that the former Minneapolis police officer "had to know" he was was killing Floyd when he kept a knee to the Black man's neck for 9 minutes and 29 seconds as he repeatedly gasped that he couldn't breathe.
The jurors will continue their deliberations on murder and manslaughter charges on Tuesday.
As Minneapolis braces for a verdict, grassroots activists told Newsweek that even if the jury convicts Chauvin on all charges, it is not enough.
Oluchi Omeoga, the 28-year-old co-founder of the Black Visions Collective, said she has "no faith" in the criminal justice system, noting that the only Minneapolis police officer who was convicted of murder was Mohamed Noor—a Black man who fatally shot a white woman.
But Omeoga told Newsweek that even if Chauvin is convicted, "justice is not served until we radically imagine what the system of policing actually is."
They added: "Regardless of the outcome, I already know that justice is not going to be served in this specific way. Even if he was found guilty of all of the charges that are brought against him, I actually don't think that's justice because it doesn't stop that from happening again."
D. A. Bullock, an organizer with Reclaim the Block, was similarly skeptical, saying there was "absolutely" a chance Chauvin could be acquitted. He noted that the officer who fatally shot Philando Castile during a 2016 traffic stop in the Twin Cities area was acquitted on all charges.
"I think people are on edge, just because we've seen this before and we know that the outcome is not certain," Bullock said.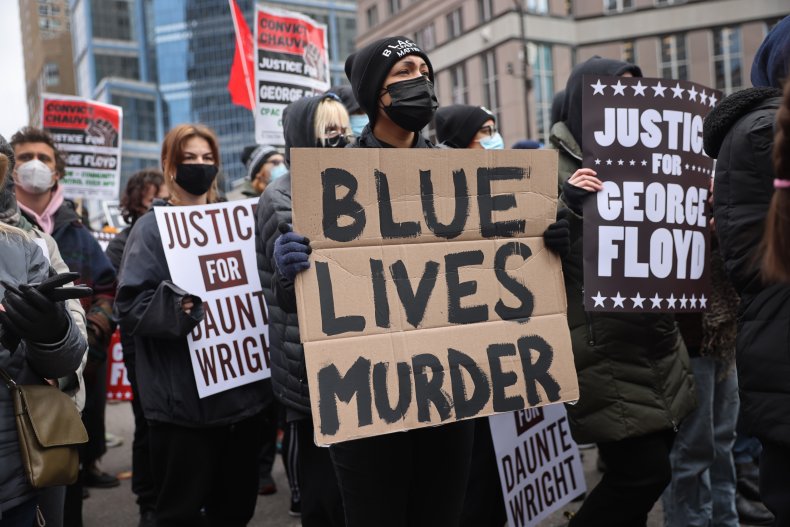 "Real justice in this case," Bullock added, "is a fundamental change of the system that we see through the transfer of funds away from the Minneapolis Police Department into the communities that we serve.
"Because, although we support the family and their pursuit of justice, we know that ultimately what true justice looks like is another George Floyd not happening again next summer, or the summer after that."
While Chauvin's trial was underway, protests erupted in the Minneapolis suburb of Brooklyn Center after Daunte Wright, a 20-year-old Black man, was shot dead by a police officer during a traffic stop on April 11.
"We've had a pretty deep track record of this happening over and over again... so regardless of whether Derek Chauvin goes to jail or not, it is more about a change in the system that would represent real justice," Bullock said.
Omeoga said Chauvin's trial has been "retraumatizing" for Black people.
"It's the trauma of losing a life, and a life that looks so much like yours, and then retraumatizing ourselves, and understanding that the systems that are supposed to win us justice also don't value our lives.
"I think that also giving me a lot of reminiscence of the non-indictment of George Zimmerman when Trayvon Martin was killed," they said. "The same feeling that I had in 2012 is the same feeling that I'm having now... 2021 is almost a decade later and we're still going through the same bulls**t."
Bullock says Reclaim the Block is calling for investment in the community to create "real public safety."
"We want to invest in violence prevention, we want to invest in making sure people are living at a certain standard of life where they don't have to commit certain crimes," he said.
"That's the type of investment we know works to create real public safety and then it eliminates the need to have police interaction with some of these vulnerable communities, which, oftentimes turns into a violent altercation or interaction.
"In North Minneapolis, where I live, we often say we're over policed and under protected."
Omeoga added that settling for Chauvin's conviction is "selling ourselves short."
"What we should be thinking about is how do we completely reimagine and shift the reality of our lives so that it centers those who are most marginalized?" they said.
"I don't want Derek Chauvin to just be convicted. I want the entire system shifted, so that this does not happen again.
"I want people to be uncomfortable with what's happening right now. I want people to question why it's happening. I want people to really interrogate the history of how we got here, and how we actually make the world different and I also want people to be able to envision a new, a new reality and a new future.
"My hope of what comes out of this is that folks are uncomfortable. And like that uncomfortability moves them into action."