Viewers Divided Over Clips of Alleged Shoplifters Taking Diapers, Formula
Viewers are divided after a compilation showed various people allegedly attempting to shoplift, with many taking diapers and other baby supplies.
The compilation was uploaded on April 3 by user @lprentapopo to TikTok where it received more than 25 million views and 23,000 comments, many from commenters expressing that the majority of items were baby products that were way overpriced.
It is estimated that 1 in 3 American families will struggle to afford diapers, with government programs such as food stamps not covering the cost, according to the National Diaper Bank Network. And just a few weeks ago, some stores across the U.S. have begun to ration baby formula, less than two months after a recall that was caused by infant illnesses and deaths contributed to shortages in some areas of the country.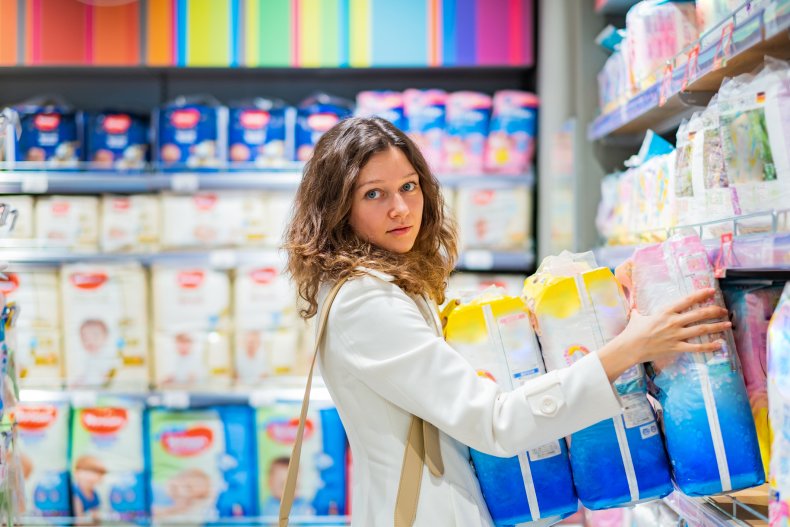 At the beginning of the video, a woman with her face blurred attempts to exit the store with a big box item estimated to be worth $521, according to the video. Once the woman realized the cart's wheels were locked, she left it in the doorway and walked out empty-handed.
The second person attempted to leave with a cart full of diapers but was also unable to exit because the wheels of the cart locked. The on-screen text estimated there was $86 worth of diapers.
Experts advise families to budget at least $75 for diapers a month, or about $900 per year. The disposable diaper industry is an estimated $71 billion a year industry, with babies going through about 6,000 diapers in their first two years of life.
Another woman struggled in the doorway of a store and left her cart full of various baby supplies in the doorway, grabbing her purse and leaving.
"Amount recovered: $173," the on-screen text read.
The other individuals in the compilation included a man with a $267 car seat and a couple with an infant leaving behind one $146 item, although it is unclear what the item was.
Over the years, various technologies have been developed to ensure both shopping carts are not removed from the store's premise and that items are not shoplifted out of the store using a cart.
The technology relies on a sensor outside the store doors that locks the cart's wheels, preventing a customer from leaving the premises with the cart. Another video went viral after an employee showed how workers can tell when someone's shoplifting.
More than 23,000 viewers commented on the video, many expressing that the issue was not with the fact that they were potentially stealing but the fact that many of them could not afford food or baby supplies.
"Maybe we gotta ask ourselves why people gotta be stealing food and diapers," one user commented.
"The real robbery is the diapers being over $80," another wrote.
"Car seat, diapers, formula. Maybe we have a bigger issue," another comment read.
"I just bought 2 large cans of formula and it was $95," one user wrote. "All I'm saying is if I see someone stealing any baby or kid items, no I don't."
In fact, in February, Representative Alexandria Ocasio-Cortez criticized New York police as "framing" shoplifters as "monsters" following a tweet showing a photo of baby supplies and medicine that had been recovered from thefts.
Newsweek reached out to @lprentapopo for comment.