Viewers Relate To 'Gross' Habits Woman Shares In Astonishing Video: 'Same'
A woman shared the "gross things" she does while living alone in a TikTok video that has been viewed more than 100,000 times.
Annabel Fenwick Elliott listed various personal hygiene habits that she does not regularly keep up with in her video that was posted to her account @annabelmaud. While some viewers were shocked, many wrote that they could relate to Elliott's habits.
According to Healthline, there are a few different types of hygiene, including shower, teeth and hands.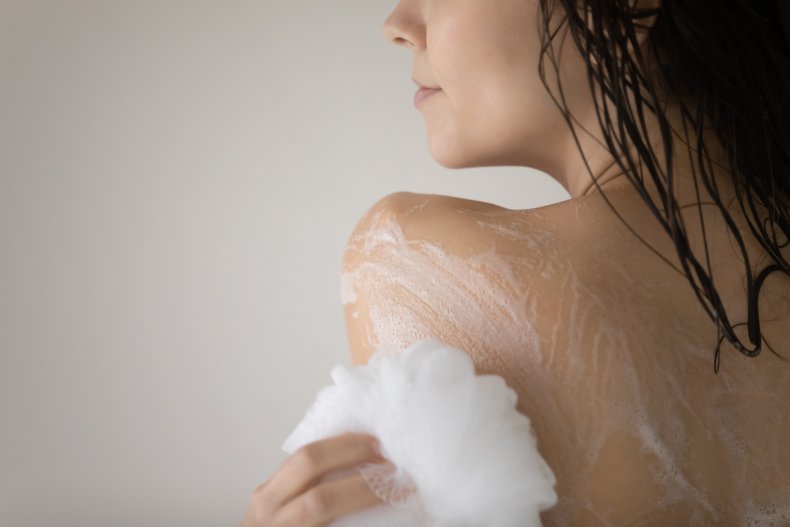 Hygienic Health
Poor personal hygiene can lead to minor or more serious side effects, Healthline said.
Those who don't regularly wash their hands may pass germs into their mouths or eyes, leading to illness.
"Not brushing your teeth can lead to teeth issues and plaque buildup," the piece stated. "Poor dental care is also a risk factor for several serious health issues, including heart disease."
In Elliott's video, she explained she lives alone in "the middle of nowhere" with little contact with other people.
One of the hygiene habits she first addressed was showering once a week.
"I don't really see the point," Elliott said. "I don't really like the feeling, don't like being wet and having to get dry and it's cold."
She noted that she rarely uses deodorant but will apply it if she goes to the grocery store "out of courtesy for other people."
Another habit that Elliott talked about was oral hygiene and that she does not brush her teeth often.
"I know that's bad and stupid, but I don't like washing them before I eat, like first thing in the morning, because first thing in the morning I eat and it makes everything taste weird," she said.
Elliott said that she was told by a dentist she should not brush immediately after eating.
She explained that she eats snacks throughout the day and tends to forget to brush her teeth.
Elliott said she also does not make her bed because laundry detergent tablets are "really expensive."
"I wouldn't say that I'm opposed to soap and toothpaste and detergent, you know, because I'm a hippie, but maybe deep down inside my soul I am just a hippie who is opposed to soap and toothpaste and detergent," she said before concluding her video.
Elliott wrote to Newsweek that while she has always been "sloppy," she is "considerate" when living with other people.
After moving to the countryside, she said she's embraced a careless attitude toward hygiene, but practices it much more regularly when her fiancé, a pilot who often works in other countries, is at home.
She said she fell into the habits not long after she began living alone.
TikToker Opinions
Only a few viewers voiced their criticism of her habits in the comments section.
"All of y'all on here are just lazy and gross, why wouldn't you want to shower and crazy how many people on here don't either," a comment read.
Another went so far as to call the video fake.
"Don't believe it, she looks clean, her nails are nice, painted cared for so no, I don't buy it. and anybody replying saying they do the same shame," said Mark Walker.
However, most commenters shared that they could relate to Elliott, going so far as to admit which of the "normal" hygienic regimens they skip as well.
"I'm like this...adhd," a viewer wrote, to which Elliott replied that she has ADHD herself.
Read one comment, "Wow, I'm not alone!"
"I do the same if I'm home for an extended period of time... why bother? Who's gonna notice or care," they wrote
A viewer asked if Elliott lives alone because of her habits, or if these habits blossomed because she lives on her own.
"I am far more civilised when living with others," she replied. "Have just been living alone since I moved out of London during pandemic."
One TikTok user recommended that Elliott, who said in her video that she does not brush her hair, use a silk or satin pillowcase.
Others just encouraged non-judgemental behavior in general.
"No judgment here," another TikTok user wrote. "You do you...I don't actually care what anyone else does...you live life FOR YOU...NOBODY else."
Elliott said she was surprised to find that her TikTok video went viral.
She explained that she wanted to start uploading at least one video each day that involved her talking "about nothing."
"Very surprisingly, I'd say 99% of the comments have been really nice," Elliott said. "I've even had strangers email me to say it made them feel better about their own habits, which is lovely."
Other videos discussing hygiene habits have gone viral, including one shared by a woman who showed parents how kids can be motivated to wash their hands.
A mother who is also a dentist posted a video showing how she is able to brush her baby's teeth, while another clip left viewers divided when they saw a dog that was getting a bath in the kitchen sink.