Vindman Calls Gabbard 'Agent of Russian Disinformation' After Fox Segment
Alexander Vindman, a retired U.S. Army lieutenant colonel, criticized former Representative Tulsi Gabbard, a Hawaii Democrat, over remarks she made Friday about sanctioning Russia in response to its invasion of Ukraine.
Gabbard was filling in as a host on Fox News' Tucker Carlson Tonight when she said that Europe is in a "massive energy crisis right now" because of the sanctions that were placed on Russia, which she described as "nothing short of a modern day siege."
"This comes at a great cost, but Joe Biden told us 'hey, this is necessary to defend Ukraine,'" the former congresswoman said, referring to the president's remarks in February when he said that "defending freedom will have costs for us as well, here at home."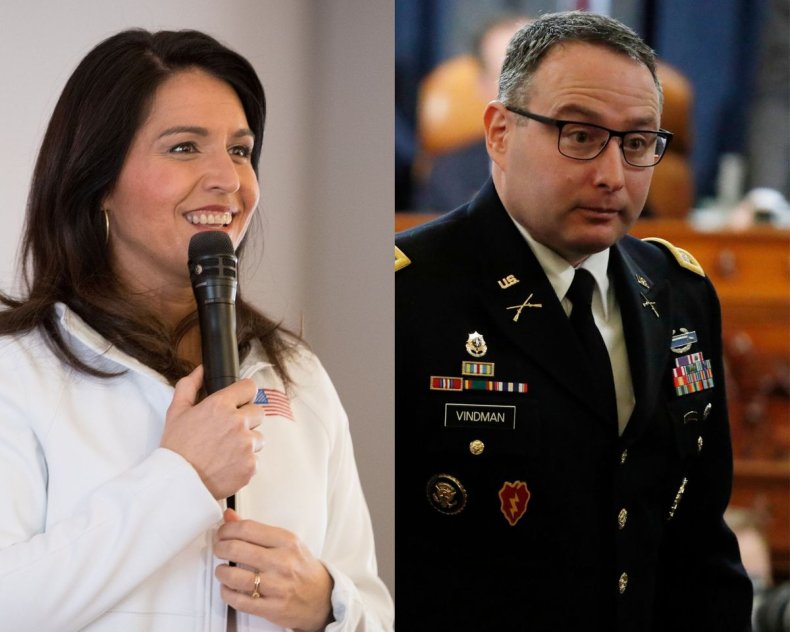 Biden also said at the time that he will take action to make sure "the pain of our sanctions is targeted at the Russian economy, not ours." The U.S. banned all Russian oil imports in March in response to the invasion.
"Despite their lectures and their crocodile tears, it's never been about morality," Gabbard said Friday. "It's not about the people of Ukraine or protecting democracy. This is about regime change in Russia and exploiting this war to strengthen NATO and feed the military industrial complex."
In response to her remarks, Vindman, who was dismissed by former President Donald Trump in 2020 from his position as director for European Affairs for the United States National Security Council (NSC), called Gabbard a "liar" who is seeking "self promotion."
"You are a liar @TulsiGabbard. You lie for notoriety and self promotion. Worse yet, as an agent of Russian disinformation you promote Russian aggression and endanger America. You have picked a side. Your side is Russia and authoritarianism," he wrote on Twitter on Saturday.
The then-president fired Vindman after he testified at his impeachment trial. Gabbard defended Trump's decision at the time and said during an interview on Fox News that "ultimately, whether people like it or not, there are consequences to elections and the president has, within his purview, to make the decisions about who he'd like serving in his Cabinet."
Meanwhile, the former congresswoman has been a vocal critic of Biden and has previously warned the Biden administration to take the Russian nuclear war threat seriously.
"What [U.S. Secretary of Defense Lloyd Austin] is not telling the American people is that Russia has also made it clear that if we even get close to 'winning' or achieving this mission and goal he has outlined, Russia has said very clearly they will have no other option than to resort to the use of nuclear weapons," she said during an appearance with Fox News' Tucker Carlson in May. "This is not fear-mongering to point this out, the American people need to know this is the track that this administration has put us on and [that] very dire consequences will occur if we continue down to this path. This is the reality we are facing."
Gabbard has been previously called out for repeatedly criticizing Democrats. In 2019, Vice President Kamala Harris, who was a California senator at the time, targeted her during a Democratic debate.
"I think that it's unfortunate that we have someone on this stage that is attempting to be the Democratic nominee for president of the United States, who during the Obama administration spent four years full time on Fox News criticizing President Obama," Harris said.
Newsweek reached out to Gabbard's media team for comment.