A man with a passion for vinyl records has gone viral on TikTok after posting a video of an experiment in which he left a disc out in the blazing sun and found that the British heatwave caused it to warp.
Matt, better known as @mattsvinyl2626 on the video sharing platform, posted his original video on Tuesday afternoon. Since posting, the footage has been viewed nearly 465,000 times and liked by over 91,000 TikTokers.
Matt explained in a statement to Newsweek that, after receiving a damaged record in the mail, he wanted to repurpose it to avoid creating waste. "The vinyl in my video was indeed a broken item that arrived damaged," he said. "The company who I purchased it from were very kind and replaced the product. This left me with a vinyl record that I couldn't use, so to ensure that it didn't go to landfill I wanted to upcycle it into a household item."
After watching a tutorial showing how a record could be formed into a bowl, he decided to perform an experiment to test just how intense the British heatwave was. "When you make a vinyl record bowl the usual process is to put the record in the oven and mold it. I was planning on doing this, as per the tutorials," he said.
"In the U.K. currently, in London, the weather is very hot, much hotter than usual. So I thought it would be interesting to see if the heat could make the bowl instead of the oven," Matt continued. "I decided to leave the vinyl record in the sun and to film the process for my followers, as I thought it would be interesting to see."
The video begins with a note to viewers that the album Matt has chosen for this experiment—Unbroken by Demi Lovato—was already damaged, hence his selection.
"Leaving a broken vinyl in the UK heatwave for science," he says, using the platform's text to audio feature. "Good luck little plastic disk."
Matt removes the record from its plastic sleeve and places it on top of an outdoor patio table, in direct view of the blazing sun. He then notes that he plans to check in hourly on the vinyl to see how it holds up in the heat.
After the first hour, he notes the record has become "a little bendy." A little while later, Matt shows viewers that the vinyl is "starting to warp."
By the three-hour mark, the disc becomes hot to the touch and completely pliable. Matt even is able to bend both sides of the record inward, allowing it to stand on its own without aide.
"Today we learnt that vinyl doesn't like heatwaves," Matt jokingly concludes.
A report from Peak Vinyl noted that, while common knowledge among record collectors, vinyls should not be left in high heat or direct sunlight, lest the owner risks permanently damaging the record.
"A typical vinyl record can start warping due to heat at a temperature of 140 degrees Fahrenheit (60 degrees Celsius) and can melt at temperatures exceeding 212 degrees Fahrenheit (100 degrees Celsius)," the outlet reported. "Other factors, such as humidity, sunlight exposure, and improper storage, can drastically impact the resilience of a record."
A record's melting point does vary on the basis of "specific makeup and additives added to the PVC during manufacturing." However, even minor heat exposure can leave a record with permanent warping that often cannot be corrected.
Matt also confirmed with Newsweek that "heat and direct sunlight is known to warp or damage vinyl records," which has resulted in many content creators and vinyl enthusiasts like himself purchasing portable air conditioning units to maintain their collections.
"It is always advised that vinyl is stored in the shade, out of direct sunlight and not on a window sill," he added.
The Houston Press also reported in 2011 that, above all, vinyl records should not be left unattended in cars, especially during a heatwave. As craftsmen "generally use an oven at only 200 degrees [Fahrenheit] to get them soft enough to mold," cars can quickly heat up and result in record deterioration.
"There have even been reports that sunlight reflecting off of car windows and windshields can even melt vinyl siding off of houses," the outlet also noted. "If this heat can do damage to siding, it will have no problems with your record collection."
Viewers on TikTok who watched Matt's video found it humorous that the damaged album used for the experiment was entitled Unbroken. "Pretty ironic the album being called unbroken," one said. "She wasn't cool enough for summer," another joked, referencing the Demi Lovato single "Cool for the Summer."
Some viewers also squabbled over what constituted a heatwave, as many Americans have begun mocking the British reaction to the 88 degrees Fahrenheit weather.
"'Heatwave' bro it's like 80 degrees," one American commented. "Come to Texas and that baby will be completely melted in half an hour," another chimed in.
"Not people OUTSIDE the UK telling us it's not a heatwave," one frustrated U.K. viewer wrote. "Our houses are built to keep heat INSIDE!!! And the heat is very humid!! Not nice at all!"
"People need to get a grip 30+ degrees with an average of 80% humidity without a/c, swimming pools and houses built for heatwaves," another added.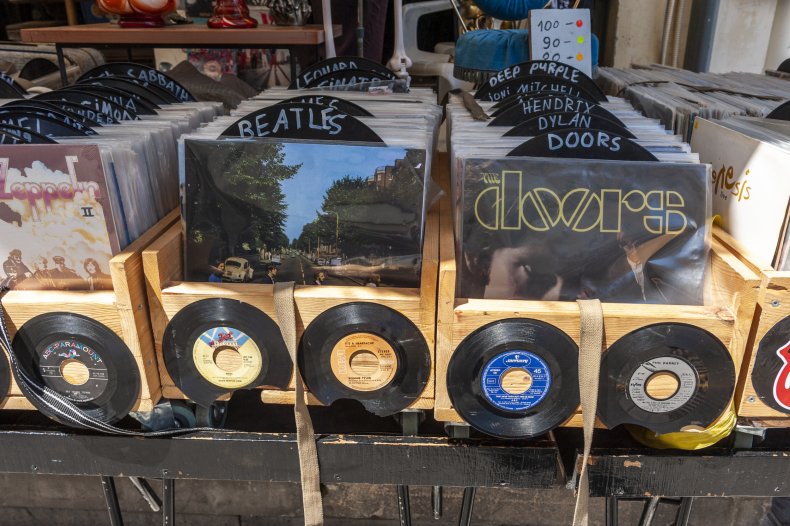 Heathrow, in England, measured 31.6 degrees Celsius (88.88 Fahrenheit) while Cardiff, in Wales, saw the Mercury reach 30.2 degrees Celsius (86.36 Fahrenheit). While Brits roasted in the heat, the figure pales in comparison to the heatwave which swept the north west and Canada earlier this year.
The National Weather Service has issued excessive heat warnings over the last few weeks across the west and southwest, with the hottest June in 127 years recorded, according to the National Oceanic and Atmosphere Administration, said Reuters.
Swathes of people died as the temperature hit triple figures across the Pacific Northwest, as the electricity grid was stretched and asphalt roads buckled in the heat.
Temperatures climbed to a dangerous 128 degrees Fahrenheit, recorded at Death Valley, California, on June 17. The National Park Service noted: "Nights brought little relief from the heat. On June 29, the lowest temperature was 104 [degrees Fahrenheit] around 3:00 a.m."
Wherever a person may find themselves in record heat, the National Weather Service advises slowing down, eliminating strenuous activities and staying in the coolest available place. As a number of illnesses can be brought on by intense heat, the organization also recommends keeping hydrated, minimizing sun exposure and using either an air conditioning unit or portable fan to stay cool.
Matt also shared with Newsweek that overall, he had anticipated more than the minor damage the record had sustained. "The vinyl, after 3/4 hours was starting to warp and bend ever so slightly however, it was not what I expected, as I thought it would have melted or warped much quicker," he said.
"To actually make the bowl I would need to use the oven, as the heat and time were not enough, but it was interesting to see, and did confirm to the vinyl [TikTok] community that heat and vinyl do not mix."
One dog owner in Scotland has also seen the effects of the heatwave firsthand. After taking her two dogs on a brief walk in the brutal sun, her French bulldog was later found unresponsive. A trip to the vet was confirmed that the dog was suffering from brain damage, brought on by heatstroke, and reportedly had to be put down later that day.