Viral Thread Shares Where Men 'Ruined' By MeToo, Other Allegations Are Now
A Twitter thread detailed the current careers of men who were "ruined" from past assault or harassment allegations in response to the highly broadcasted legal battle between Johnny Depp and Amber Heard.
The thread, created by Julie or @DailyJulianne, received more than 230,000 likes and 57,600 retweets since it was tweeted on May 21.
"I've been thinking a lot about MeToo and the men who had their lives 'ruined' by assault or harassment allegations," the tweet read. "So...I decided to do some googling into Where Are They Now."
MeToo is a social movement founded by activist Tarana Burke to bring awareness to sexual assault and harassment, which affects one American every 68 seconds according to the Rape, Abuse, and Incest National Network (RAINN).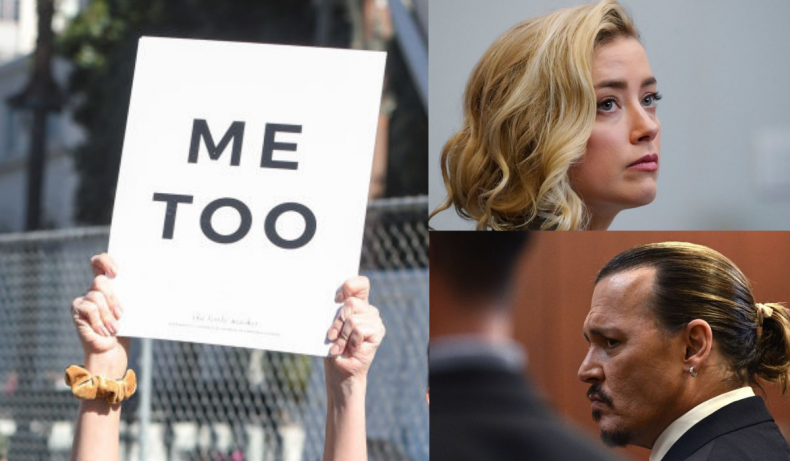 The movement saw a spike in exposure when people started tweeting #MeToo following the 2017 allegations against Harvey Weinstein.
In the thread, Julie recounts when then-21-year-old Rihanna was beaten by her then-boyfriend Chris Brown, who was later sentenced to five years of probation, community labor, and one year of domestic-violence counseling.
"I know she forgave him, but those pictures have always stuck with me," Julie tweeted, referencing images published by various tabloids allegedly taken in the hospital following the assault.
"He has since released 8 albums, a documentary, a clothing line, and a cereal. He's gone on six tours and has a residency lined up in Vegas," she added.
Julie then brought up Tony Robbins, a bestselling self-help author and motivational speaker who is reported to be worth over $600 million. In 2019, he faced several accusations including allegedly groping followers at events and allegedly sexually harassing fans.
"Brett Kavanaugh had accusations made in 2018. He's a Supreme Court Justice," Julie tweeted.
She also listed out other men, including Neil deGrasse Tyson who faced sexual misconduct accusations in 2018 and comedian Louis C.K. who was accused of sexual misconduct in 2015 but was a 2021 Grammy nominee.
The thread went on, recounting many actors who faced allegations over the years: Michael Weatherly, Sylvester Stallone, James Franco, Aziz Ansari, Ed Westwick, Dustin Hoffman, Steven Seagal, Kevin Spacey, and most recently Johnny Depp.
"Today, the internet is obsessively defending Johnny Depp and adamant that Amber Heard is the only true abuser here, while making memes about her," Julie wrote. "And this list is such a small, small sampling of cases. But it sure says a whole lot."
Another Twitter thread commenting on the importance of the Depp v. Heard trial recently went viral. The user, Ella Dawson or @brosandprose, tweeted that the trial should be talked about because it sets precedent for all victims of abuse.
"This trial isn't a criminal case deciding Johnny Depp's innocence or guilt. It's a defamation case that will rule on whether or not Amber Heard and other victims of abuse are allowed to speak up. And it's creating a legal playbook for other abusers to silence their victims," Dawson explained.
Newsweek will continue covering all the breaking stories of the Depp v. Heard trial from the Fairfax County courtroom on our live blog.
Newsweek reached out to Julie for comment.
Specialists from the Rape, Abuse, and Incest National Network (RAINN) sexual assault hotline are available 24/7 via phone (1 (800) 656-4673) and online chat. Additional support from the group is also accessible via the mobile app.