Viral Tweet of Ted Cruz Using Template for All Mass Shootings Debunked
A viral tweet that claims to show Senator Ted Cruz using a template to identically respond to mass shootings in the U.S. has been debunked by a CNN reporter.
The tweet in question contains an image that appears to show 12 tweets from the Texas Republican using the same language to react to mass shootings, changing only the name of the location where they occur.
"These mass shootings happen so much that Ted Cruz really got a template ready to tweet whenever they occur," Twitter user @1DOPEKEV wrote.
Responding to the tweet, CNN reporter Daniel Dale, who fact checks political claims wrote Thursday: "This viral tweet is filled with phony images of stuff Ted Cruz didn't actually tweet. The pictured Cruz tweet about the Uvalde shooting is real, but the rest of the images are fake. I added Xs over the phony ones."
Cruz's tweet immediately reacting to the mass shooting in Uvalde, Texas, that claimed the lives of 21 people including 19 children at Robb Elementary School on Tuesday stated: "Heidi & I are fervently lifting up in prayer the children and families in the horrific shooting in Uvalde. We are in close contact with local officials, but the precise details are still unfolding. Thank you to heroic law enforcement & first responders for acting so swiftly."
A spokesperson for Cruz told Newsweek in an email Friday that the "only tweet Sen. Cruz sent was the Uvalde tweet. All the rest are fake."
Earlier this week, when pressed by a reporter with the U.K. network Sky News about whether or not gun reform is needed in the country following Tuesday's deadly mass shooting, Cruz walked away from the interview.
The Texas senator is also slated to attend a National Rifle Association (NRA) convention this weekend in Houston alongside other prominent Republican officials. Multiple musicians have pulled out of the event since the shooting.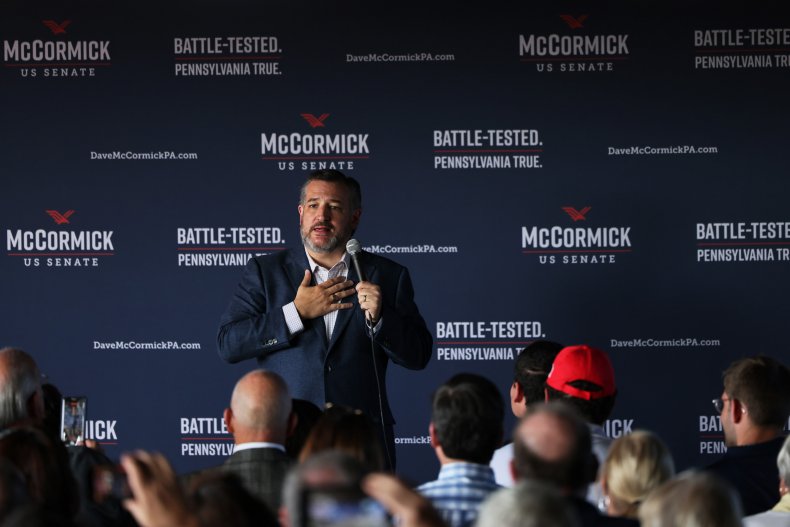 Meanwhile, some Texas Republicans, who had been scheduled to appear, have also decided to skip the convention including Texas Governor Greg Abbott, Lieutenant Governor Dan Patrick, Senator John Cornyn and Representative Dan Crenshaw, according to The Texas Tribune.
Referring to the conference in an interview with local news station KTVT on Thursday, Cruz stated: "I'm going to be there because what Democrats and the press try to do in the wake of every mass shooting is they try to demonize law-abiding gun owners, try to demonize the NRA."
Cruz is among a group of Republicans who have received funding from the NRA over the years, with the group giving the Texas senator just over $175,000.