Viral Witness Slams Amber Heard For Using TMZ Lawyers
Morgan Tremaine has put Amber Heard on blast for using the same law firm who tried to prevent his testimony during the Johnny Depp defamation trial.
Former TMZ employee Tremaine also called out the outgoing Elaine Bredehoft, with whom he had a tense exchange during the first trial in Fairfax County, Virginia earlier this year.
After Heard lost that defamation suit, she announced on Monday that she's replacing her team for the upcoming appeal against the original decision.
Twitch streamer Tremaine mocked the change on Twitter, claiming that Heard is replacing Bredehoft with the firm that "failed" to stop him from testifying.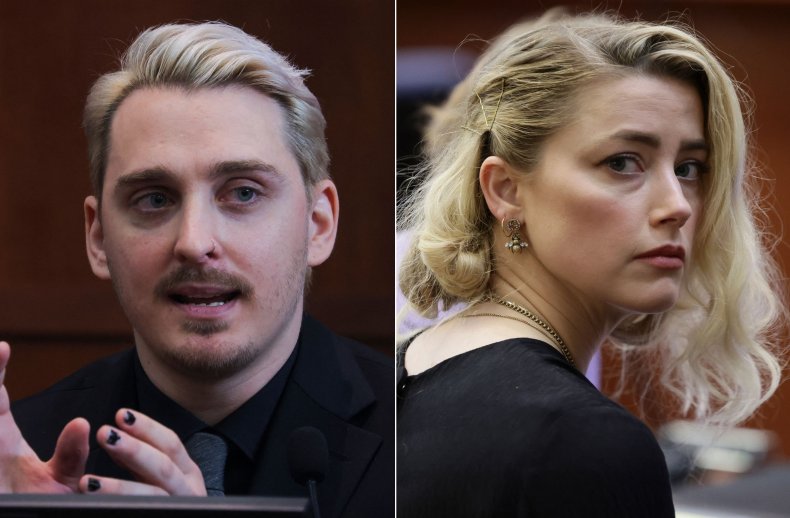 He is referencing Ballard Spahr, the law firm who aided his former employers TMZ in citing "journalist's privilege" to try to prevent him from taking the stand.
"So bestie," Tremaine wrote on Twitter on Monday, "got fired and replaced with lawyers from the same firm that failed to stop me from testifying."
His "bestie" in this context appears to be Bredehoft who he clashed with in the Fairfax County, Virginia courtroom. "Do I have that right?" Tremaine asked his followers after making his statement.
Heard's new representation, David L. Axelrod and Jay Ward Brown of Ballard Spahr LLP, don't initially seem to have anything to do with the first court case in which Tremaine testified.
The outgoing Bredehoft is part of the law firm Bredehoft Cohen Brown & Nadelhaft, but Ben Rottenborn, of Woods Rogers Vandeventer Black, is returning as co-counsel for the upcoming case.
Tremaine was called to testify during the Depp and Heard trial, but TMZ had initially blocked Tremaine's appearance.
At the time, the news outlet cited "journalist's privilege" to prevent Tremaine from testifying, though this was eventually dismissed by the judge. Commenters within Tremaine's Twitter feed suggested it was Ballard Spahr who TMZ used to prevent the testimony.
"Is that where these lawyers are from?? The attorney that showed up at a trial to try and get your testimony shut down? The firm that Ben Chew said he had worked with before? Does AH think that will make a difference??" @CuriousGemini2 asked.
During the trial, Ballard Spahr LLP lawyer Charles D. Tobin represented TMZ and argued that the organization had a right to protect its confidential sources under the First Amendment. Axelrod and Brown are described as renowned First Amendment lawyers by Heard's press release.
"Depp v. Heard Defamation Trial: Part II," dated March 31, 2022 is listed as one of Tobin's speaking engagements on his profile on the Ballard Spahr LLP website.
When he eventually took the stand, Tremaine claimed that TMZ had received a video of Depp and Heard where Depp slammed cupboards closed. During his time on the stand, he had a tense exchange with Bredehoft which went viral online.
As part of the announcement that she was stepping down from Heard's team, Bredehoft stated that Heard would continue to receive her support.
"This is the perfect time to pass the baton," she said. "I have pledged to Amber and her appellate team my complete cooperation and assistance as they move forward on a path towards success."
As with anything posted online in relation to either Heard or Depp, fans of both actors came out to comment on Tremaine's tweet. He received praise from Depp's supporters, and condemnation from Heard's.
Newsweek has contacted Heard's representatives, and Ballard Spahr LLP for further comment on Tremaine's claims.