Virginia Reports Biggest Daily Spike in New Coronavirus Cases as Governor Issues Face Mask Requirements
Virginia Governor Ralph Northam on Tuesday announced a statewide facial coverings requirement as the state reported its largest single-day increase in new coronavirus cases. The mask requirement will go into effect on Friday, he said.
"I am taking this step because science increasingly shows us that the virus spreads less easily when everyone is wearing face coverings," Northam said during a Tuesday news conference. "This is about protecting those around us—especially our workers."
Under the new state guidelines, facial coverings must be worn inside all places where people can congregate, the governor said. Retail businesses, restaurants, barbershops, government buildings and public transit were all identified by Northam as examples of places where the requirements will be in effect.
Masks will not be required while eating, drinking and exercising, he said, adding that exceptions will be made for individuals who have health conditions that make wearing masks difficult and for children under 10.
"I strongly recommend any child who is 3 years old or older wear a face covering to the extent possible," Northam said.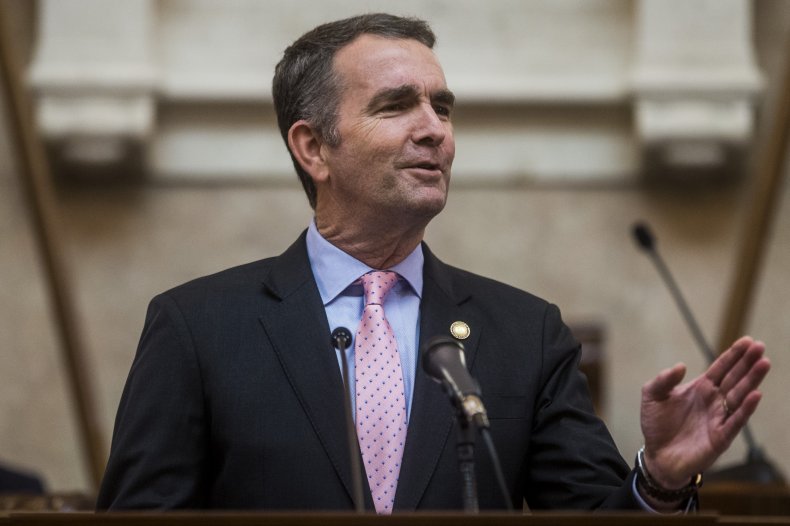 In April, the U.S. Centers for Disease Control and Prevention first recommended Americans wear facial coverings to prevent the spread of the virus. Many government leaders on the state and local levels have issued stricter requirements for residents as the outbreak continued spreading across the country. Though some regions have imposed fines and legal penalties on individuals who are seen not wearing masks in accordance with local regulations, Northam said Virginia would not be taking that step.
"This is a matter of public health, and as a result any enforcement that is needed will be done by our health officials," Northam said. "This is not a criminal matter. Our law enforcement, our police and our sheriffs will not have a role in enforcing this."
The governor did not specify what actions health officials would take to enforce the new facial covering rules. The Virginia Department of Health did not respond to Newsweek's request for comment before publication.
"I'm not looking for people to get in trouble by not wearing a mask," Northam said. "But I am looking for people to please do the right thing."
The facial coverings rule was announced minutes before State Health Commissioner M. Norman Oliver said 1,615 new cases had been reported throughout the state, bringing Virginia's total number of coronavirus cases to 39,342. Oliver also reported an additional 28 deaths from COVID-19, the disease caused by the virus, bringing the state's death toll up to 1,236.
The 1,615-case spike marks Virginia's biggest daily increase in new cases since the pandemic began. The state hit an earlier high mark last week as health officials reported 1,229 new cases, which at the time was the biggest increase the state had seen since May 1. Another spike was reported on Monday, when 1,483 new cases were added to the statewide tally. According to Oliver, the rising case numbers are a result of the state's testing capacity, which has increased in recent weeks.
Virginia isn't the only state that has reported daily highs in new cases after entering the reopening process. Last weekend, North Carolina reported its highest number of new cases as the state was preparing to enter the second phase of its reopening plan, and Texas reported a record spike in new cases one week earlier.
Despite rising case numbers reported in many states, President Donald Trump has continued advocating for states to reopen. In a tweet on Tuesday, he repeated his call for states to "open up ASAP."