Virginia Set To Become First Southern State To Abolish Death Penalty
The Virginia Senate Wednesday passed a bill on Wednesday that would abolish the death penalty, putting it on the path to becoming the first Southern state to do so.
The Democrat-controlled chamber approved the bill in a 21-17 vote, split along party lines, following a lengthy, and at times emotional, floor debate.
Advocates expect the House version of the bill to easily clear that chamber, The Associated Press reported.
With the state's Democratic Gov. Ralph Northam supporting the legislation, the prolific death penalty state appears to be on the verge of eliminating capital punishment after carrying out executions longer than any other.
Democratic Sen. Scott Surovell, the bill's sponsor, introduced it in Wednesday's session by noting that Virginia has carried out more executions than any other state.
There have been 174 people exonerated after receiving a death sentence, Surovell said.
"I cannot think of anything that is more awful, unspeakable and wrong for a government to do than to use its power to execute somebody who didn't commit the crime they're accused of. The problem with capital punishment is that once it's inflicted, you can't take it back, it can't be corrected," he said.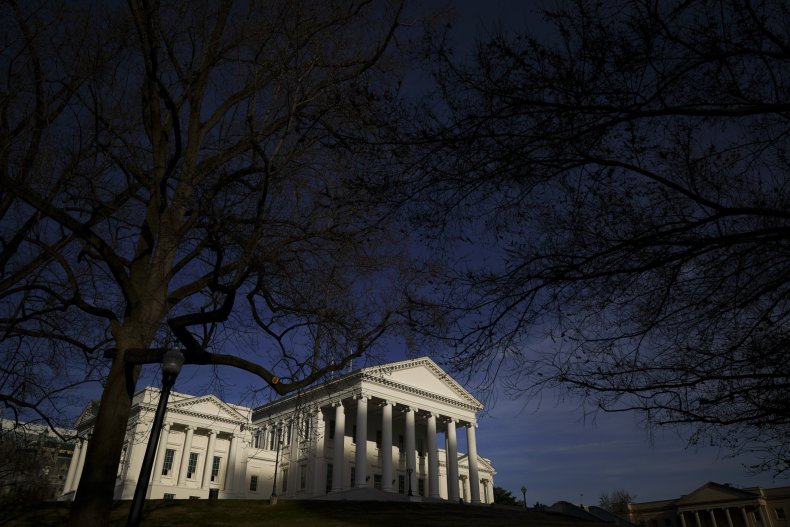 "It's the only punishment that we render that we can't correct for in some way. It's not something the money can solve, because the person is already dead."
Surovell and other Democrats raised concerns about the racial and class disparities in the death penalty's application, the cost of carrying out executions and issues surrounding the use of the lethal injection.
"The death penalty is lynching's step-child," Sen. Mamie Locke said, noting that states that had high numbers of lynchings have similarly high execution rates.
Surovell also noted that public support for capital punishment has been waning. "It's time we move on," he said.
However, Republicans urged lawmakers to vote against the bill, arguing that it would deny victims' families a chance at justice and that people convicted of heinous murders would be eligible for parole.
GOP lawmakers argued the death penalty should be preserved to punish offenders of the most heinous crimes.
"I believe in the protection of innocent human life more than anything," GOP Sen. Mark Obenshain said.
"I would never make a robust defense over the manner in which capital punishment was applied in centuries past," he said.
"What we need to do is look at how it's being applied now. And it is rare. It is reserved for the worst of the worst."
Obenshain cited crimes committed by two former death row inmates in his argument.
Ivan Telgeuz, who was convicted after paying a man $2,000 to kill his girlfriend. The woman's body was found days later, with her one-year-old daughter nearby, Obenshain said. Teleguz had his sentence commuted to life without parole in 2017.
Ricky Gray, was convicted of killing a family of four, including two children, in 2006. Gray was executed in 2017.
"These are savage crimes. These are the worst of the worst," he said.
Sen. Amanda Chase added: "One of the comments made is, once the person receives the death penalty, it's permanent. What about the victim? What about the brother of my friend who will never get to spend time with family and with their kids? I have to ask, who do we support more, The victim or the killer?"
Later, Democratic Sen. Janet Howell said she was once a "fervent" supporter of the death penalty, but that changed after the murder of her father-in-law.
In an emotional speech, she described how her family disagreed over the death penalty and the punishment her father-in-law's killer should receive.
"One thing I discovered as we went through this trauma, was my family didn't agree on the death penalty. Some of us supported it. Some of us didn't," Howell said.
"So I don't buy the idea that we would support the death penalty for the benefit of victims' families. It doesn't work that way. Trust me, it doesn't work that way."
Virginia has executed almost 1,400 people in more than 400 years, more than any other state, according to the Death Penalty Information Center (DPIC).
The first was when Captain George Kendall was executed by Jamestown colonists in 1608 for spying.
Since the Supreme Court reinstated the death penalty in 1976, Virginia's 113 executions put it second only to Texas.
But the number of executions has dipped in Virginia in recent years—the last inmate put to death was William Morva in 2017.
Surovell noted that no death sentences have been imposed in the state for a decade and only two men remain on death row—their sentences would be commuted to life imprisonment without parole under the Senate bill.
If passed into law, Virginia would become the 23rd state to abolish the death penalty. Colorado became the 22nd in March last year.
In a statement following the vote, Northam said the death penalty is "fundamentally inequitable" and it was time for Virginia to do away with it.
"Today's vote in the Virginia Senate is a tremendous step toward ending the death penalty in our Commonwealth. Virginia has executed more people than any other state. The practice is fundamentally inequitable. It is inhumane. It is ineffective. And we know that in some cases, people on death row have been found innocent," he said.
"It's time for Virginia to join 22 other states and abolish the death penalty. I applaud every Senator who cast a courageous vote today, and I look forward to signing this bill into law."