Putin Brags New Weapons Are 'Decades' Ahead of Rest of the World's
Russian President Vladimir Putin on Monday touted a new era of weapon systems that he says are "decades ahead of their foreign counterparts" while his nation simultaneously faces a stiffer challenge than expected from Ukrainian forces.
Putin's comments came as Pentagon officials estimate that between 70,000 and 80,000 Russian troops have either been killed or wounded in action since the Ukraine invasion began February 24.
As Russia continues to lose not only soldiers but artillery, Putin maintains an optimistic outlook with Russian allies in Latin America, Asia and Africa that have "historically firm, friendly and truly trustworthy relations" and are being provided "cutting-edge weapons—from small arms to armored vehicles and artillery, combat aviation and drones," according to an English translation of his remarks.
"We are talking about high-precision weapons and robotics, combat systems based on new physical principles," Putin said. "Many of them are years, perhaps even decades ahead of their foreign counterparts, and significantly superior in terms of tactical and technical characteristics."
Putin made the comments at the opening of the Army-2022 International Military-Technical Forum and the International Army Games 2022 in Moscow. The forum consisted of about 1,500 domestic defense industry enterprises presenting over 28,000 modern samples of military and dual-use products that were slated to be demonstrated.
His comments came on the heels of reports from the Washington-based Institute for the Study of War that Russian volunteer soldiers have allegedly not been paid or adequately fed, and have not received previously promised benefits for their participation.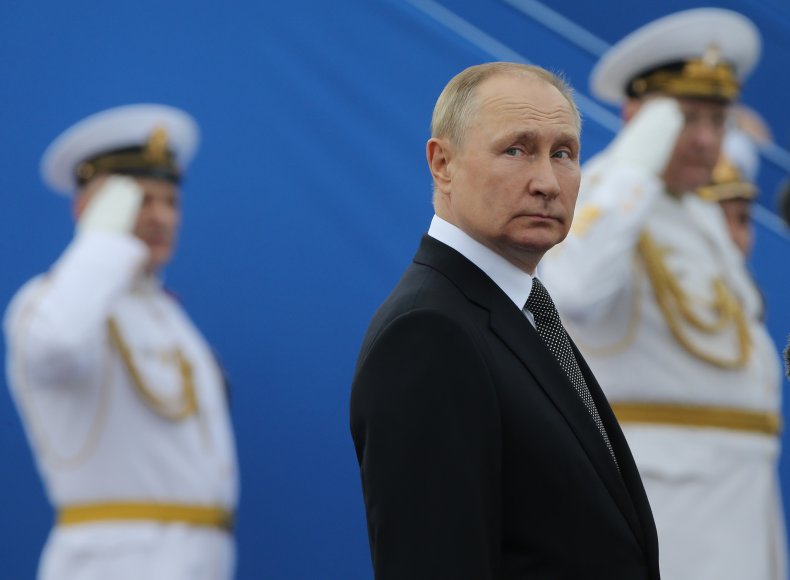 Former NATO Supreme Allied Commander James Stavridis in a recent radio show said Putin likely "realizes he's made a mistake" in terms of invading Ukraine in the first place, adding that a six-month window of war remains due to "difficulties Putin is facing as he burns through troops," along with the destruction of Russian military equipment.
Ukraine has greatly benefited from the High Mobility Artillery Rocket Systems (HIMARS) provided by the United States, though Russian officials this past weekend claimed to destroy one HIMARS launcher and a warehouse with ammunition located near Kramatorsk in the self-proclaimed Donetsk People's Republic.
Mark Cancian, a retired U.S. military veteran and current senior adviser with the Center for Strategic and International Studies, told Newsweek that supply could hinder the Ukrainian war effort in the months ahead.
In his recent comments, Putin remained steadfast in saying Russia represents the "broadest" and most "comprehensive" military-technical operation, praising allies "that do not bow to the so-called hegemon" and contribute "to the defense of the multipolar world."
Meanwhile, heightened concerns about nuclear risks persist as Ukrainian officials claim shelling at the Zaporizhzhya nuclear power plant has continued to occur.
"What is happening there is outright nuclear terrorism," Dmytro Orlov, the mayor of Energodar, said in an interview with Agence France-Presse (AFP) that was published on Sunday. "It can end unpredictably at any moment."