Putin Issues Ominous Threats as Tension With West Mounts
Russian President Vladimir Putin gave a dark warning about his nation's potential to respond after the U.S. and other Western nations recently announced they were providing Ukraine with several types of tanks for use in the ongoing war.
Putin was seen delivering remarks in a clip shared on Twitter Thursday by Max Seddon, the Moscow bureau chief for the Financial Times.
In relation to the Western tanks being sent to Ukraine, Putin said: "Those who plan to defeat Russia on the battlefield don't understand a modern war with Russia will be very different."
"We have ways of responding, and it won't just be limited to armored vehicles," the Russian leader added, according to an English translation of a portion of his comments shared by Seddon.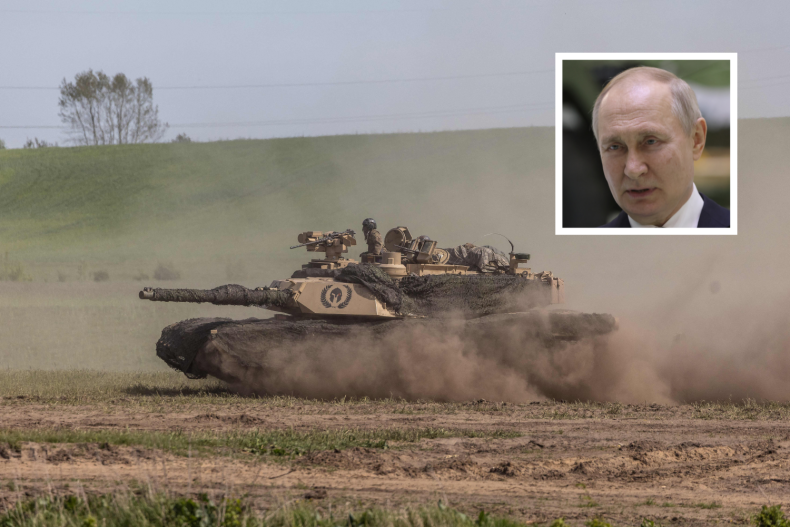 Western countries, including the U.S., Germany and Poland, announced late last month that they would deliver highly sought-after tanks to Ukraine amid calls from the Eastern European country for additional aid in Russia's war.
U.S. President Joe Biden announced on January 25 that the U.S. will provide 31 M1 Abrams tanks, the equivalent of one Ukrainian battalion. German Chancellor Olaf Scholz confirmed last week that Germany would provide 14 Leopard 2 tanks to Ukraine, while Poland has also promised to send a company of Leopard 2 tanks, which usually consists of 14.
Reactions from Russian officials to the announcements have expectedly been negative, underscoring strained relations between Russia and the West throughout the course of the war. The Russian ambassador to Germany, Sergey Nechaev, called Germany's decision to send the tanks to Ukraine "extremely dangerous."
Kremlin spokesman Dmitry Peskov told reporters that the plans were "a clear overestimation of the potential that this will add to the Armed Forces of Ukraine," according to Russian state news agency Tass.
In additional comments reported by Tass, Peskov said: "Tensions are rising particularly due to the decisions that are made, first and foremost, in Washington and in European capitals under Washington's pressure. It is about the supplies of weapons, tanks and other things, and ongoing discussions that now concern aircraft. In this regard, tensions are mounting."
It was not immediately clear what Putin was referring to in his remarks on Russia's "ways of responding," but he said in September 2022 that he could respond to what he alleged was "nuclear blackmail" from the West with his country's own weapons.
"If Russia feels its territorial integrity is threatened, we will use all defense methods at our disposal, and this is not a bluff," Putin said.
According to the Federation of American Scientists, Russia owns the largest nuclear arsenal in the world. Experts and officials have been divided on whether Putin could use nuclear weapons, with some saying it is unlikely and others warning the prospect should be taken seriously.
Newsweek reached out to the Kremlin for comment.