U.S. Secretary of Defense Lloyd Austin on Wednesday said he believes Russian President Vladimir Putin does not want a direct conflict with NATO given the military might of the international alliance.
Austin appeared with Joint Chiefs of Staff Chair General Mark Milley before the House Appropriations Subcommittee on Defense to testify on President Joe Biden's 2023 defense budget request. During the hearing, Austin was asked by Republican Representative Harold Rogers of Kentucky about a hypothetical scenario of Putin launching an attack on Poland, a NATO member, or another country in the region.
"If Russia decides to attack any nation that's a NATO member, then that's a game changer," Austin replied. "But if you look at Putin's calculus, my view—and I'm sure the chairman has his own view—but my view is that Russia doesn't want to take on the NATO alliance."
Austin continued, "There are 1.9 million forces in NATO. NATO has the most advanced capabilities of any alliance in the world in terms of aircraft, ships, types of weaponry that the ground forces use. So, this is a fight that he [Putin] really doesn't want to have and that would very quickly escalate into another type of competition that no one wants to see."
The defense secretary's comments came after statements made by Putin and Kremlin officials in which they threatened NATO and the U.S. In late April, Putin said during an address to lawmakers that any countries that "create a strategic threat to Russia" in Ukraine can expect "retaliatory strikes" that would be "lightning fast."
Even before Russia began its attacks on Ukraine on February 24, Putin made similar public warnings. Last November, he said his country would respond if NATO crossed "red lines" by providing Ukraine with certain missile strike systems.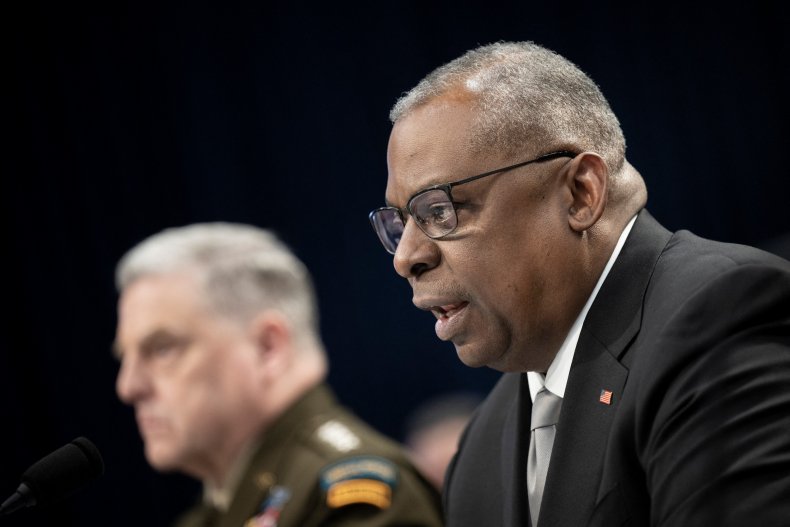 Meanwhile, Russian Deputy Foreign Minister Sergei Ryabkov told government news agency Tass on April 13 that Russia will consider U.S. and NATO vehicles transporting weapons on Ukrainian territory as "legitimate military targets." Russian Foreign Minister Sergey Lavrov also brought up the international alliance during an April 25 interview, saying, "NATO is essentially going to war with Russia through a proxy and arming that proxy. War means war."
However, Russia has expended a substantial amount of its weapons and armament in Ukraine and would be greatly outmatched by NATO in terms of firepower.
Sean Spoonts, editor-in-chief of the military news outlet SOFREP, told Newsweek recently that Russia has gone through thousands of critical weapons and cruise missiles in Ukraine that will cost about $1.5 million apiece. Added to that is the loss of the Moskva, the flagship of Russia's Black Sea fleet, which was sunk in April.
Putin will also likely have a hard time building his military's strength back up in the foreseeable future. During a background briefing on Tuesday, a senior official from the U.S. Department of Defense indicated that economic sanctions have made it difficult for Russia to replenish its inventory of weapons.
Should Russia challenge NATO or the U.S. with any military provocations, Milley said on Wednesday that any such threat would be recognized quickly by U.S. officials.
"We monitor this literally every day," Milley added. "It's one of the most significant things we're doing, monitoring the potential risk of escalation in any domain and by geography, by type weapon, etc."
Rogers followed up by asking if the U.S. would be "prepared to respond in some fashion" to any hypothetical military aggression from Russia.
"The short answer is yes, of course, we are militarily," Milley said. "We're very capable of responding to any form or fashion of escalation if directed by the president."
Newsweek reached out to Russia's Foreign Ministry for comment.