The former head of the United Kingdom's foreign intelligence service predicted that Vladimir Putin's reign over Russia will either end because of his health or the intervention of another Russian group.
Ex-MI6 chief Sir Richard Dearlove spoke about the longtime Russian leader on an episode of the One Decision podcast that was released on Thursday. He stressed that he does not believe Putin will be able to leave the presidential office and ultimately enjoy a "luxurious retirement" despite the massive wealth some believe he has accumulated.
Bill Browder, CEO of Hermitage Capital Management, told the U.S. Senate Judiciary Committee in 2017 that he believed the Russian president was worth $200 billion.
"Like many great dictators, I just wonder whether he will ever enjoy the benefits or the fruits of his ill gotten gains...He's made a dreadful mistake over Ukraine. What the outcome of that will be is difficult to predict, but he's going to come to some sort of unpleasant end," Dearlove said of Putin.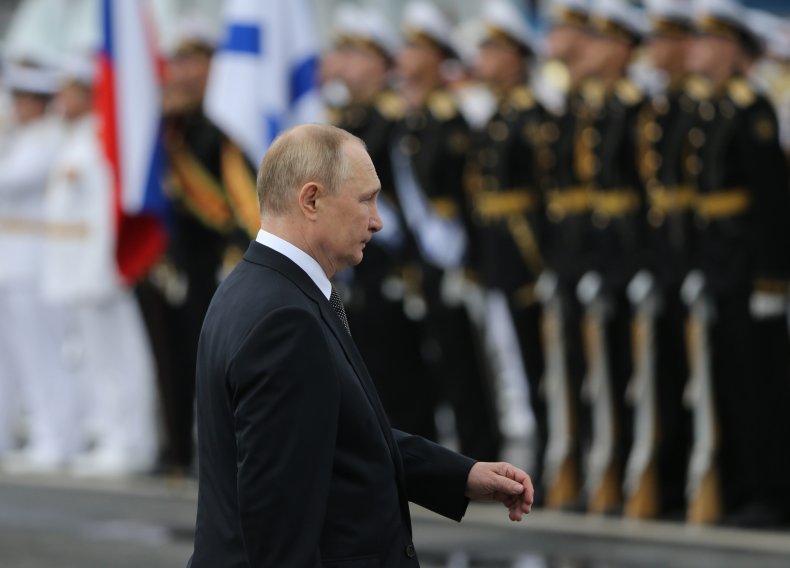 Rumors that Putin is suffering from poor health have increased ever since the start of the Russia-Ukraine War, though the Kremlin has repeatedly denied such suggestions. There have also been discussions on social media and among experts about a potential successor for Putin, while Ukrainian intelligence alleged in March that Russian elites were planning to remove him from power and replace him with the director of Russia's Federal Security Service: Alexander Bortnikov.
In an earlier episode of the One Decision podcast released in July, Dearlove said that if Putin's health were to fail, he believes he would be succeeded by Nikolai Patrushev, the secretary of Russia's Security Council.
"I would go as far as to say almost for certain, it would be Patrushev at the moment," Dearlove said. "Whether that figure will survive politically in the longer term, is entirely another question."
Dearlove also predicted during another episode released in May that Putin will no longer be Russia's president by 2023 because of his rumored health problems.
"I think he'll be gone by 2023, but probably into the sanatorium," Dearlove said. He added that once Putin leaves the facility, he will not emerge as the "leader of Russia"
"That's a way to sort of move things on without a coup," Dearlove said.
Still, the 69-year-old Putin does not appear to be poised to voluntarily end his presidency anytime soon. Putin signed a law in 2021 that would allow him to seek two more six-year terms after his current stint, potentially allowing him to remain in office until 2036.
Newsweek reached out to the Kremlin for comment.