Putin Won't Live to See Ukraine Victory, Russia State TV Fears
Russian President Vladimir Putin and other leading Kremlin figures may not "live long enough to see any successes" for Moscow in Ukraine, according to a Russian state television commentator.
Despite Russia making some progress in its invasion effort, one state media pundit questioned the timeline of the war, which could last "for decades."
Any hopes for a quick victory in Ukraine were quickly dashed for Putin after Russian troops poured into Ukraine on February 24, 2022. The war has now been described as "attritional," and may end up as a protracted conflict, not unlike the ten-year-long Soviet war in Afghanistan during the 1980s.
Speculation has surrounded Putin's health throughout the war so far, but little is known for certain about the the 70-year-old's medical record.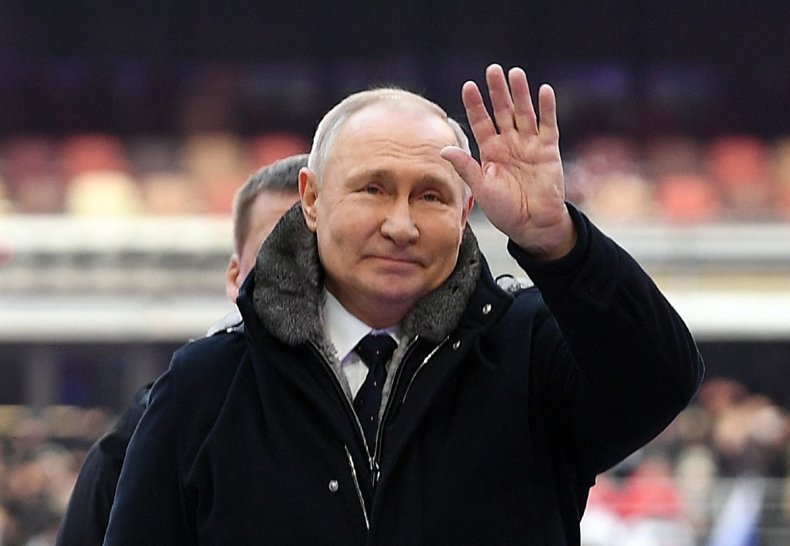 Speaking on the Russia-1 state television channel, commentator Sergey Mikheyev—described as a political scientist—suggested the Ukraine war could outlast the lifespan of many, including the Kremlin's top figures.
"If we keep proceeding in this manner and at this speed, you and I won't live long enough to see any successes," he told guests, including anchor Vladimir Solovyov, in a clip translated and posted by journalist Julia Davis.
"Let's be honest with ourselves," Mikheyev added. "Our leadership won't live long enough for that either."
"If we move at this speed, this will last for decades," he continued.
In comments shared on Telegram on February 28, former Kremlin aide Sergei Markov said the war could last beyond two decades.
The Russian invasion has lasted "longer than it was planned and expected, and there is no end in sight," Markov said.
Mikheyev, speaking in the clip posted to Twitter on Sunday, suggested that one of the "simple things" Moscow could be doing to shorten the war would be "blocking" Western politicians from traveling to Ukraine. President Joe Biden made a surprise visit to Kyiv in February, as did Italian Prime Minister Giorgia Meloni.
"Our position has severely worsened," Mikheyev added. "We either move forward and stop imitating sovereignty and truly achieve a success, or we retreat with a massive failure."
Russian forces have been making gains around the contested Donetsk city of Bakhmut in recent weeks, according to Western analysis. On Sunday, the Institute for the Study of War think tank said Ukrainian troops were likely making a "limited tactical withdrawal" from the Donbas settlement that has been largely destroyed by months of heavy fighting.
Kyiv's commanders have not confirmed whether their forces are pulling back from Bakhmut. However, Ukrainian forces may look to "exhaust" the Kremlin's units through urban warfare, the think tank said.
Russian soldiers are "unlikely to quickly secure significant territorial gains" in this kind of warfare, the ISW said.
Newsweek has contacted the Kremlin for comment.