People Are Just Realizing Fergie Is No Longer in the Black Eyed Peas
Sunday night's 2020 MTV Video Music Awards were a spectacle in the age of coronavirus, with audiences enjoying Lady Gaga's multiple costume changes, tributes to Chadwick Boseman, and performances by BTS, Miley Cyrus, The Weeknd, and Ariana Grande.
However, one moment that left viewers' scratching their heads was the Black Eyed Peas' performance, which saw band members Apl.de.ap, will.i.am and Taboo perform with their newest band member and Fergie replacement, J. Rey Soul.
Twitter users seemed to have collectively forgotten that Fergie left the Black Eye Peas in 2017, with J. Rey Soul, whose real name is Jessica Reynoso, joining the quartet as her replacement.
Sunday night's VMAs saw the newly formed group give an unusual performance, which involved a giant spaceship and luminous crotches.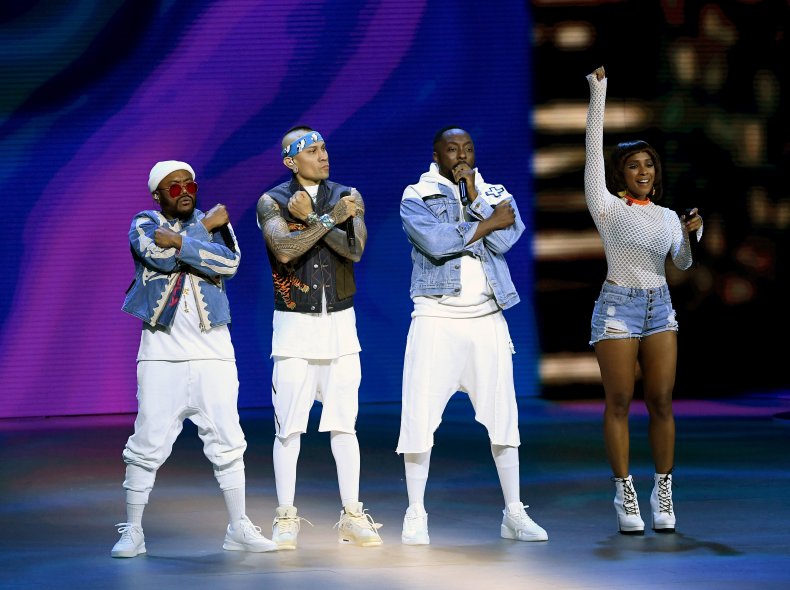 The Peas performed new track "Vida Loca" and closed out the show with their seminal 2009 hit "I Gotta Feeling," to end things on a nostalgic note.
"Damn we just let the Black Eyed Peas replace Fergie like that?" one viewer tweeted.
While another added: "Who are these men and where is Fergie."
Another tweet reads: "I hate to say it and I hope I don't sound ridiculous but the Black Eyed Pees old stuff is nothing without Fergie #VMAs."
One person wrote: "That @bep performance seriously made me miss @Fergie!!! Where the heck is she at..."
Per an interview with Billboard, singer-songwriter Reynoso worked with Apl.de.ap on The Voice Philippines in 2013, and from there she joined the Peas on their 2019 world tour.
"Will and Apl, they always tell me that I remind them of themselves when they were younger—how much they work, how much they love music, their enthusiasm," she said.
Fergie, (born Stacy Ann Ferguson) parted ways with the group for personal reasons in 2018, with will.i.am telling Billboard she was "focusing on being a mom."
"That's a hard job, and that's what she really wants to do and we're here for her," he said. "It's really the way Fergie designed it, so we're respecting her design. We love Fergie, and we don't want anything but awesomeness for her."
Taboo added: "I want to say how proud I am of J.Rey Soul as well, because I know people are probably wondering who this artist is. The question always is 'How's Fergie doing?' and I get that."
Fergie herself was a replacement when she first joined the group after the departure of singer Kim Hill in 2000.
These days, the "Glamorous" singer is mom to 7-year-old son Axl Jack Duhamel who she shares with her ex-husband, Josh Duhamel.