'The Voice' 2021 Judges: Who is Leaving and Who is Returning to the Judges' Panel?
The Voice is back for 2021 from March 1, with blind auditions airing on NBC from 8 p.m. ET / 7 p.m. CT. Blake Shelton is now returning for a staggering 20th season of the singing competition, and three returning judges are joining him. One judge from last season, however, will not be returning this year.
Who are The Voice 2021 judges?
After last season saw Shelton, Kelly Clarkson, John Legend and Gwen Stefani sit in the famous red chairs, the show is going back to the judging panel from the season before that, Season 18.
That season saw Stefani not appear on the show as she got ready for a series of concerts, with Nick Jonas taking her place. Now, for The Voice Season 20, Jonas returns for a second season as a judge after first appearing as a part-time advisor helping out Christina Aguilera in the spring 2015 season of the NBC talent competition.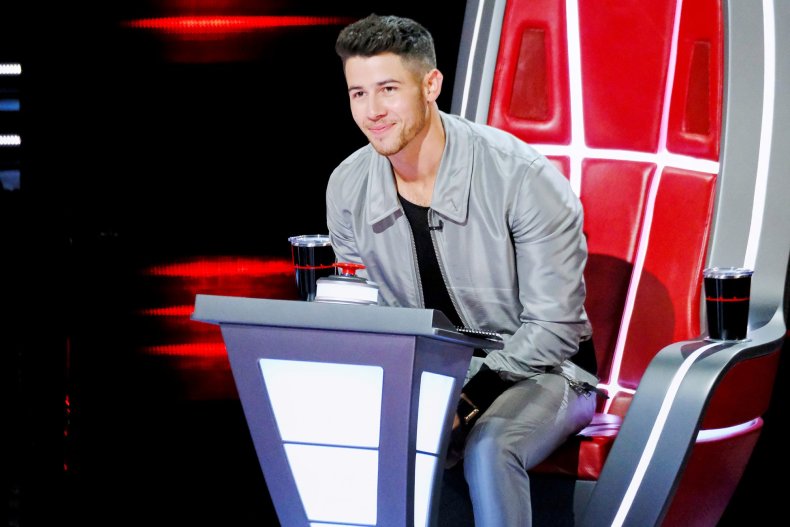 Stefani has not revealed why she has not returned for 2021 even after her act won last season, but her exit is not a surprise to fans of the show—after all, she is engaged to fellow judge Blake Shelton. The one-time No Doubt frontwoman and "Hollaback Girl" hitmaker has also never appeared as a judge on two seasons in a row. Her first three appearances on the judges table saw her alternating a place with Aguilera then Miley Cyrus. She then took Jennifer Hudson's spot for Season 17.
After releasing new single "Let Me Reintroduce Myself" in late 2020, the singer is believed to be working on her fourth album. Her most recent tweet, in late February, was a throwback photo of her time leading No Doubt, alongside the caption, "working on so much fun stuff for u guys."
After Shelton, who is the only judge to have appeared on all 20 seasons so far, Clarkson is the second longest-running judge on the panel with seven seasons under her belt. Legend, meanwhile, is on his fifth edition of the competition.
Legend and Jonas' positions as judges on The Voice were hilariously slammed the weekend before The Voice 2021 began on an episode of Saturday Night Live in which Jonas was the musical guest.
In a sketch parodying Dionne Warwick's beloved Twitter presence, Warwick (played by Ego Nwodim) asked the former Jonas Brother: "I have heard that you are the most boring coach, even though one of the other coaches is John Legend. How is that possible?"
The 2021 season marks the 10th anniversary of the show, which kicked off in 2011 with Shelton, Aguilera, CeeLo Green and Adam Levine. In total, there have been 14 judges that have appeared on the show: Blake Shelton, Christina Aguilera, Cee-Lo Green, Adam Levine, Shakira, Usher, Gwen Stefani, Pharrell Williams, Miley Cyrus, Alicia Keys, Jennifer Hudson, Kelly Clarkson, John Legend and Nick Jonas.
The Voice 2021 airs Mondays at 8 p.m. ET / 7 p.m. CT and Tuesdays at 9 p.m. ET / 8 p.m. CT on NBC.