Voters Want GOP to Win Senate But Favor Democratic Candidates: Poll
Voters in four states want Republicans to win control of the U.S. Senate in the fast-approaching midterm elections but overall favor Democratic candidates in important Senate races, according to a new poll.
A New York Times/Siena College poll released Monday showed that in three of the four states—Arizona, Georgia and Nevada—more poll respondents said that they wanted Republicans to control the Senate. In the other state, Pennsylvania, an equal percentage, 46 percent, responded in favor of Republicans and Democrats regarding control of the upper chamber of Congress.
But in all of those Senate races, the Democratic candidate was leading or tied with their GOP opponent. Democrats in three of the four Senate races—Pennsylvania, Georgia and Arizona—had leads of at least a couple points.
In Nevada, Democratic Senator Catherine Cortez Masto was tied at 47 percent of support with GOP challenger Adam Laxalt. Notably, 48 percent of poll respondents in Nevada said that they wanted Republicans to win the Senate, compared to 44 percent for Democrats.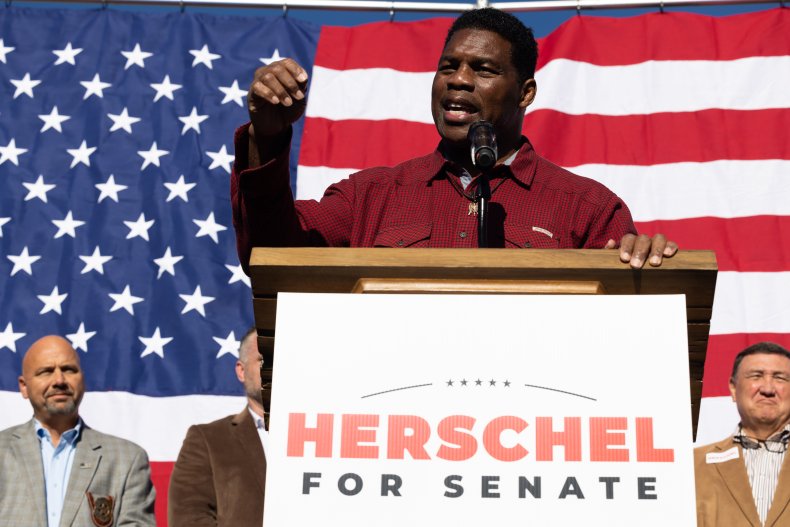 The November 8 midterm elections have been viewed as crucial for both major parties with both chambers of Congress at stake. Among the issues is Democrats' ability to pass contentious legislation in the evenly divided Senate, and the GOP's ability to launch probes into figures they said they plan to investigate if they regain control of the House.
FiveThirtyEight's forecast model shows that Republicans are favored to win the House, prevailing in 82 out of 100 outcomes. Another FiveThirtyEight model shows that Democrats win the Senate in a tight 51 out of 100 outcomes.
The New York Times/Siena College poll poses a new question on how prospective voters who root for Republicans to come out on top in midterms view some individual GOP candidates. In August, Senate Minority Leader Mitch McConnell said that he thinks there's a "greater likelihood" of the House flipping than the Senate, noting that "candidate quality has a lot to do with the outcome" of Senate races.
Some Republicans in Senate races in the four states considered in the poll have had numerous brushes with controversy. In Georgia's Senate race, Republican candidate Herschel Walker has come under fire for allegations from multiple women that he paid for them to have abortions, despite running on an anti-abortion platform. In public speaking events, the Donald Trump-endorsed Walker has also made several gaffes or confusing claims, including saying that there are 52 states.
In Pennsylvania's Senate race, celebrity Dr. Mehmet Oz's campaign came under fire when a communications adviser suggested that his Democratic opponent, John Fetterman, wouldn't have suffered a stroke in May if "had ever eaten a vegetable in his life." Trump-endorsed Arizona Republican Senate candidate Blake Masters, who is running against Democratic Senator Mark Kelly, has pushed the former president's repeated false claims that the 2020 election was "stolen" but also acknowledged President Joe Biden as the "legitimate president."
Stacy Rosenberg, an associate teaching professor at Carnegie Mellon University's Heinz College who specializes in crisis and political communication, told Newsweek that political gaffes and scandals that arise as Election Day approaches can play into how candidates frame their messaging. This can include candidates using their opponents' scandals or miscommunications to craft political ads.
Therefore, it's possible for gaffes and controversies to "motivate voters to the polls, particularly if it is one of the larger scandals like the Herschel Walker example," Rosenberg said.
She added that there is "an issue with candidate quality for those that continue to deny the results of the 2020 presidential election," noting affirmations in courts that there was no fraud in the election. A Washington Post analysis this month found that a majority of Republican nominees running for House, Senate and key statewide offices have denied or questioned the 2020 presidential election results.
"I think when you have candidates continue to claim fraud that did not exist, people get concerned about the impact on democracy. So there's an integrity issue there that's happening for the Republican candidates," Rosenberg said.
She also mentioned that in the Times/Siena College poll, male respondents said that economic issues were more important than societal issues in deciding their vote, while it was the opposite for females. This means that gender turnout in midterms could help decide the election, since women might choose candidates who emphasize societal issues and men might do the opposite, Rosenberg said.