What Does Codifying Roe Mean? Securing Abortion Rights Explained
President Joe Biden on Thursday said he would support changing the Senate filibuster rule for Congress to codify Roe v. Wade's protections for a woman's right to an abortion.
"I believe we have to codify Roe v. Wade into law. And the way to do that is to make sure Congress votes to do that," Biden said during a press conference at the NATO summit in Madrid. "And if the filibuster gets in the way, it's like voting rights, it should be—we provide an exception for this, should require an exception to the filibuster for this action, to deal with the Supreme Court decision."
Last week, the U.S. Supreme Court overturned Roe v. Wade, the 1973 case that granted the constitutional right to abortion. In doing so, the high court placed authority on abortions in the hands of state governments. After the court's decision, several states immediately put trigger laws into effect to ban or severely restrict abortions.
Even before the Supreme Court's decision, Biden and other prominent lawmakers had called for codifying Roe in order to protect abortion rights. Those talks intensified in recent weeks after a leak draft opinion from the Supreme Court was published in May that indicated it was poised to overturn Roe.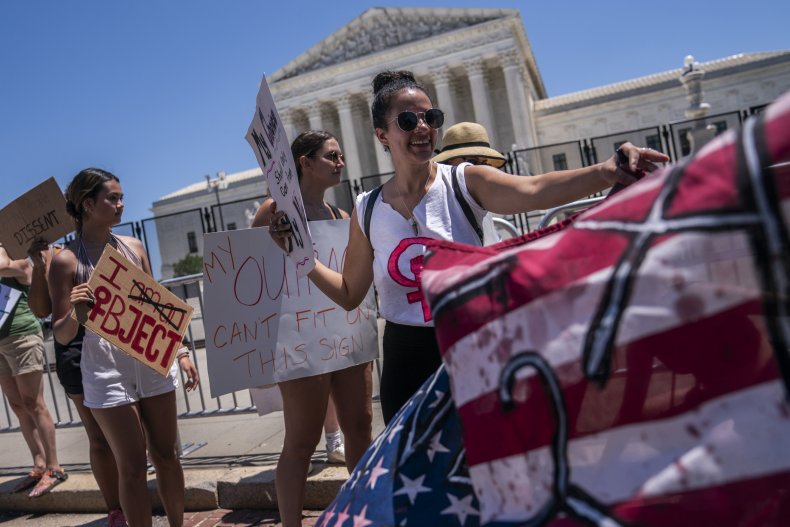 Linda C. McClain, a professor at Boston University School of Law, explained to The Conversation recently what is meant by "codifying" Roe v. Wade.
"In simple terms, to codify something means to enshrine a right or a rule into a formal systematic code," McClain said. "It could be done through an act of Congress in the form of a federal law. Similarly, state legislatures can codify rights by enacting laws."
The 1973 court decision on Roe established abortion as a constitutional right. Codifying would make it law.
"To codify Roe for all Americans, Congress would need to pass a law that would provide the same protections that Roe did—so a law that says women have a right to abortion without excessive government restrictions. It would be binding for all states," McClain added.
Roe v. Wade established a constitutional right to abortion, saying the procedure was protected "without undue restrictive interference from the government," guaranteed under the 14th Amendment.
While the Supreme Court decides what is protected by the Constitution, states and federal lawmakers can pass laws to codify rights. However, McClain told The Conversation that she does not believe it is likely the Congress will have success in getting abortion bills into law, citing how Republicans in the Senate have successfully blocked similar legislation in the past.
McClain added that even if they remove the filibuster rule—which requires 60 votes in the Senate to pass a law—Senate Democrats would still face an uphill battle because "the 50 votes that would be needed might not be there." (Should voting end 50-50, Vice President Kamala Harris would serve as the tiebreaker.)
The fall's congressional midterm elections could prove decisive as well.
"If the Democrats lose the House or fail to pick up seats in the Senate, the chances of pushing through any legislation protecting abortion rights would appear very slim," McClain said.
A federal law, should one ever pass Congress, could also face legal hurdles.
The case that led to the overturning of Roe was Dobbs v. Jackson Women's Health Organization. The Supreme Court took up arguments in that Mississippi case in December, centered around a state law that makes most abortions illegal after 15 weeks of pregnancy, or around two months earlier than Roe v. Wade.
The court decided that "the Constitution does not confer a right to abortion" and that "the authority to regulate abortion must be returned to the people and their elected representatives." This resulted in the overruling of Roe v. Wade and 1992's Planned Parenthood v. Casey.
If Congress did pass a federal law that gave people the right to an abortion, a case could come from a conservative state that challenges it. Like Dobbs, that case could make its way to the Supreme Court. McClain noted that such an instance may result in the federal law being overturned, since "conservative justices would presumably look unfavorably on any attempt to limit individual states' rights when it comes to abortion."
However, codifying abortion rights has already been successful in some states, including places like New York, Colorado and Massachusetts, where laws protecting abortion are on the books. Leaders from other Democrat-led states also pledged to follow course in the wake of the Supreme Court's Roe ruling.
Update 6/30/22, 12:57 p.m. ET: This story has been updated with additional information.