What is the Vox Adpocalypse? YouTubers Weigh in on Controversial New Rules
On Wednesday, YouTube announced it will limit access or outright ban content it deems racist or supportive of white supremacy. In an official blog post, company representatives wrote "videos alleging that a group is superior in order to justify discrimination, segregation or exclusion based on qualities like age, gender, race, caste, religion, sexual orientation or veteran status," will no longer be allowed on the platform. The site's algorithm will also change to push less "authoritative" content in viewer's recommended feeds. For example, if a person watches a video that "comes close" to violating YouTube's policies, they might be recommended videos from more established and reputable news outlets.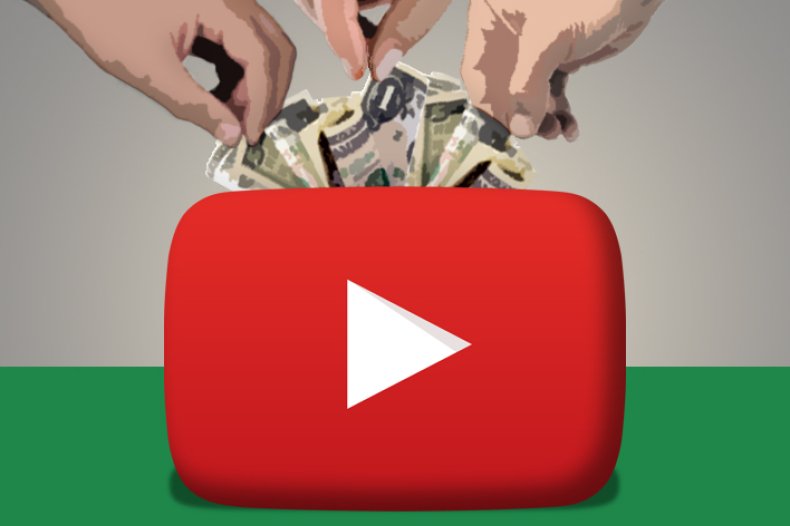 These changes come amid an ongoing dispute between Vox journalist Carlos Maza and conservative commentator Steven Crowder. Crowder used homophobic language towards Maza, calling him a "lispy queer," on his YouTube show "Louder with Crowder." Maza noted on Twitter that Crowder had broken YouTube's Terms of Service, which prohibits "content that makes hurtful and negative personal comments/videos about another person."
"Bigotry and tribalism and bullying is really engaging, and triggers our natural us vs them impulses," Maza told Newsweek after he wrote the initial Twitter thread. "YouTube knows that if they were to start cracking down on hate speech and harassment in political videos, they'd never stop."
Maza's thread went viral, and public pressure led to a YouTube response. On Tuesday, the Team YouTube Twitter account wrote that while the company "found language that was clearly hurtful, the videos as posted don't violate our policies." The next day, YouTube reversed its stance and announced Crowder's channel would be demonetized. The ads would be reinstated after Crowder made changes to his channel, including the removal of a "Socialism is for F*gs" T-shirt on his website.
"They supported Crowder at first because he didn't violate any guidelines. Despite that fact, they backpedaled later once the social media pressure was too much," said Antonio Chavez, who runs the Memology101 channel. which posts supercut compilations of internet news and drama. "YouTube's new policies are pro-censorship. It will not end well."
In a statement to The Verge, a YouTube spokesperson wrote "the flagged videos did not violate our Community Guidelines" but "in the subsequent days, we saw the widespread harm to the YouTube community resulting from the ongoing pattern of egregious behavior, took a deeper look, and made the decision to suspend monetization."
Since the company's blog post on Wednesday, more YouTube channels have been demonetized. Dubbed the "Vox Adpocalypse" by Crowder and his supporters, several "far-right influencers" have lost the ability to earn ad revenue on their videos, including Marcus Follin (a Scandinavian nationalist called the "The Golden One") and white nationalists Martin Sellner and James Allsup. Revenge of the Cis, a YouTube podcast with nearly 15,000 subscribers that routinely discusses "SJWS" and called Maza a "very sensitive boy," has also been demonetized. Revenge of the Cis declined comment, and urged other creators not to provide Newsweek insight on the challenges caused by sudden demonetization.
Some YouTubers are happy with the changes but wary of the company's motives and abilities. Harry Brewis, who goes by HBomberGuy, has amassed more than 400,000 YouTube subscribers by rebutting conservative arguments made across a variety of YouTube channels, including Crowder's. He was shocked at the initial response from YouTube, and agreed that repeatedly belittling someone's sexuality in several videos does count as bullying. However, he said he thinks the new policy is "stupider" than the one that was already in place and will make things worse for all content creators, regardless of political affiliation.
This has already happened to Ford Fischer. He runs the News2Share channel, which documents protests and rallies throughout the United States, and has been demonetized under the new rule. He started his channel in 2014 when he videotaped the Black Lives Matter movement, and since then has recorded anti-Trump rallies, the Charlottesville Unite the Right rally and dozens of other events. "The work is meant as raw footage, so people can critique and analyze the tactics and things being said," Fischer said.
On Wednesday night, Fischer received an email from YouTube telling him that his channel had been completely demonetized. Though Fischer has a Patreon and sells clips of his content to news outlets and documentary filmmakers, "yesterday was a huge swing wiping out the remaining element of my Youtube income," he said. His videos about marijuana activism had already been age-restricted, meaning you have to log-in to watch them.
This sudden change has also impacted history-based channels that discuss white supremacy and nazism in an educational context.
YouTube told Newsweek that anyone who feels their channel was demonetized unfairly can appeal the decision.
Brewis warned that YouTubers should be afraid of what looks like a knee-jerk reaction to bad press. The first "Adpocalypse" took place in March 2017 after The Wall Street Journal posted an article showing ads for brands like Pepsi appearing alongside controversial videos, like ISIS beheadings. Other incidents, like when vlogger Logan Paul showed a dead body in Japan's suicide forest, and when child predators began lurking in the comments sections of videos featuring young children, also saw a cascade of negative media attention that spurred a quick reaction from YouTube.
Commentator Quinton Hoover, who has more than 300,000 subscribers on his Quinton Reviews channel, makes videos about pop culture and nostalgia. His videos haven't been demonetized under the recent changes, but he has a personal interest in internet culture. "People on the reactionary side of YouTube live by a strange mantra: if you face consequences for your actions or for your words, that is breaking your right to 'free speech,'" Hoover said. "There's nothing in any law which states that a private corporation HAS to allow any person a public platform to do any say anything."
To Hoover, the success of "extremist YouTubers" like Crowder stems from the YouTube algorithm. Channels that post frequently and pull in a "strong response" are recommended more often, giving them more eyeballs and views. "Crowder doesn't have any insight, he's not educated on his subjects, he doesn't add anything to the discussion," Hoover said. "He calls people queers, throws around the f-g slur, and he can post as often as he wants because that didn't take him any time."
The original "Adpocalypse" was a rough time for creators and for YouTube as a platform. Hoover said he believes that "people use the memory of this event to shoo off any discussion of extremist content being spread... we should be petitioning YouTube to make things better."
What is the Vox Adpocalypse? YouTubers Weigh in on Controversial New Rules | Culture