'The Walking Dead': Who Is Mays, Robert Patrick's New Character?
As if The Walking Dead's characters did not have enough to worry about, now they have a genuine Terminator in their midst. Although Season 10, Episode 19 has not aired on AMC yet, AMC+ subscribers got early access and learned all about this new character and what he could mean for the remaining episodes.
WARNING: The following contains spoilers for The Walking Dead Season 10, Episode 19, titled "One More."
This episode of The Walking Dead continues the show's policy of taking advantage of COVID filming restrictions by telling more intimate stories with fewer cast members. In "One More," we follow Aaron (played by Ross Marquand) and Gabriel (Seth Gilliam) on a supply run.
Their first run is hugely successful when they hunt and kill a wild boar in a seemingly abandoned warehouse. They also discover a bottle of whiskey, which leads to a night of heavy drinking.
The next day, Gabriel wakes to find Aaron missing and, in looking for him, stumbles on Mays (Robert Patrick), holding a submachine gun and very angry that the two are trespassing in his hideout.
Viewers are most likely to recognise Patrick from his role as the liquid metal T-1000 in Terminator 2. However, he has more than 150 other credits. These include the recent reboot of Perry Mason, 93 episodes of CBS drama Scorpion and a dozen of True Blood.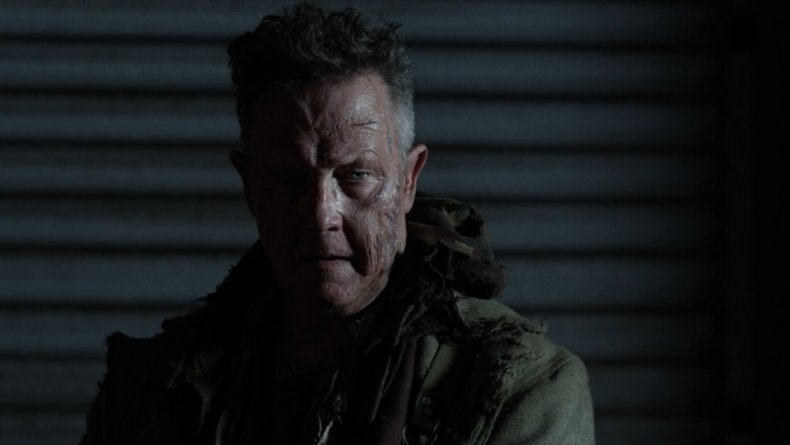 Bored of living alone in his warehouse with just a (now eaten) boar for company, Mays decides to play Russian roulette with Aaron and Gabriel, giving them the choice to aim each shot at either their own or their friend's head.
They refuse, however, and try to persuade Mays to join them in Alexandria. He eventually agrees and lets them go. It is then revealed that their offer was a ruse—and Father Gabriel takes the opportunity to kill Mays.
Mays may be dead by the end of the episode, but some fans are speculating that he could be crucial to the story arc for the rest of Season 10C and the final Season 11.
According to this theory, his military-style costume and heavy arsenal may link him to the man who blew himself up in front of Maggie (Lauren Cohan) in the first episode of Season 10C. That man was a member of the Reapers, a quasi-religious group that looks set to become the next great threat for the cast. Some viewers think that Leah, the woman who had a relationship with Daryl (Norman Reedus) in the last episode, may also be a member of the group, because of her military background.
This would certainly be a canny way to link all these seemingly standalone Walking Dead stories, with a different character meeting a Reaper in each episode.
Speaking to TVLine, TWD showrunner Angela Kang said of the group: "There is intentionally a bit of a mystique around the Reapers because I think that's part of the ethos of this group. They operate in shadowy ways.
"As a group, they clearly have some background in militaristic fighting techniques [but] like many of our villains, I don't necessarily think that the Reapers see themselves as the bad guys."
The Walking Dead Season 10 continues on Sunday at 8 p.m. ET / 7 p.m. CT on AMC.