A Walmart customer has gone viral for warning shoppers about price markups in the checkout line.
Brenna, a baker in Saratoga Springs, Utah, told buyers to beware after a shopping trip on July 29. Her TikTok video detailed the discrepancy between marked prices and the charges a cashier rang up when she was checking out.
Less than a week later, over a dozen Walmart stores in North Carolina were fined by the state for charging the wrong prices.
Brenna told Newsweek, "Walmart and big corporations know that no person, specifically individuals and parents who are doing large grocery trips, have kids, are busy, etc., are going to track the price of each item at checkout to compare it to what it was at the shelf."
"Walmart is scamming people," she said in her video with 320,000 views.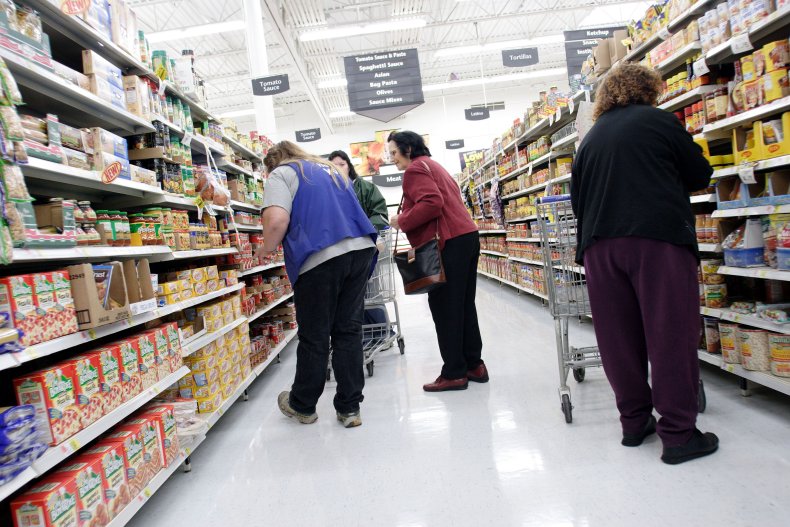 "I ran there for a few things to get a cake for," she explained. "Online, I searched Wilton chocolates. They were $2.62 online. I went to the store, in the aisle it said that they were $2.62. I went to ring them up and they were ringing up for $4.00 each."
Alarmed, Brenna brought up the disparity to the cashier.
"She rang them up and she price-adjusted them down," said Brenna. "I then proceeded to watch her ring up the rest of my stuff and there were another five things that were ringing up higher than they were online and in the store."
The frustrated shopper said she saw only one explanation for this pattern.
"They're scamming you," she said. "They're purposefully marking up prices. They're not telling you because most people are not going to check that when they're checking out."
Brenna cautioned, "Be sure to check all of your items when you are checking out and if it is not the same price, go tell the cashier. They'll put it at the right price—but I'm honestly legitimately disgusted, because it happened with six items today."
Walmart told Newsweek in a statement, "We pride ourselves on helping customers save money to live better and are committed to selling products at the price shoppers see on our shelves. With more than 120,000 items available in our stores, we understand our commitment requires continuous attention and innovation.
"We appreciate Brenna for bringing this to our attention and know we need to get better," a spokesperson added. "We encourage other customers to bring pricing inaccuracies to our associates' attention, and we will happily address the matter."
On August 3, North Carolina fined 61 stores in the state for price-scanning errors after they were found to overcharge at checkout, according to an announcement from the North Carolina Department of Agriculture and Consumer Services. Among the locations were 19 Walmart stores, 27 Dollar General stores, six Family Dollar stores and two Target stores.
Many of Brenna's viewers said they had experienced similar markups.
"This happens every time [I] go to Walmart," said a viewer. "Take photos of everything when you are getting your items!"
Another comment said, "This has happened to me 3 times already! I think it's on purpose and they think people won't catch it."
Mistaken price markups can be particularly painful for Americans already struggling with surging grocery prices nationwide. The cost of "food at home" shot up 13.1 percent in July from the previous year, the highest year-over-year increase in 43 years, according to the Bureau of Labor Statistics.
Meanwhile, overall inflation has remained persistently high. The three largest and most basic expenses for Americans—food, housing and energy—have all skyrocketed in price, forcing people who live on fixed incomes or who are surviving paycheck to paycheck to face impossible financial trade-offs.
Update 8/12, 12:45 p.m.: This article has been updated to include comment from Brenna and Walmart.