Woman Finds Food in Grandparents' Freezer Dating Back to 1972 Then Defrosts It
A woman was horrified to find food dating back to the 1970s when she cleaned out her grandparents' freezer—but then defrosted it.
We've all kept things well beyond their sell-by date, but the items Nellie discovered probably take the biscuit, with the oldest tub nearly half a century old, and the youngest over the legal drinking age.
The woman, Nellie Ancelet, shared a clip to her TikTok account, @madamquasar, as she pulled various plastic containers out of the freezer, and captioned it: "Grandparents Freezer Discovery."
The video, uploaded on Sunday, shows her filming the vintage packets, including Cool Whip, Hy-Vee cottage cheese and Bes-Spread soft margarine.
Ancelet, from Iowa, said: "Cleaning out the in-law's fridge. How about some blackberries for dinner tonight, from 1972. How about some strawberries from 1984, or maybe some blueberries, from 1983.
"How about some different blueberries, from '97. How about some egg yolks from 1998. Some butter from 1992, some ham broth, for seasoning, from 1993, some applesauce from 1999 and some raspberries from the same year.
"If that doesn't sound good enough, here's some cranberries, from I don't know what year."
Most of the tubs have masking tape with the food and date printed on them, while others have been scribbled on with a marker pen.
Ancelet, who has a two-year-old daughter, explained to Newsweek she was going through her husband's grandma's freezer.
"It's an old Magic Chef Fridge; evidently these can withstand anything," the homemaker said.
Ancelet, who attended the Le Cordon Bleu Culinary Arts Institutes in Minneapolis, said: "I was going through the fridge because we decided to move closer to family and her home was near everyone.
"I started in her kitchen as soon as I could manage to get to the fridge. I knew I would have my work cut out for me since I had struggled to get that far to this extent I didn't expect this one bit. I started with the freezer because I needed to get the frozen stuff from our current residence first.
"I didn't expect the food to be that old, maybe at the oldest 10-15 years since they were the type of people to be working on projects instead of typical FIFO [first in first out]. It was a chaotic mixture of dates of various foods, mostly fruits being saved for what I would assume for a pie. Grandma used to make a lot of pies, but I suppose it's been a while. The freezer I surmise was just a good brand of fridge to have managed to keep these things frozen for nearly 50 years."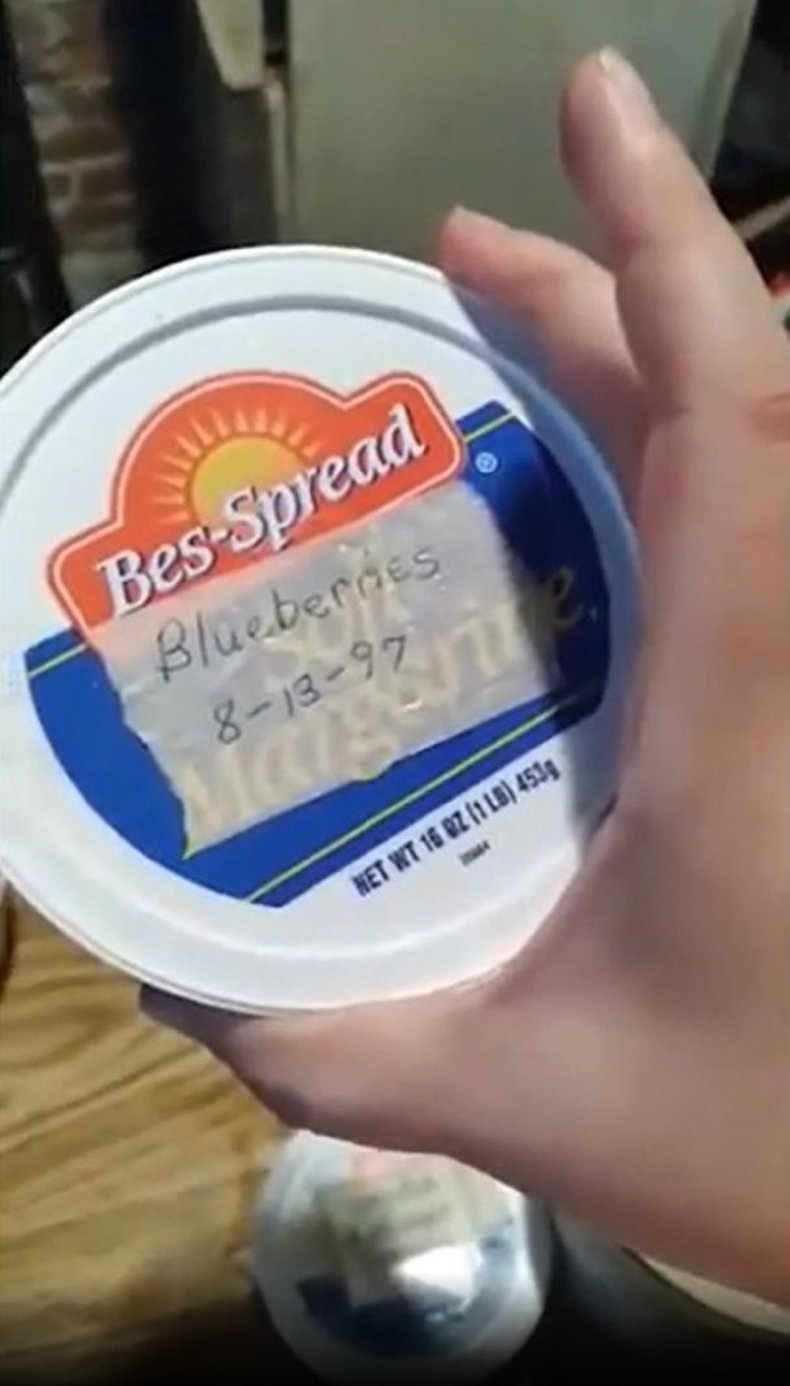 She confirmed she's not eaten any of the food, as she went into detail about what each smelled like.
Ancelet continued: "The smell of the fruits were more of a freezer burn for some, as for the strawberries I have seen on some posts that make followers or fellow watchers want to wretch. I will actually say they smelled surprisingly sweet despite their mauve grey color.
"The berries seemed to be packed in water but they maintained their shape and in hand they surprisingly kept the texture and firmness as blueberries and blackberries. Strawberries, on the other hand, were prepared in water as well and they were mushy and more of like a sponge; you could squeeze them and they would resoak before falling apart.
"The raspberries were a lot like the other berries in the video but had shrunk from the freezing temperatures. I am pretty convinced these berries could take on water and plump right back up again. The applesauce however seemed to be a timeless treasure of smells. It smelled as good as any applesauce would even after all those years spent in the freezer it still maintained its allure.
"The eggs smelled bad enough to give anyone gut rot. These things were 23 years old and 8 hours on the outside of that freezer was too long for them. They spread like butter and they popped like a satisfying pimple video. The smell is on the other hand not nearly as pleasant and awkwardly made my mouth water. In no way did I have any intent of eating this.
"It was hard to breathe playing with it in the video and I had to take a breath over my shoulder to stop myself from retching. I think my body was more or less preparing itself to vomit. The ham broth simply smelled of freezer burn and had a slight pork smell to it. Not at all pleasing to the senses. I was disappointed to find out the butter had not at all been truly butter.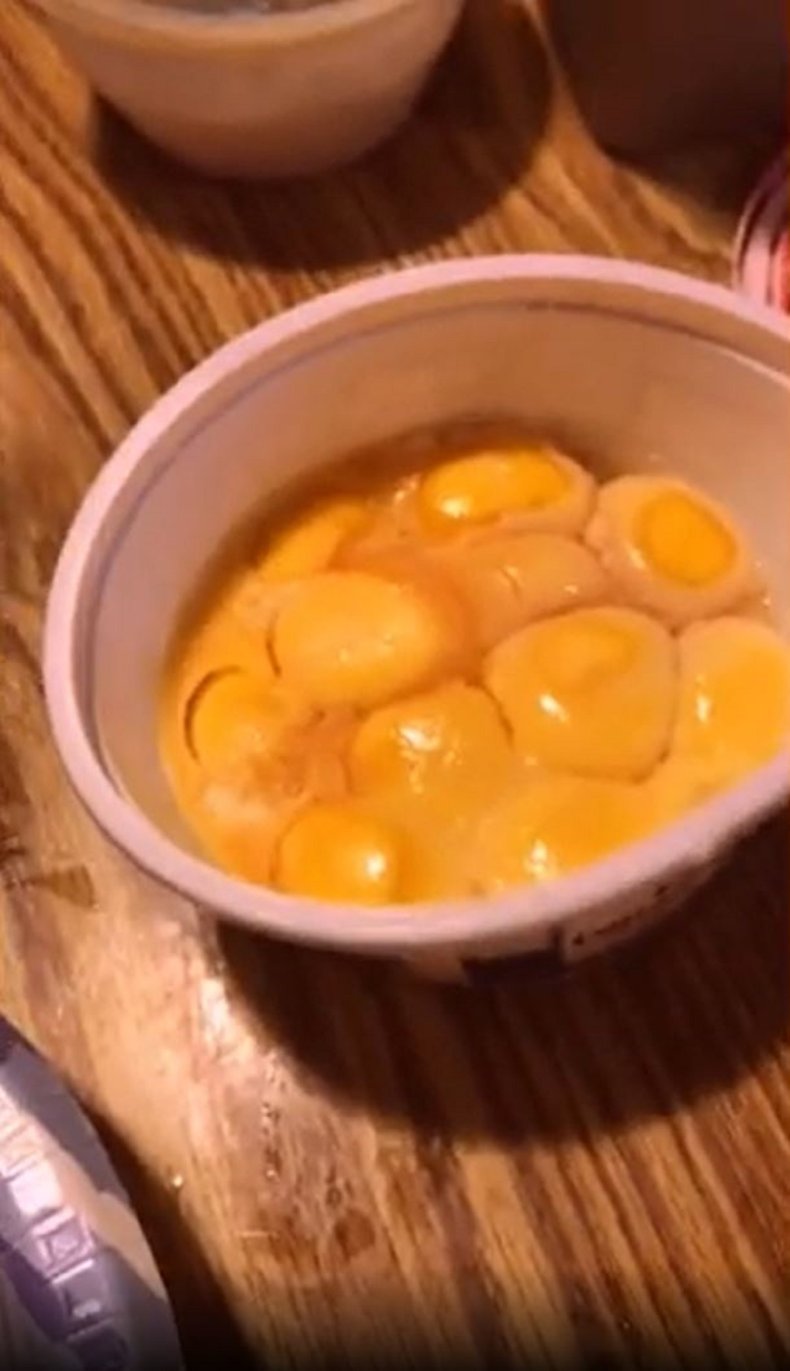 "The food seemed to not get any newer than 2017 and these were in the very front of the fridge. I don't think much had been stored in the freezer that they ended up actually using. There were steaks, bacon, whipped cream, baking nuts like pecans or walnuts, sausage links, hamburgers, and baking chocolate. I have thrown everything away except for the blackberries from 1972 and the blueberries from 1983."
The original clip amassed more than three million views, as the 30-year-old shared a follow-up a day later, which she dubbed "the grand opening," after defrosting the vintage food.
She opens up each packet starting with the fruit, saying: "Here's the blueberries from 1983 got a dish right here so ya'll can see. There's specks and seeds, they look like blueberries I guess, still. Next is the blackberries from 1972. They've lost a lot of their color. They kind of look like brains. That's bad.
"Strawberries. Now these have been sitting out for about 8eight hours. These are strawberries. They're kind of fermented. These ones were from 1984. Definitely do not have the rich pink color anymore.
"Then we got the apple sauce from '99. I don't really think applesauce changes a lot. I think apples are apples. But I'm not trying that. No thanks.
"Next, we got the raspberries from 1999. I was eight, I was going on eight. Here's the raspberries. Look a lot like the blackberries. They're really hard, like squishy. But lost a lot of—that one just don't smell right.
"Blueberries, these are the blueberries from 1997. So I did look at this one already, the vegetable oil is actually apricots, peaches? Still I'm sure those are very old, nonetheless.
"Then the ham broth for seasoning. Oh god," she says filming the gelatinous blob, as she retches.
"Last but not least we have the egg yolks from 1998," she adds. The clip ends there but she uploaded a part three just focusing on the yolks, captioning the video "13 year old eggs" along with a vomiting emoji.
"These are the eggs I've just smashed one, and it's like butter. Literally like, butter. Some of these are solid... They smell pretty bad after being out for eight hours and after 13 years." Ancelet gets some of the expired eggs on her, as she declares it's "so gross."
Numerous people commented on the original clip, which can be seen here, with Ethan joking: "It was in the freezer so it's still good."
"Those blackberries are older than my mom," Sam Smith wrote.
Lew quipped: "Ham broth and I graduated highschool together; it's great to see he's doing well."
Pigzley wrote: "'97 was a good year for blueberry, don't throw those out."
Melissa the Groomer asked: "How the frick do you keep blackberries from the 70s?! How old is this fridge?"
Update 27/9/21, 5.14 a.m. ET: This article was updated with comment, photos and video from Ancelet.