'WandaVision': Funko Leak Gives First Look at Wiccan and Speed
WandaVision Episode 3 gave a nice Easter egg to Marvel fans after Wanda (Elizabeth Olsen) gave birth to twins. Comic book fans will know these characters grow up to be Billy, aka Wiccan, and Tommy, aka Speed. However, there was no sign whether the Disney+ show was going to follow comics canon and see these characters become their superhero alter-egos.
Until, that is, until a tweet from a Brazilian Twitter page called Marvel News emerged, showing what purports to be an upcoming box from collectibles manufacturer Funko, which shows Billy and in a costumes reminiscent of those he wears in the comics as Wiccan.
This tweet reads (translated from Portuguese): "#WandaVision spoilers - - - - - - - - We have more Funkos from the series, this time with the looks of Billy and Tommy in the Halloween episode."
This Halloween episode had already been teased in a number of WandaVision promos, with Wanda and Vision (Paul Bettany) wearing costumes that look like crudely made version of their comic book superhero outfits. As such, if Billy and Tommy are also wearing superhero suits in these Funko Pops, then the show seems to teasing their future roles in the Young Avengers.
On the Funkos, Billy is dressed in a typical Wiccan look, with the red cape and headband associated with one incarnation of the character.
Tommy, meanwhile, appears dressed in the blue, lightning bolt suit of Quicksilver, the character played by Aaron Taylor-Johnson in Avengers: Age of Ultron. This is interesting in itself: Quicksilver was killed by Ultron in that movie, a fate that has already been mentioned in a previous episode of WandaVision.
What this could mean for the show is interesting. It could just been a young boy paying tribute to the dead uncle that his mom misses so much, or it could be a hint of how the X-Men could finally be amalgamated into the Marvel Cinematic Universe after the studio bought back the right to the mutants in March 2019.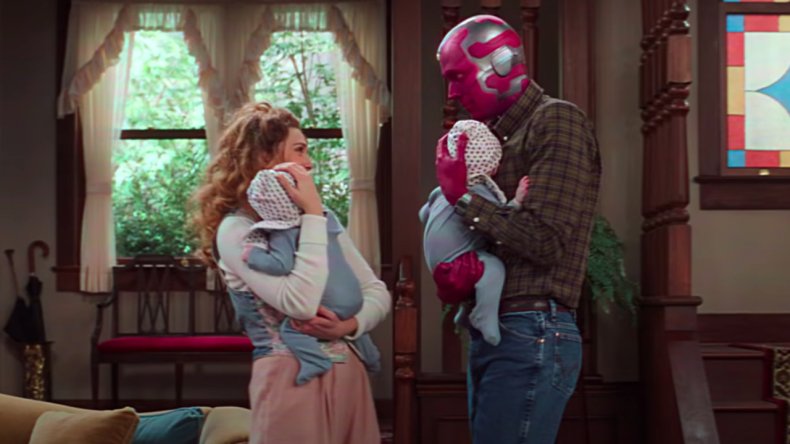 As a fan theory goes, the MCU is combining the two superspeed characters and turning Speed into Quicksilver—the version played in the X-Men movies by Evan Peters rather than the version played in Ultron.
This would certainly be a neat way for Marvel to tie together the two franchises, with Tommy becoming Quicksilver in a tribute to his uncle's brave sacrifice to save the world.
There is a problem with this theory, however: the Peters X-Men character's first name is Peter rather than Tommy.
And then there were the events of WandaVision Episode 5 to contend with, in which (SPOILERS) Evan Peters appeared as a "recast" version of Taylor-Johnson's Pietro, tying those two characters together.
As WandaVision has been confirmed to set up Doctor Strange and the Multiverse of Madness, some strange multiple-universe stuff is clearly going on. Perhaps now that the two versions of Quicksilver have merged as Evan Peters' google-wearing speedboy, this leaves the original version of the character's blue lightning bolt suit is up for grabs to be taken by his nephew. Viewers are sure to find out when Halloween comes to WandaVision.
WandaVision Episode 5 is coming soon to Disney+.