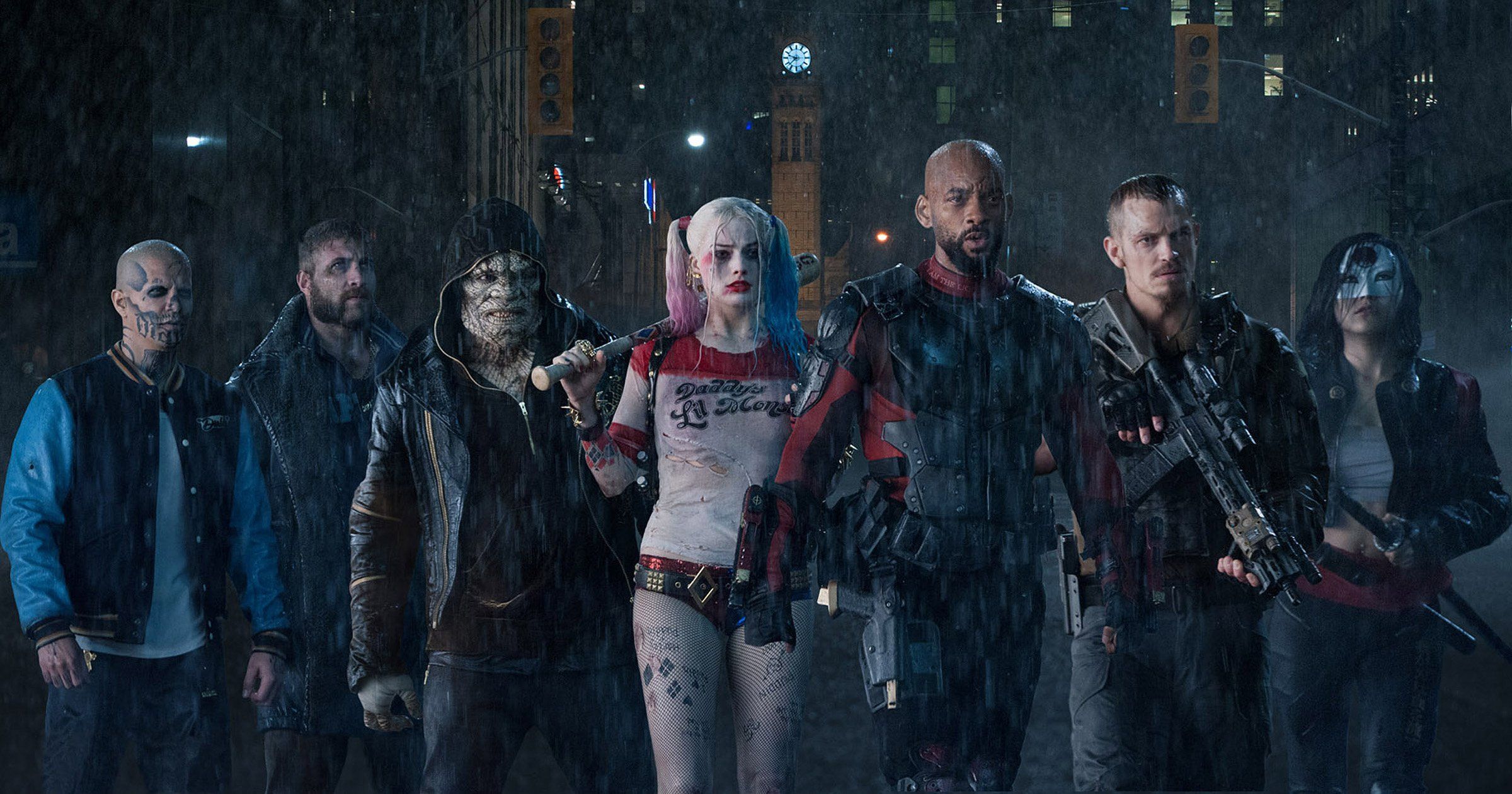 Is Jared Leto's Joker playing one big, elaborate prank on movie fans? While the most recent trailer for Warner Bros.'s Suicide Squad in April gave the impression it would be more fun and boundary-pushing, in a similar way to Fox's R-rated Deadpool, than dark and miserable like WB's earlier effort, Batman v Superman: Dawn of Justice, the first critics' reviews of the Will Smith-led caper were sobering to say the least.
Early verdicts on the Tuesday release almost unanimously rounded on David Ayer's action flick about a group of supervillains united to do good. In fact, the reaction upset some DC Comics fans so much they set up a petition to shut down the movie review aggregator Rotten Tomatoes for purported "unjust bad reviews." This is despite the film not being in theaters for general audiences until Friday.
"A puzzlingly confused undertaking that never becomes as cool as it thinks it is," began The Hollywood Reporter 's assessment of Suicide Squad. The publication adds that Ayer's movie "assembles an all-star team" of top-flight stars such as Leto, Smith, Margot Robbie and Viola Davis but "then doesn't know what to do" with their characters.
Vanity Fair was more scathing in its critique. "Suicide Squad is bad. Not fun bad. Not redeemable bad. Not the kind of bad that is the unfortunate result of artists honorably striving for something ambitious and falling short. Suicide Squad is just bad," the magazine said. "It's ugly and boring, a toxic combination that means the film's highly fetishized violence doesn't even have the exciting tingle of the wicked or the taboo."
Suicide Squad is "clotted and delirious film, with flashes of preposterous, operatic silliness," The Guardian said. However, the newspaper added, "Leto's Joker suffers in comparison with the late Heath Ledger." Entertainment Weekly also criticized "how wasted" the iconic DC Comics villain is in the story.
As of Wednesday morning, the film holds a tepid 35 percent fresh rating on Rotten Tomatoes, just slightly up from Batman v Superman 's 27 percent rating in March. Batman v Superman , despite poor reviews, went on to gross $872 million worldwide—a number that is nothing to sneeze at, but shy of the $1.1 billion grossed by Marvel's Captain America: Civil War (which, incidentally, was incredibly well reviewed).
Aggrieved DC Comics fans took issue with the first reviews for Suicide Squad, a film that many held out hope would improve upon the failings of Batman v Superman, late Tuesday as a Change.org petition was created to shut down Rotten Tomatoes.
The petition was set up by Abdullah Coldwater from Egypt in response to what he sees as "unjust bad reviews" of Warner Bros.' recent superhero fare. The petition has so far garnered over 7,000 signatures.
"The aim of the petition is to deliver a message to the critics that there is a lot of people who disagree with their reviews," Coldwater wrote in an update Wednesday. He clarified that the purpose of the petition is "just a way to express our anger" at film critics.
In response, Rich Cline, vice chair of the London Critics' Circle film chapter, tells Newsweek: "It's the critic's' job to express their opinion. I'm still going to see a film if I want to see it, and make up my own mind. The social media machine, when it kicks into gear, doesn't have much logic to it."
Hours after the poor reviews filtered online Tuesday, director Ayer took to his Twitter account to defend his film, too.
He posted a quote by the Mexican revolutionary Emiliano Zapata that roughly translates to: "I'd rather die on my feet than live on my knees."
Ayer later tweeted that the film is "for the fans." He wrote:
If Batman v Superman 's $872 million worldwide haul is any indication, the critics' evaluation may not matter. Warner Bros. will be delighted if Suicide Squad reaches a similar figure, and box office tracking suggests the film is on course to begin with a huge $140 million opening weekend.
"Bad reviews don't kill movies. If fans like the film, it'll be fine," says Cline.
"I think [Suicide Squad] is oddly critic proof," Christa Ktorides, film critic and movies editor at DIY magazine , adds to Newsweek. "The curiosity factor is huge now...The fact that some fans have started a petition against Rotten Tomatoes without even having seen the film themselves shows that the box office will largely remain unharmed by the critical reaction."
Regardless of commercial success, however, the larger issue for both DC Comics fans and film critics is the creative direction of Warner Bros.' DC Comics movie universe in light of not one, but two missteps in the last year. Zack Snyder's Batman v Superman, intended to kickstart a Marvel-like franchise of spinoffs and team-up adventures, wasn't a runaway critical success like Captain America: Civil War. There were even rumors that Warner Bros. had reshot scenes in Suicide Squad to address some of the complaints of Snyder's largely humorless film. A second poorly received film with Suicide Squad could threaten Warner's upcoming output, including a Wonder Woman standalone and Avengers -style Justice League blockbuster, or at least dampen fan expectation.
"If the fans don't like [Suicide Squad], then Warner Bros. needs to take a look at what they're doing," says Cline. "These universes are only as good as their last film. Wonder Woman looks amazing, far better than Suicide Squad, going by the footage they've released."
But, Cline Warns: "The problem is when you have films that don't do very well the studios tend to clamp down and get more and more in control—that's dangerous. I think they need to let more inventive filmmakers have a go [at making it their own]...Warner Bros. gave Christopher Nolan a lot of freedom on his Batman movies and they were not like anything else.
"I think Zack Snyder [the creative force behind the DC universe] is trying to make his own movies within the Warner Bros. straitjacket. When he lets himself go, that's when his films are really good."
One of the issues Warner Bros. might need to address going forward is the sexualization of female characters, something many critics commented on in Suicide Squad. One review described the sexualization of Harley Quinn, played by Robbie, and Delevingne's Enchantress, akin to "covert pornography."
"Christopher Nolan's Batman trilogy didn't sexualize the female characters, even Catwoman who was always traditionally overtly sexual," says Ktorides. "Then Man of Steel and Batman v Superman featured strong women with the likes of Lois Lane and Wonder Woman, admirably keeping any lingering shots of the latter's bosom to a minimum."
"By some reports, Suicide Squad undoes this good work with poor Margot Robbie subjected to multiple butt shots and her character wishing for nothing more than to settle down and have kids. Meanwhile, Cara Delevingne is wearing a barely-there costume," Ktorides says. "Are Warner Bros. now pandering to their perceived notion of what the 'fanboys' want? It does a great disservice to male comic book fans if that is the case. What they crave above all else is story and this is where we are hearing Suicide Squad falls down."